Banks Temper Job Cutting After Surge in 2011 Reductions: Table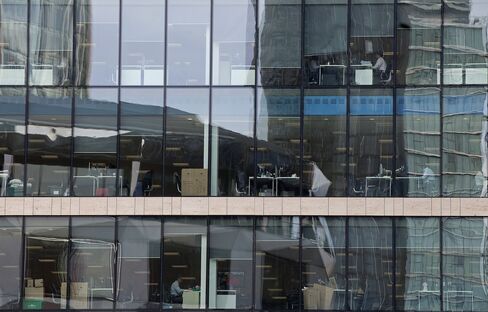 The world's largest banks are slowing the rate of large-scale job cuts after eliminations surged 14 months ago, when Europe's debt crisis escalated.
Twenty-two of the 50 biggest banks have announced plans to eliminate at least 1,000 positions each since the start of August 2011, according to data compiled by Bloomberg. More than 22,500 cuts were disclosed this year. That compares with about 106,000 in last year's final five months.
Personnel levels are stabilizing as analysts predict financial results will improve for the six largest U.S. lenders. Profit at those firms may total $59 billion this year, a 5.5 percent increase from 2011, according to the average estimates of analysts surveyed by Bloomberg.
"Financial services are getting back to some sort of norm," said Jeanne Branthover, head of the financial-services practice at Boyden Global Executive Search Ltd., a New York-based recruiting firm. "They don't want to be as volatile, and they're really trying to handle their hiring and firing better."
Still, banks are grappling with a European debt crisis now in its fourth year and more uncertainty as the U.S. faces a fiscal cliff in early 2013, when automatic tax increases and budget cuts are set to siphon billions of dollars of purchasing power from the economy.
Analysts predict job losses in Western Europe will increase amid a slump in trading and stock and bond offerings. Wall Street firms will reduce bonuses rather than cut jobs to control expenses this year, Betsy Graseck, a Morgan Stanley analyst, said last month in a Bloomberg Television interview.
The following table lists 22 banks that announced at least 1,000 job cuts since Aug. 1, 2011, according to company statements and data compiled by Bloomberg. The table draws from public announcements and omits anonymously sourced reports of cuts. Some reductions are being made over months and years. For firms that disclosed reduction ranges, the table reflects the top limit:
Bank                     Job Cuts                 Job Cuts
                         Announced Aug.-          Announced in
                         Dec. 2011                2012

Allied Irish                                      2,500
Banks Plc, Ireland

Australia & New Zealand                           1,000
Banking Group Ltd.,
Australia

Banca Monte dei Paschi                            4,600
di Siena SpA, Italy

Bank of America Corp.,   33,500
U.S.



Barclays Plc, U.K.       3,000                      622



BNP Paribas SA, France   1,396



Citigroup Inc., U.S.     4,500                      500



Credit Agricole SA,      2,350
France



Credit Suisse Group      1,500
AG, Switzerland



Danske Bank A/S,         2,000
Denmark



Deutsche Bank AG,          500                    1,900
Germany



HSBC Holdings Plc,      30,330
U.K.

ING Groep NV,            2,700*                     130
Netherlands



Intesa Sanpaolo SpA,     5,000
Italy



Mizuho Financial Group   3,700                      300
Inc., Japan



Morgan Stanley, U.S.     1,600                      700



National Australia                                1,400
Bank Ltd., Australia



Nordea Bank AB,          2,000
Sweden



Royal Bank of Scotland   2,500                    7,342
Group Plc, U.K.



Societe Generale SA,                              1,580
France



UBS AG, Switzerland      3,500

UniCredit SpA, Italy     6,150
*Includes 700 contract positions
Before it's here, it's on the Bloomberg Terminal.
LEARN MORE