World Bank's Kim Wants Fast Loans, Emerging Market Clout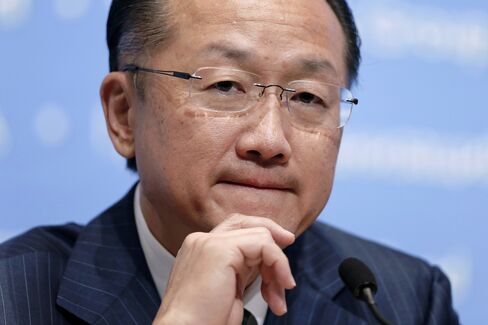 Jim Yong Kim, the World Bank's new president, says he wants to offer emerging markets new types of loans and more clout to keep the institution relevant for nations such as China and Brazil that don't need its financing.
"We're developing new diverse instruments customized to their needs," he told officials from the bank's 188 members convened in Tokyo today. "As emerging economies take on a growing role in the global economy, I am personally committed to ensuring they have a strong voice within our institution."
With some of the larger emerging nations becoming rival lenders to Africa or Latin America, one of the challenges for Kim is to make sure he can keep them as clients and contributors. Kim, who took the bank's helm in July, yesterday said China is "a critical partner."
At stake is global influence at a time when Brazil, Russia, India, China and South Africa are studying a plan to create their own development bank. The consequences are also financial, since part of the bank's income comes from the difference between the interest the bank charges customers and the interest it pays on bonds sold in financial markets.
Today Kim told his shareholders that he wants to make the bank, which approved loans worth almost $53 billion last year, a "solutions bank" that is more focused on results and makes decisions faster.
"It should not take two years for a project to evolve from concept to implementation," he said. "We want to be held accountable not for process but for results."
The bank is also ready to offer technical assistance, including to developed economies "that are undergoing economic reforms." He said yesterday the bank is having "informal conversations" with countries on this topic.
Before it's here, it's on the Bloomberg Terminal.
LEARN MORE