U.S. Stocks Rise as Consumer Confidence Tops Estimates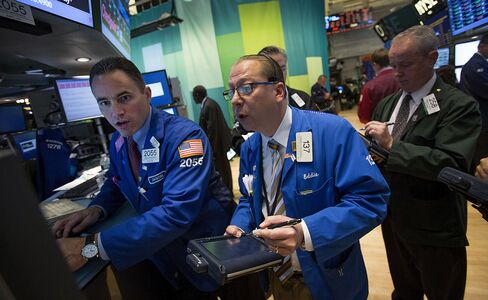 U.S. stocks rose, paring the biggest weekly drop in four months in the Standard & Poor's 500 Index, as an unexpected increase in a gauge of consumer confidence bolstered optimism in the economy.
J.B. Hunt Transport Services Inc. surged 7.3 percent after reporting sales higher than estimates. JPMorgan Chase & Co. rose 0.3 percent after the biggest U.S. bank by assets posted third-quarter profit that beat estimates. Wells Fargo & Co. slipped 3.1 percent after reporting revenue that fell short of estimates. Advanced Micro Devices Inc. slid 9.5 percent after cutting its third-quarter revenue forecast.
The S&P 500 advanced 0.3 percent to 1,437.25 at 10:14 a.m. in New York. The Dow Jones Industrial Average rose 63.92 points, or 0.5 percent, to 13,390.31.
The S&P 500 has lost 1.6 percent this week, heading for the biggest drop since June 1. The benchmark equity gauge is still up 14 percent this year as companies reported better-than-expected earnings and the Federal Reserve announced a third round of bond purchases.
The Thomson Reuters/University of Michigan preliminary October consumer sentiment index increased to 83.1 from 78.3 the prior month. The gauge was projected to fall to 78, according to the median forecast of 71 economists surveyed by Bloomberg News. A separate report showed wholesale prices in the U.S. rose more than forecast in September, reflecting a jump in fuel costs that failed to trickle down to other goods.
Election Debate
Vice President Joe Biden and Republican Paul Ryan each said that their parties' proposals would bring U.S. unemployment below 6 percent during a pre-election debate yesterday.
A CNN poll of registered voters scored the showdown as essentially a tie, with 48 percent declaring Ryan the winner and 44 percent siding with Biden. The survey of 381 respondents has a margin of error plus or minus 5 percentage points. A CBS poll of 431 undecided voters showed Biden the winner over Ryan, 50 percent to 31 percent, with a margin of error of 5 percentage points.
In Europe, industrial production unexpectedly increased for a second month in August. Output in the 17-member euro area rose 0.6 percent from July, when it increased a revised 0.6 percent, the European Union's statistics office in Luxembourg said today. Economists had projected a drop of 0.4 percent, the median of 36 estimates in a Bloomberg survey showed. estimates in a Bloomberg survey showed.
J.B. Hunt
J.B. Hunt climbed 7.3 percent to $58.81 as the trucker posted third-quarter sales of $1.3 billion, topping the average analyst estimate of $1.28 billion in a Bloomberg survey.
Ecolab Inc. rallied 1.8 percent to $64.82. The largest maker of cleaning chemicals for hotels and restaurants agreed to buy Champion Technologies Inc. for about $2.2 billion in cash and stock as it seeks a greater share of the oilfield chemicals business.
JPMorgan rose 0.3 percent to $42.22. The bank said losses on its remaining wrong-way bet on credit derivatives were "modest" in the third quarter after it lost $5.8 billion in the first half of 2012, prompting investigations from U.S. and international authorities. Chief Executive Officer Jamie Dimon, 56, got help restoring investor confidence from historically low interest rates and government programs that fueled demand for home loans.
Wells Fargo slipped 3.1 percent to $34.08. Revenue in the third quarter was $21.37 billion, falling short of the $21.41 billion projected by analysts on average. The most valuable U.S. bank and largest mortgage lender said profit was 88 cents a share, exceeding analysts' estimates of 87 cents, as the cheapest interest rates in history spurred refinancing.
AMD plunged 9.5 percent to $2.90. The second-largest maker of processors for personal computers said third-quarter revenue will drop approximately 10 percent from the prior period, more than the decline of about 1 percent it had previously projected. The new forecast indicates sales of about $1.27 billion. The average analyst prediction was for a revenue of $1.38 billion.
Before it's here, it's on the Bloomberg Terminal.
LEARN MORE