The Pros and Cons: Air Force One v. Air Force Two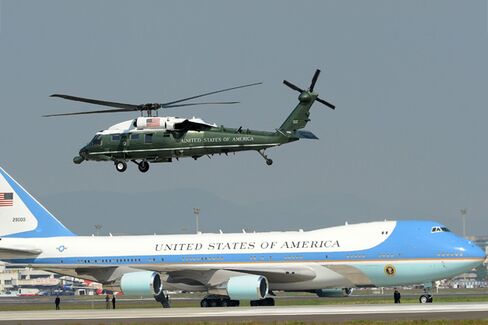 There's a crucial difference between the president's and the vice president's plane: The stewards don't serve alcohol on Air Force Two.
Perhaps even more jarring for frequent fliers aboard the president's plane, on Air Force Two, they require Blackberries to be turned off and seatbelts fastened.
With blue underbellies and white tops, both planes are painted like giant orca whales, but the protocol is noticeably different on Air Force Two, the name given to whatever plane is ferrying Vice President Joe Biden — typically a Boeing 757.
When a reporter for a global news organization attempted to order a well-known domestic beer on Biden's bird last night, the reporter was told adult beverages are not served on Air Force Two.
Beer, wine and (occasionally) bourbon are proffered on the Boeing 747 that typically transports the president, according to dozens of reporters who have been on more than 100 flights on Air Force One.
But Biden's 757 has something for the press that Obama's 747 doesn't have: access, or at least a line-of-sight to senior staff and the plane's prized passenger. Last night that was a very ebullient Joe Biden, backslapping staff and hugging family with a ram-rod demeanor that oozed confidence, if not victory. He looked like a candidate wanting to go to his next debate.
With rare exceptions, the glimpses the press steals of Obama on his plane happen when he is getting on it: his jaunty sprint up the front stairs, followed by a rather perfunctory presidential wave at the top.
Biden's cabin, in the front third of the plane, is enclosed on the left side of the fuselage. A desk, a couch and a couple of phones make up his work space. The entire pod is roughly the size of a college dorm-room triple, with a National Geographic map of the world above the couch, which looks like it could be made into a bed for those long flights to Baghdad. The vice president gets a private bathroom as well.
Like Air Force One, the press seats on Air Force Two are all the way in the back, but on Biden's plane the are much smaller. Economy plus, at best, and three to a side. One row ahead of the five reporters and one photographer traveling with Biden last night were VP staff, secret service agents and Air Force crew. Their seats were two to a side, in the equivalent of business class seats that reporters are accustomed to aboard Air Force One. Reporters are enclosed in a cabin at the rear of the aircraft, walled off from the front of the plane.
Another difference: On Air Force Two, two bathrooms mid-plane are shared by staff and press, making some mingling possible.
Before it's here, it's on the Bloomberg Terminal.
LEARN MORE