STMicro Said to Evaluate Breakup, Digital Unit Sale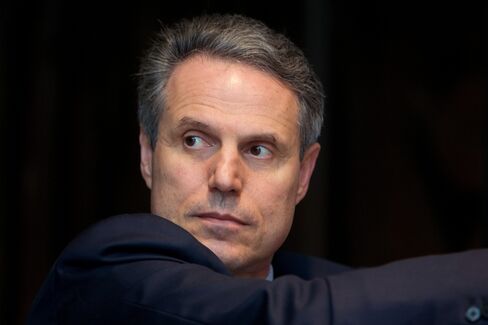 STMicroelectronics NV is evaluating a breakup of the company that may lead to a sale of its struggling mobile-phone chip business, according to people familiar with the matter.
Europe's largest semiconductor maker may split its analog business, which makes chips and sensors used in products from cars to video-game consoles, from its digital assets, which focus on semiconductors used in set-top boxes, televisions and handsets, said the people, who asked not to be identified because the discussions are private.
STMicroelectronics jumped 6.4 percent to 4.67 euros at the close of trading in Paris. The stock rose as much as 19 percent, the biggest intraday gain since it started trading in 1994, after Bloomberg News reported the breakup evaluation. While an announcement may come before year-end, no decision has been made and the company may opt to retain its current structure, the people said.
With a market value of 4.3 billion euros ($5.6 billion), STMicroelectronics has been dragged down by its digital business as key customers such as Nokia Oyj, BlackBerry maker Research In Motion Ltd. and France's Alcatel-Lucent SA see their own sales decline. By splitting the Geneva-based company, Chief Executive Officer Carlo Bozotti could focus on developing the more promising analog business, mimicking German rival Infineon Technologies AG.
"Exiting digital would be very positive for the company," said Janardan Menon, an analyst at Liberum Capital in London. "It's a pretty good business on the analog side."
Revenue Slump
In a statement, STMicroelectronics said it denies "the existence of initiatives which can compromise the unity of the company." The chipmaker said it plans to announce third-quarter earnings on Oct. 23 as planned.
Samsung Electronics Co., which already manufactures some advanced chips on STMicroelectronics's behalf, may be a potential buyer for the digital assets, though it will take a cautious approach, the people said. STMicroelectronics's ST-Ericsson venture with Sweden's Ericsson AB could be included in such a sale, said one of the people.
Nam Ki Yung, a Seoul-based spokesman for Samsung, said "the rumors are groundless."
STMicroelectronics was created in 1987 by the merger of Italy's SGS Microelettronica and Thomson Semiconducteurs of France. The stock's gains today pared its decline in the past 12 months to 11 percent.
Demand Swings
European semiconductor makers have been struggling to cope with the industry's sharp price and demand swings, losing market share to Asian competitors that are benefiting from lower costs due to larger factories and manufacturing orders from other companies. The global semiconductor industry will shrink 2 percent in 2012, researcher Exane said last month, after previously predicting an increase of 1 percent.
STMicroelectronics reported $9.7 billion in 2011 revenue. In the first half, net sales fell 18 percent to $4.17 billion as revenue from analog chips dropped 15 percent, while digital slumped 24 percent.
One potential hurdle to a split of STMicroelectronics is its ownership structure. France and Italy's governments together control about 27.5 percent of the company. Any reorganization has to be carefully structured to allay concerns about possible job cuts in those countries, said one of the people.
Apple, Samsung
An acquisition by Samsung would strengthen the Korean company's position as a key supplier to Apple Inc., whose iPad and iPhone both incorporate STMicroelectronics components. Apple left some Samsung parts out of the latest version of its iPhone amid disagreements over pricing, a person familiar with the matter said last month.
The two companies, which are the world's largest manufacturers of smartphones, are also locked in a worldwide legal battle over intellectual property, with each accusing the other of misusing patents in popular mobile devices.
Samsung has spent more than $1.4 billion on deals this year to bolster access to technology and materials for phones and tablets, including a $310 million July deal for the wireless unit of British semiconductor manufacturer CSR Plc.
Before it's here, it's on the Bloomberg Terminal.
LEARN MORE