DBS Sells $620 Million Philippine Bank Stake, Boosts Capital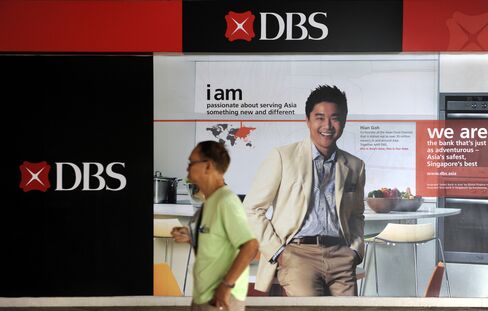 DBS Group Holdings Ltd., Southeast Asia's largest lender, cut its stake in Bank of the Philippine Islands in half, strengthening its capital position.
Ayala Corp. will pay S$757.3 million ($620 million) for a 10.4 percent stake, while the Singapore-based lender will book a gain of S$450 million and keep a 9.9 percent stake, DBS said in an e-mailed statement yesterday. Ayala will control 44 percent of BPI after the transaction, the owner of the country's largest builder said in an e-mailed statement.
DBS has been trying to increase the share of its earnings from overseas markets since Piyush Gupta took over as chief executive officer in November 2009. The sale of the stake in the Philippines' largest bank by market value will help strengthen DBS's capital before new international rules known as Basel III are introduced next year.
"It's the CEO's job to manage capital in the new environment," said Sally Ng, an analyst at China International Capital Corp. in Hong Kong. "If you keep a significant investment in an associate, the value of the investment gets deducted from your Core Tier 1 capital" and planned acquisitions in Indonesia and Malaysia will reduce the buffer.
Shares of DBS rose 0.4 percent to S$14.19 at 11:03 a.m. in Singapore, compared with a 0.2 percent gain in the benchmark Straits Times Index.
Indonesia, Malaysia
DBS's proposed acquisitions of a 99 percent stake in PT Bank Danamon Indonesia for 66 trillion rupiah ($6.9 billion) and a 14 percent stake in Malaysia's Alliance Financial Group Bhd. may decrease capital ratios, Ng said.
Global regulators are requiring banks to increase capital buffers to prevent a repeat of the taxpayer-funded bailouts that followed the collapse of Lehman Brothers Holdings Inc.
Tougher rules from the Basel Committee on Banking Supervision, known as Basel III, that call for lenders to hold more reserves will begin taking effect at the start of 2013 and be fully implemented by 2019. Banks worldwide will be required to hold common equity of at least 7 percent of risk-weighted assets.