Merkel's Southern Flank Wobbles as Adenauer Grandson Ditches CDU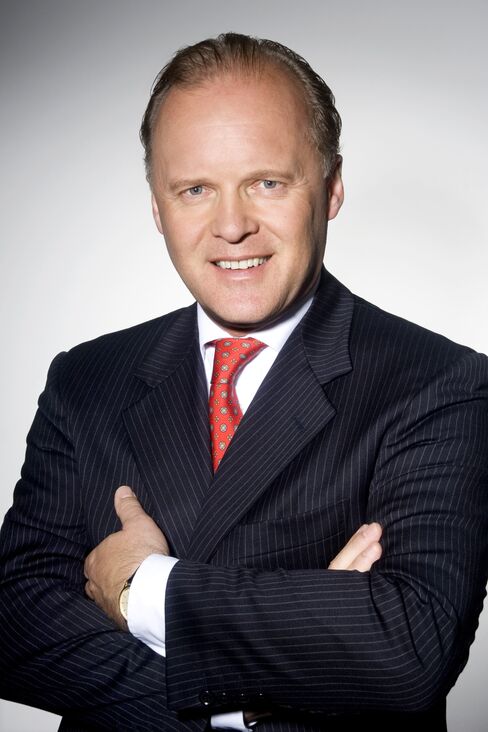 German Chancellor Angela Merkel's bid to find a middle ground in navigating Europe's financial crisis is stoking dissent among traditional allies.
Stephan Werhahn, 59, whose grandfather Konrad Adenauer was Germany's first post-World War II chancellor and a founder of Merkel's Christian Democratic Union party, has quit her bloc after 40 years and defected to Bavaria's Free Voters party. He intends to run as its chancellor candidate in 2013 elections.
For Werhahn, a partner at Munich-based investment adviser General Capital Group, the Free Voters are the only alternative to Merkel's backing for euro-area bailouts that he says violate European Union treaties. The party's increasing popularity may push Merkel's Christian Social Union allies in Bavaria to harden their line against helping Greece.
"Once you abandon treaties and if the EU adopts policies triggering social unrest, pitting northern Europe against the south, with Europeans or people on the street hurling insults at each other, then Europe is back in the very condition that it emerged from after the war," Werhahn said in an interview in Munich.
His view that Merkel's austerity-first crisis response is putting too much pressure on bailed-out countries echoes criticism from the Social Democrats. Unlike the main opposition SPD, the Free Voters advocate Greece's exit from the euro and writing off its remaining debt.
The Free Voters won 10.2 percent in Bavarian state elections in 2008. In 2013 state elections, the party may take enough votes from the CSU to become kingmaker and possibly oust the CSU that has ruled since 1957.
Merkel's Popularity
Merkel's approach to the crisis has her riding high in the polls. She is Germany's most popular politician, ranking ahead of Finance Minister Wolfgang Schaeuble and SPD Chancellor candidate Peer Steinbrueck, according to a ZDF television poll by FG Wahlen conducted Oct. 8-10.
Gero Neugebauer, a political scientist at Berlin's Free University, said he doesn't think the Free Voters will clear the 5 percent hurdle to win seats in the federal parliament because of a lack of organization in the rest of the country.
Bavaria's capital, Munich, is home to six companies in the benchmark DAX stock index, including Bayerische Motoren Werke AG, Allianz SE and Siemens AG.
A grassroots political movement set up after the Nazi German defeat in 1945, the Free Voters, or FW, are strongest at the local level. They provide about 600 of Bavaria's 2,100 mayors, according to the party. The FW has 260,000 members, compared with 480,873 members in Merkel's CDU.
Free Voters' Views
The Free Voters describe themselves as "centrist conservative" with "a strong environmental focus." Like the Greens, the FW opposes gene technology in farming and backs closing nuclear power plants.
Merkel's CSU coalition partner has been ratcheting up anti-bailout rhetoric as the FW rose. Bavaria's CSU Finance Minister Markus Soeder said in an Aug. 5 Bild newspaper interview, that "an example" should be made by cutting Greece loose for the good of the euro area. Alexander Dobrindt, CSU general secretary, predicted Greece would exit the euro by 2013, comments that prompted Merkel to tell coalition officials to "weigh their words very carefully."
"Re-establishing the drachma as a parallel currency to the euro would make Greece more competitive," Hubert Aiwanger, 41, the Free Voters' leader, said in a Sept. 24 interview at the Bavarian parliament in Munich. "With their own currency, they would have more freedom not to cut wages or pensions and wouldn't have to take orders from the Germans."
Parallel Currency
Werhahn, a trained lawyer who studied at Georgetown University, said giving Greece the drachma as a parallel currency to the euro would mean old contracts could remain euro denominated while all new ones would be in drachmas.
"An orderly insolvency is what's needed in Greece," said Werhahn, who also worked at the Landesbank Baden-Wuerttemberg, Siemens AG and Robert Bosch GmbH. "But Merkel is behaving like Margaret Thatcher and saying there's no alternative to austerity and bailouts. We say the situation demands that we look at alternatives."
Before it's here, it's on the Bloomberg Terminal.
LEARN MORE