Goldman Sachs Doesn't Need More Deposit Funding, Cohn Says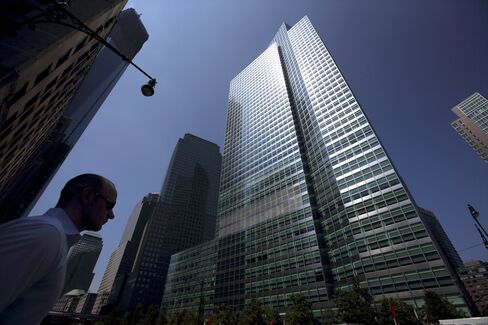 Goldman Sachs Group Inc., the fifth-biggest U.S. bank by assets, doesn't need more deposits to fund its businesses, said President and Chief Operating Officer Gary D. Cohn.
"There's this common view that we are at a funding disadvantage because of deposits," Cohn said in an interview on Bloomberg Television in Tokyo. "The reality is that you can only use deposits for specific parts of your business. So our investment-banking business is on equal footing with everyone else's banking footing when it comes to financing that business."
Cohn, 52, cited rules barring banks from using deposits to fund their investment-banking businesses and said his firm doesn't currently have a use for its current deposit total. Goldman Sachs had $50.9 billion in deposits at the end of March, a fraction of the $1.13 trillion held by JPMorgan Chase & Co., according to company filings.
In businesses where competitors can use deposit funding, they have an advantage, Cohn said, adding their books are much bigger than Goldman Sachs's relative to that advantage.
Cheap Funds
As record-low interest rates limit returns on assets, banks have increased their focus on cutting funding costs, leading them to depend more on cheaper, federally insured deposits.
Cohn's comments in Tokyo, where he is attending the annual meetings of the International Monetary Fund and World Bank, follow those of Goldman Sachs Treasurer Elizabeth Beshel Robinson on July 24 that the bank wants to raise more deposits as the cost of three-year deposits is cheaper than similarly termed debt. The bank has more than doubled its deposit base since 2008.
Bank of America Corp. pays about $500 million a quarter in interest for its $1 trillion of deposits compared with about $2.5 billion for $300 billion of long-term debt, Chief Executive Officer Brian T. Moynihan said on a July 18 conference call. Those figures don't include fees that it pays to the Federal Deposit Insurance Corp.
Federal Reserve rules cited by Cohn today limit the deposit-taking subsidiaries of holding companies from making loans to affiliates that exceed 20 percent of the depositary's capital stock and surplus.
Banks with deposit-taking units, which tend to carry higher credit ratings that investment banking businesses, can use them to hold their derivatives. About 99 percent of JPMorgan's $79 trillion derivatives book was in its deposit-taking subsidiary, as of June 30, according to data compiled by the Office of the Comptroller of the Currency. The figure for Bank of America is 71 percent.