Democrats Rely on Labor Warchest to Blunt Republican Cash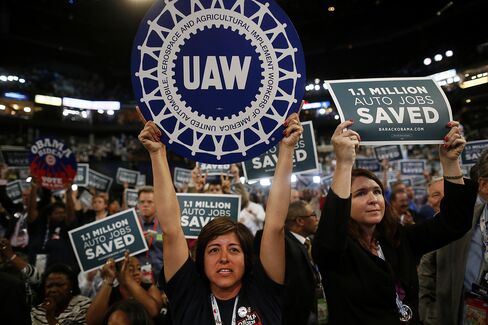 Even as Democrats complain they're being outspent by new Republican-friendly outside groups, they are relying on their own longtime financial powerhouse: organized labor.
Led by the Service Employees International Union, labor groups have spent more than $188.5 million in the last 18 months, through Oct. 1, on television and radio advertising, donations to candidates, contributions to political action committees and other election-related items, a Bloomberg Government review of U.S. Federal Election Commission records shows.
The union tally doesn't account for the hundreds of thousands of paid union members and volunteers who have fanned out across battleground states like Ohio to urge people to vote for President Barack Obama and other Democratic candidates.
"What the unions do works and it matters. They have significant troops, an enormous amount of money and a sustained presence in politics," said Tim Phillips, president of Americans for Prosperity, an outside group that says it plans to spend at least $125 million to back Republican nominee Mitt Romney and other Republicans this year.
Phillips' group, which billionaire industrialists David and Charles Koch started and continue to help fund, has spent more than $30 million attacking Obama and has deployed activists to knock on doors across the country, delivering a Republican-themed message to voters. "We've tried our best to replicate what they do," Phillips said of labor.
Secret Money
The final spending ratio between labor and its Republican and corporate adversaries will remain elusive. In addition to super political action committees, which disclose their spending, there are dozens of nonprofit groups active in the election that aren't required to report all of their political spending or their donors.
One of those is Crossroads Grassroots Policy Strategies, a companion to the super-PAC, American Crossroads, which are both guided by Karl Rove, President George W. Bush's former political adviser. They have set a goal to raise more than $240 million to defeat Democrats, Jonathan Collegio, the groups' spokesman, said in a Sept. 16 NPR interview. Also filing minimal information to the FEC are the U.S. Chamber of Commerce, a business group fueled by corporate checks that tends to support Republicans, and Americans for Prosperity.
Cash Competition
Labor leaders said their resources will pale in comparison to those groups.
"The amount of advertising we do -- that drops out of the chamber's left loafer," said Jeff Hauser, spokesman for the AFL-CIO, an umbrella group of 64 unions. The chamber has made about $23 million in independent expenditures mostly on TV ads, one of the only expenses it reports to the FEC. Labor groups have made about $13.5 million in independent expenditures, the Bloomberg review showed.
James Hoffa, general president of the International Brotherhood of Teamsters, said the cash being funneled into super-PACs and nonprofits by such Republican billionaires as Las Vegas gambling executive Sheldon Adelson and Houston homebuilder Bob Perry ultimately will exceed labor's efforts.
So far, Adelson and his wife, Miriam, have contributed more than $36 million to super-PACS, according to the Center for Responsive Politics, a Washington-based group that tracks campaign finance. Perry has given another $16 million to those same organizations, including Restore Our Future and American Crossroads. It's unknown whether they have given millions more to the groups that don't disclose donors.
Small Donors
Much of the union spending comes from thousands of small contributions from members, most taken from automatic payroll deductions. It would take 56,667 of AFL-CIO's $600 donors to match what Adelson has given during this election.
Donations to the Teamsters PAC, known as D.R.I.V.E, for Democrat, Republican and Independent Voter Education, come in amounts as low as $2 a week from union members who work at companies such as UPS, FEC records show.
As with the nonprofit groups, FEC records provide only a partial picture of unions' political muscle.
More than 400,000 members and volunteers will participate in the election this year, chiefly through footwork such as their Election Day voter-turnout operation, said Michael Podhorzer, political director of the AFL-CIO, an umbrella group for unions.
Grassroots Costs
That additional political spending, including salary costs for workers detailed full-time to political activities and candidate literature distributed to members, must be reported next year to the U.S. Labor Department. It's this ground operation that opponents view as the essence of their power.
For instance, the AFL-CIO reported to the FEC that it spent $16.3 million on politics this year, according to the Center for Responsive Politics. That includes contributions to candidates, political action committees and parties, lobbying and direct spending on political ads.
In its annual report filed with the Labor Department on Sept. 27, however, the union reported spending more than $45 million on politics and lobbying in the fiscal year that ended June 30.
"Union spending, member activism -- it's the entire labor package that's such a valuable commodity for Democratic and progressive candidates," said Steve Rosenthal, a former AFL-CIO political director who now works as an organizing consultant based in Washington. "But union money alone will never match the checks being written by billionaires and multi-millionaires on the other side."
Door-Knocking
Union door-knockers hit the streets in working-class neighborhoods, urging residents to vote for the president and other Democrats and distributing information about registering to vote. They carried clipboards and largely ad-libbed their encounters with residents.
The scene on a recent Saturday in the Montgomery County suburbs of Philadelphia could have been lifted from any presidential election cycle in the past several decades. They look practically vintage at a time when most presidential-level voter-contact campaigns, such as one by Americans for Prosperity, include electronic tablets loaded with talking points and instantly updated databases.
Those technological advantages don't trouble the union members. "They're trying to copy what we do," said Eric Thomas, an organizer for the United Food and Commercial Workers International Union. He smiled. "But this is our brand. Don't nobody do it like we do."
New Strategies
A review of labor spending documented with the FEC shows the groups are adopting new strategies, becoming top funders of Democratic super-PACs and forming some of their own.
Citizens United, the 2010 U.S. Supreme Court decision, helped pave the way for super-PACs and unlimited spending by unions and corporations. That court decision also means that it is easier for unions to spread their get-out-the-vote efforts beyond their own members.
AFL-CIO's super-PAC, Workers' Voice, has raised more than $7 million for this election, primarily from the AFL-CIO, the American Federation of Teachers and other unions. No individual person has given more than $600.
In addition to creating their own committees, the unions are key donors to non-labor super-PACs.
PAC Donations
They accounted for 42 percent of the $15.4 million raised by the House Majority PAC, the political action committee that is trying to elect Democrats to the House, according to a Bloomberg analysis of data provided by the Center for Responsive Politics.
Labor contributed $4.8 million, or 31 percent, of the $15.7 million total raised by the Majority PAC, a super-PAC that is focused on getting Democrats elected to the Senate.
The unions are concentrating their money and manpower on competitive congressional races, as well as trying to keep Obama in the White House, Hoffa said.
"We're very concerned about the very close races," Hoffa said in an interview. He cited the re-election effort of Senator Jon Tester in Montana and Democratic challengers Elizabeth Warren in Massachusetts and Shelley Berkley in Nevada.
That concern is clear to Montana voters. A single ad paid for by the American Federation of State, County, and Municipal Employees attacking Tester's opponent has run more than 1,000 times in that state, according to Kantar Media's CMAG, which tracks advertising. The 30-second spot opens with news coverage of the 2008 stock market collapse.
"A wild ride on Wall Street," a newscaster says. A close-up of Republican challenger Denny Rehberg's face comes into focus. "A gamble," the narrator says. "That's Congressman Denny Rehberg's plan for Social Security. Rehberg promises to privatize it, risking our retirement on the stock market. The ad concludes: "Denny Rehberg in the U.S. Senate? That's too big a gamble."
The Rehberg-Tester race is a toss-up according to a Mason-Dixon poll of registered voters conducted Sept. 17-19.
Before it's here, it's on the Bloomberg Terminal.
LEARN MORE