Corn Surges to Three-Week High as USDA Sees Smaller World Supply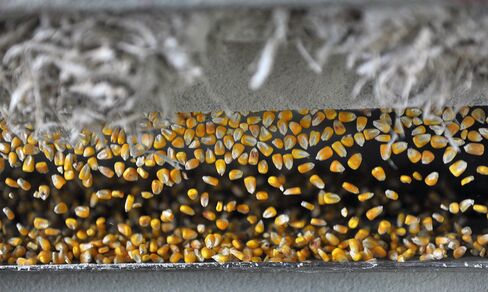 Corn futures jumped to a three-week high after a government report showed global inventories will drop more than expected as the worst U.S. drought in more than 50 years cuts output by the most since 1996.
Worldwide inventories on Oct. 1 will be 117.27 million metric tons, down from 123.95 million predicted a month ago and 131.54 million estimated this year, the U.S. Department of Agriculture said today. Reserves as a percent of consumption will fall to 13.7 percent, the lowest since 1974, USDA data show. Stockpiles in the U.S., the largest grower and exporter, will fall 37 percent to 15.73 million tons, from last year.
"This report signals there is absolutely no supply cushion," Dale Schultz, the buyer-relations manager for AgWest Commodities LLC in Holdrege, Nebraska, said in a telephone interview. "We have to raise prices and reduce demand immediately to prevent a real shortage."
Corn futures for December delivery rose 5 percent to close at $7.7325 a bushel at 2 p.m. on the Chicago Board of Trade, after touching $7.76, the highest since Sept. 17. The gain was the biggest since Sept. 28. Prices have rallied 53 percent since June 15.
June and July in the Midwest were the hottest and driest since 1936, according to Donald Keeney, a senior meteorologist for MDA Information Systems Inc. in Gaithersburg, Maryland. About 50 percent of the crop was in poor or very poor condition as of Sept. 30, government data show.
Tighter Supply
The U.S. harvest, which was about 69 percent complete, will total 10.706 billion bushels (271.94 million tons), the lowest in six years and down 0.2 percent from 10.727 billion predicted in September, the USDA said today in its third survey-based estimate for the crop. The average estimate of 31 analysts was 10.616 billion bushels. Last year, farmers collected 12.358 billion bushels.
"The corn market still has a significant price-rationing function to perform," Dan Cekander, the director of grain market analysis at Chicago-based Newedge USA LLC, said in a note to clients. The grain may trade at $8 to $8.25, he said.
World output in the crop year that began Oct. 1 will be 839.02 million tons, down from 841.06 million forecast a month ago and 877.75 million harvested last year, the USDA said.
Reduced production has increased costs for ethanol refiners such as Archer Daniels Midland Co. and Valero Energy Corp. and meat producers Tyson Foods Inc. and Smithfield Foods Inc., which buy the grain for livestock feed. Zacky Farms LLC, an integrated poultry producer in Fresno, California, filed for bankruptcy on Oct. 9.
Grain Handling
Cargill Inc., the largest closely held U.S. company, lowered its projections for volumes at its North American grain-handling unit. The drought has changed the "normal distribution" of raw materials around the world and is pushing more international buyers away from the U.S., Minneapolis-based Cargill said today in a statement announcing quarterly earnings.
High corn prices also may boost demand for fertilizer from CF Industries Holdings Inc., Potash Corp. of Saskatchewan Inc. and Agrium Inc.
U.S. yields will average 122 bushels per acre, the lowest since 1995 and down from 122.8 estimated in September, the USDA said. Last year, the figure was 147.2. Harvested acreage was forecast at 87.721 million, up from 87.361 million estimated in September and 83.981 million a year earlier.
The average cash price for corn in the marketing year that began Sept. 1 will be $7.80 a bushel, compared with $7.90 estimated a month ago and a record $6.22 last year.
Before it's here, it's on the Bloomberg Terminal.
LEARN MORE