Yum Plans to Spend $100 Million in India to Expand Restaurants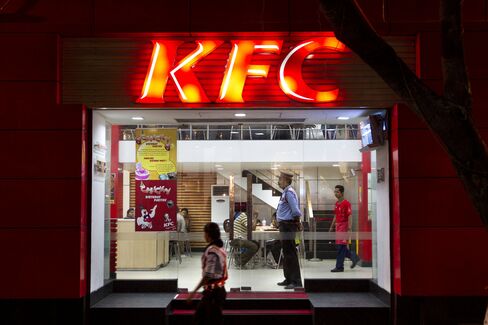 Yum! Brands Inc., owner of the KFC and Taco Bell restaurant brands, said it will spend $100 million in four to five years to expand in India, including the addition of 100 outlets in the country this year.
The expansion is part of a plan to double stores in India and some neighboring countries to 1,000 by 2015, Niren Chaudhary, president of Yum in India, said yesterday in an interview in Mumbai.
Chief Executive Officer David Novak in July said Yum is following in India the strategy adopted in China, which accounts for 44 percent of its revenue. The International Monetary Fund this week cut its 2012 economic growth forecast for India and said it expects expansion to accelerate to 6 percent next year as overseas markets improve and a recent government policy revamp boosts confidence.
"India is at the same point China was before it took off, in terms of macroeconomic parameters such as per capita income and export as a percentage of GDP," Chaudhary said. "We're an economy driven on the back of domestic consumption expenditure and therefore, as we have seen, we are likely to continue to be resilient even in the face of a global slowdown."
Yum is based in Louisville, Kentucky.
Growing urbanization, a large middle class and an increasing number of people joining the workforce may help India's fast-food industry to expand to 146 billion rupees ($2.8 billion) in 2014 from 47 billion rupees in 2010, according to estimates by researcher RNCOS E-Services Pvt.
McDonald's Corp. will double stores within four years in India, Vikram Bakshi, country managing director, said yesterday in Mumbai.