World Bank's Kim Says Global Slump Could Destroy Africa's Gains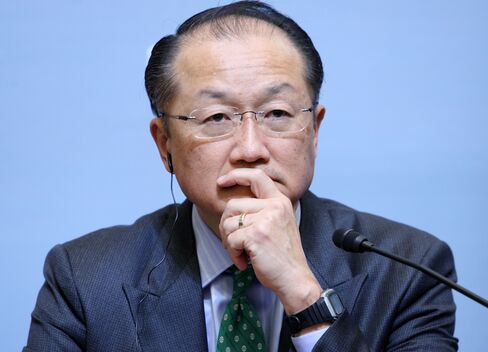 World Bank President Jim Yong Kim said the global economy is at risk of a slowdown that wipes out gains in Africa, the poorest continent, and Latin America.
"Our job now is to make sure the growth over the last five years that we've seen in Africa and Latin America is not destroyed by further worsening in the situation," Kim said in an interview with Bloomberg Television today on a Japanese bullet train to Sendai, a city in the region hit hardest by last year's earthquake and tsunami.
The World Bank and International Monetary Fund are holding their annual meetings in Tokyo this week as low growth in the richest economies hurts developing counterparts from China to Brazil to South Africa. Kim endorsed the IMF's view that there is an "alarmingly high risk" of a steeper world slowdown, with a one-in-six chance of growth slipping below 2 percent.
Kim, 52, said that more than half of global growth over last five years has come from developing nations, where job creation is key.
"We're working very actively with all our member countries to find ways to spur growth in the private sector in Africa, Latin America, everywhere," he said.
The Washington-based lender said last week that the global economy will need to create 600 million new jobs between 2005 and 2020 to absorb young people entering the work force and spur development.
Spreading Impact
South African economic growth will probably slow this year to 2.6 percent from 3.1 percent last year as demand for manufactured exports from Europe wanes and strikes at gold and platinum mines spread, Reserve Bank Governor Gill Marcus said on Sept. 20. The Reserve Bank cut its benchmark interest rate for the first time in 20 months in July, lowering it to 5 percent.
African nations opposed Kim's nomination by the U.S. for the World Bank's top post, lobbying instead for Nigerian Finance Minister Ngozi Okonjo-Iweala. In Japan, his visit to Sendai today was to attend a forum on disaster risk management.
Asian stocks fell for a third day today on signs of weakness in the global economy ranging from slowing Chinese growth to the hit to corporate profits from Europe's debt crisis. The MSCI Asia Pacific Index was down 0.8 percent as of 4:30 p.m. in Tokyo.
Kim urged lawmakers in the U.S. to make efforts to improve the country's fiscal state once presidential elections in the world's largest economy are out of the way, saying that politicians there understand the risks of inaction.
Leadership Test
"I think this is a real test of leadership for legislators in the U.S.," he said. "After this election is over, it's very important that they take positive steps to not let us go over the fiscal cliff."
Kim, the former president of Dartmouth College, succeeded Robert Zoellick as chief of the Washington-based development bank in July. He leads a poverty-fighting institution that distributed about $53 billion worth of loans last year.
The World Bank was created at the end of World War II to help rebuild ravaged Europe. Now focused on developing countries, it targets lending for projects from road-building to education programs. The bank has also expanded its scope to include taking stakes in companies and guaranteeing investments.
Before it's here, it's on the Bloomberg Terminal.
LEARN MORE