UBS Executive Probing Adoboli Trades Ignored Co-Workers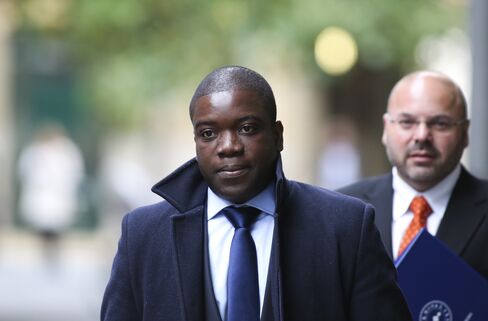 The UBS AG executive who conducted an internal review of Kweku Adoboli's trades that allegedly caused a $2.3 billion loss didn't look into the actions of any other traders on his desk or review their communications.
Ruwan Weerasekera, chief operating officer of securities at UBS's investment bank, testified yesterday that, had he seen them, he would have reviewed the messages between Adoboli and John Hughes. Hughes, another former trader on the exchange-traded funds desk, exchanged messages with Adoboli that referenced a so-called umbrella account.
Prosecutors say Adoboli, who is on trial for fraud and false accounting tied to the trading loss at Zurich-based UBS, created a secret account known as the umbrella while working on the bank's ETF desk in London where he parked trading profits to cover future losses. Adoboli, 32, has pleaded not guilty and his lawyers have sought to show others knew of the secret fund.
"You didn't factor into your considerations the extent to which others at UBS were complicit," Paul Garlick, a lawyer for Adoboli, said to Weerasekera.
Weerasekera said he used an e-mail from Adoboli confessing to booking fictitious trades and saying he acted alone as the starting point for his review, dubbed Project Bronze. He said his probe was limited to the trades entered into the bank's system by Adoboli, focusing on the period from June 1, 2011, until the trader's arrest in September of last year.
FSA Investigation
He didn't look at trades by anyone else on the desk or whether they used the umbrella account or knew about it.
"Had I known the term umbrella and had I looked at the communications, I would have looked into it further," Weerasekera said. "At the same time, I was working with an independent investigator whose focus was to take all of that into consideration."
The accounting firm KPMG LLP has conducted its own investigation at the request of the U.K. Financial Services Authority into the controls failures at UBS that allowed the trades to happen. Weerasekera said he worked with KPMG daily.
Weerasekera testified previously he didn't look at ETF desk trades that exceeded risk limits made last year while Adoboli was on vacation.
Adoboli's lawyers have sought to show he didn't act alone and traders were encouraged to exceed trading limits to increase profits.
Senior Trader
Hughes, the most senior of four traders on the bank's ETF desk, testified last week that he made trades that benefited the umbrella account after one of the defendant's lawyers showed him evidence of at least five transactions made while Adoboli was on vacation in Greece. The lawyer, Charles Sherrard, said that KPMG had found evidence of similar trades.
Hughes confirmed he'd made the trades, which were real transactions on the bank's books tied to fake hedges that hid risk from the desk's regular trading book. Profit from such trades went into the umbrella fund for later use by the desk, Sherrard said.
Hughes testified that his firing for gross misconduct was fair.
Before it's here, it's on the Bloomberg Terminal.
LEARN MORE