Q&A: The New Yorker Who Holds the Phone for Students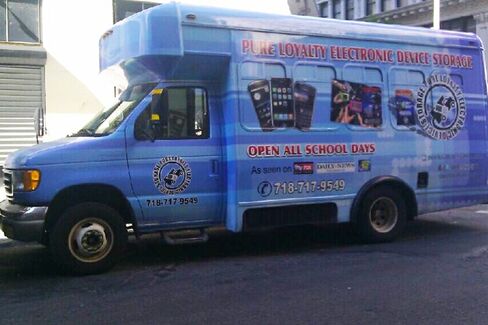 In 2010 a Bronx (N.Y.) correctional officer named Vernon Alcoser carved out a niche business tapping perhaps the unlikeliest of markets: student bodies in the New York City public school system. A few years prior, city officials had banned students from bringing mobile phones into public schools. His girlfriend's daughter, like many other enterprising students, began taking her cell phone to a nearby bodega, which offered to store students' devices during school hours.
"She had concerns about [her daughter's safety]," Alcoser says. "The bus would stop directly in front of the school. Her daughter would have to go down the block towards the train station to put her phone there and then come back up to where the school was. A light turned on in my head. My partner wanted to open a store [to store phones], but trucks will be more mobile and you could get them in front of the school."
The resulting business, Pure Loyalty, holds students' electronic devices in trucks for $1 a day while they attend class. It has eight trucks that park outside eight public schools from 7:30 a.m. to 5 p.m. on every school day. Each is manned by one employee. Still, things aren't all rosy: More competitors—namely bodegas, and even neighbors—are offering storage services. In 2010, a Pure Loyalty truck could take in 700 devices daily; today, the maximum intake for a truck is about 400 devices, Alcoser says. Bloomberg Businessweek hopped on the phone with Alcoser, who still works as a correctional officer, to learn more.
Is your business profitable?
In September we lost money because there were only 14 days of school. Some months it's up, some months it's down. It is break-even most months. In 2010 it was more profitable than it is now. Now the market is saturated, so it's difficult to make a lot of money. I was thinking about letting go of my employees. But it makes enough to pay them, so I'm not going to put people out of work. As long as the trucks make enough to cover the trucks and insurance … The insurance for the phones is astronomical because they know how much those phones cost. It's a $3 million insurance policy. They charge us a pretty penny for that.
Have you thought about increasing the price?
I don't want to charge the kids what I am charging them now. We're not going to raise the price. It will never be more than $1.
Did you ever think about expanding to private schools?
No. All city schools. Private schools don't have that legislation that students can't bring their phones to school. It's not enforced in a lot of [public] schools either.
Are there ever competing trucks parked outside the schools?
I haven't seen that yet. Most of the competition is stores, or people's homes. I don't know how they get away with doing that. I wouldn't let my kid go into someone's house to store a phone. I don't even know if that's legal.
Have you had any issues with parents?
They call a lot. They call to find out if we have insurance, what happens if we lose their child's phone. They ask if I am who I say I am. It's their kids, their money, so they are highly concerned. My sister takes most of the calls. She has the business phone. But in some cases they talk to the principal, in some cases to school safety. The news articles helped a lot, because they showed the vendors' licenses and everything. What I've learned is if you tell them what they want to hear, they are going to believe it anyway. They call to get peace of mind. The burden of proof is on you to believe my story. Generally, people want to believe good things. That's the problem. … Fortunately, I am telling them the truth.
What happens if a phone is misplaced?
We take them to the store and buy a brand-new one, whatever phone it is. We lost an iPhone; it was $600. We lost a Boost Mobile; it was $50. That's what the insurance is for. We replace it the day of or the next day, whenever the parent can come with the phone bill to show what kind of phone it was. We don't have them wait.
What kinds of phones do kids have these days?
Some kids have hand-me-downs, some have $50 Boost Mobile phones, some have iPhones and BlackBerrys. It just depends. Some kids' parents are lawyers, some kids' parents are garbage people. … Actually, garbage people make a lot of money. Some less than garbage people. It depends.
What's next?
I don't know how long Pure Loyalty will exist. Mayor Bloomberg put the ban on cell phones. When the new mayor takes over [in 2014], it may be gone. I might open a cleaning service and send my employees over to that, in the event that that happens. I want to open a gym. I've been dying to do that. I wanted to do that before the cell-phone thing, but that popped up and I had to act on it.
Before it's here, it's on the Bloomberg Terminal.
LEARN MORE