Yum Profit Rises 23% as U.S. Sales Climb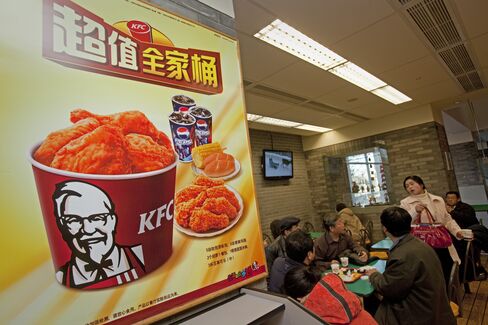 Yum! Brands Inc., owner of the Taco Bell and KFC fast-food chains, surged in New York trading after third-quarter profit topped analysts' estimates on sales gains in the U.S. and China.
The shares added 6.8 percent to $70.51 at 9:54 a.m. and earlier gained as much as 8.6 percent. Yum climbed 12 percent this year through yesterday.
Net income rose 23 percent to $471 million, or $1 a share, from $383 million, or 80 cents, a year earlier, Louisville, Kentucky-based Yum said yesterday in a statement. Profit excluding some items was 99 cents a share. Analysts projected 97 cents, the average of 22 estimates compiled by Bloomberg.
Chief Executive Officer David Novak has sought to boost sales at the company's Taco Bell chain in the U.S. by selling more expensive items as part of the new Cantina Bell menu. Yum, which has more than 18,000 domestic restaurants, said sales at U.S. stores open at least 12 months advanced 6 percent. Analysts estimated a sales gain of 4.4 percent, the average of projections compiled by Consensus Metrix.
Same-store sales rose 6 percent in China, 5 percent in India and 2 percent at other international stores. Analysts estimated 6 percent growth for China, 6.2 percent for India and 2.8 percent at international stores, according to Consensus Metrix, a researcher owned by Wayne, New Jersey-based Kaul Advisory Group.
Comparable-store sales are considered an indicator of growth because they include only established locations.
Forecast Raised
Profit excluding some items will rise to at least $3.24 a share this year, up from a previous forecast for a minimum of $3.22, Yum said. Analysts estimate $3.26, on average.
Consumer sentiment in China dropped in September from August amid a slowing economy, according to MNI's China Consumer Sentiment Indicator. That was the third straight monthly decline as the government cuts interest rates to spur investment and economic growth.
Yum, which has said it expects to open at least 700 new units in China this year, said it will now open more than 750. The company will open 1,750 stores outside the U.S. this year. Yum has more than 38,000 locations worldwide.
"In China, our category-leading brands and competitive positions are stronger than ever," Novak said in the statement. The company opened 192 stores in China in the quarter.
In the U.S., Yum may face higher raw-ingredient costs next year after the worst U.S. drought in 56 years sent the price of corn to a record high in August. Commodity inflation was 2 percent in the quarter.
Revenue rose to $3.57 billion in the quarter from $3.27 billion a year earlier. Analysts estimated $3.66 billion, on average.