King Says BOE Must Keep Inflation Goal as Tool Revamp Looms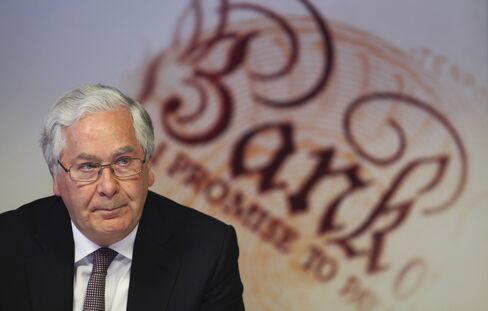 Bank of England Governor Mervyn King said inflation targeting has served the U.K. well over two decades and should remain at the heart of monetary policy as officials take on powers to ensure financial stability.
"The case for price stability is as strong today as it was 20 years ago," King said at the London School of Economics in the U.K. capital late yesterday. While there are circumstances where it may be "justified to aim off" the target for a while, he said this wasn't a call for a change to the bank's remit.
King reviewed 20 years coinciding with the time he spent helping to build the current regime, and his comments come as the central bank takes on unprecedented powers over the banking system and regulation. With his tenure now drawing to a close, he fought back against suggestions that policy makers were clearly wrong to have kept interest rates as low as they did before the financial crisis struck in 2007.
"The big challenge to monetary policy before the crisis was a serious mispricing in long-term interest and exchange rates," King said. "It is arguable, though not certain, that in the absence of a macro-prudential regime or tighter fiscal policy, persistently higher interest rates might have been a second-best strategy. It would, though, have been a big gamble."
King Defense
King, who is due to retire in June, said that the macro-prudential tools that the central bank will gain would have helped to mitigate "excessive leverage and risk taking in the banking and wider financial sector" before 2007, though it would be "optimistic" to rely on them alone in future.
"It would be sensible to recognize that there may be circumstances in which it is justified to aim off the inflation target for a while in order to moderate the risk of financial crises," he said. "Monetary policy cannot just 'mop up' after a crisis."
Asked about these comments after the speech, he noted that the bank had tolerated inflation above its 2 percent goal in recent years to prevent a deeper recession and he wasn't signaling a change to its remit.
"There may be other reasons in the future for accepting an overshoot or indeed an undershoot" for a period, King said. "How we would calibrate that, I don't know. I'm not suggesting in any way changes to the remit."
Credibility
King, in his defense of U.K. inflation targeting, pointed to the improvement in the credibility of monetary policy in the past two decades. He highlighted inflation expectations as measured by the difference between yields conventional and index-linked gilts. In 1992, it was close 6 percent, while today it is around 2.5 percent.
"The key principles underlying flexible inflation targeting are credibility, predictability and transparency of decision-taking, and they will remain the cornerstone of successful monetary policy," he said.
King also said he expects the U.K. to have a slow, gradual recovery and indicated that quantitative easing remains the central bank's primary tool to help the economy recover.
"We can't use interest rates at present, because we've reached rock bottom," he said. "But we can mimic the effect of interest rates by injecting more or less money directly into the economy."
While there's no "technical limit" to asset purchases, officials must acknowledge they can't continue to stimulate the economy indefinitely, he said.
"We cannot be entirely sanguine about the ability to keep to bringing expenditure from the future into the present," he said. "What that means in practice, I don't know. There's no limit to asset purchases we can make."
Temporary Deviations
King also said that price stability has been maintained because the Bank of England has kept U.K. inflation on average close to its target.
"Even if inflation deviates from target -- as will often be the case -- it is expected to return to target, and so inflation expectations are anchored," he said. "That is why since 2007 the U.K. has been able to absorb the largest depreciation of sterling since the Second World War."
"We forget the lessons of the 1970s and 1980s at our peril," he said. "In the end, the essence of central banking is to maintain confidence in, and the value of, paper money."
Before it's here, it's on the Bloomberg Terminal.
LEARN MORE