Welch Leaves Reuters, Fortune After Twitter-Post Backlash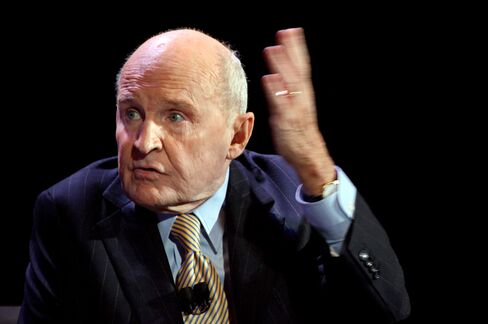 Jack Welch, the former chief executive officer of General Electric Co., will stop writing for Thomson Reuters Corp. and Fortune magazine after backlash to his Twitter post suggesting President Barack Obama's administration manipulated employment data for political gain.
Welch sent an e-mail to Reuters Editor-in-Chief Steve Adler and Fortune Managing Editor Andy Serwer saying he and his wife, Suzy, were terminating their contract and would no longer contribute to Reuters or Fortune. The print title had agreed to pick up the column. A Reuters spokeswoman, Barb Burg, confirmed Welch was leaving.
The move followed criticism by Serwer of Welch's comments on the Oct. 5 U.S. unemployment report and a Reuters story quoting a money manager who described Welch's statements as laughable, Fortune said. Obama's administration denounced Welch's claims as baseless.
"Unfortunately for those who would like me to pipe down, the 7.8% unemployment figure released by the Bureau of Labor Statistics (BLS) last week is downright implausible," Welch said in an opinion article late today on the Wall Street Journal's website. "And that's why I made a stink about it."
Welch had said earlier that he and his wife were planning a piece in the Journal, according to the e-mail, which was confirmed by his assistant, Rosanne Badowski.
'Better Fit'
"In terms of traction, it's just a better fit for us," Welch said in the message, posted on Fortune's website.
Welch declined to comment further, Badowski said. Ashley Huston, a spokeswoman for Journal publisher Dow Jones & Co., declined to comment.
Welch has contributed $5,000, the maximum, to Republican presidential candidate Mitt Romney's campaign and described him on CNBC as "the most qualified leader" to seek the office in his lifetime. His Oct. 5 Twitter message snowballed as commentators and politicians weighed in on social-media websites and television to endorse or dispute his view.
"Unbelievable jobs numbers..these Chicago guys will do anything..can't debate so change numbers," Welch said in the message, posted immediately after the U.S. Labor Department reported that the unemployment rate fell to 7.8 percent last month. That was the lowest since Obama took office in January 2009.
Attention Assured
Welch's background as GE's CEO for more than 20 years and a business-book author assured his post would attract attention. His message has been resent by Twitter users more than 5,100 times and he continued the criticism in interviews with the Journal and Fox News.
The Obama administration defended the U.S. Bureau of Labor Statistics, which computes the figures. Alan Krueger, chairman of the White House Council of Economic Advisers, told Bloomberg Television that Welch's remark was "irresponsible."
Welch tempered his words during a television interview on Oct. 5, when CNBC host Larry Kudlow said it was unrealistic to allege the White House adjusted the data.
"Let's hope that's totally correct, Larry," Welch, 76, said. Still, he said, "This election is too important for one number that might be corrected next month to determine the election. I want to see a real debate about this number."
In the Journal article, Welch said the September unemployment rate merited "serious skepticism" because three sets of labor-market statistics -- workforce participation, growth in government payrolls and overall job growth -- all reached multidecade records in the past two months.
While Welch wrote that if he could post his initial Oct. 5 message again he would do so with question marks to make clear he was raising a question, he said, "I'm not sorry for the heated debate that ensued."
Bloomberg LP, the parent of Bloomberg News, competes with Thomson Reuters and units of Dow Jones parent News Corp. in providing financial news and information.