Bachmann Trades Presidential Trappings for Chevy Impala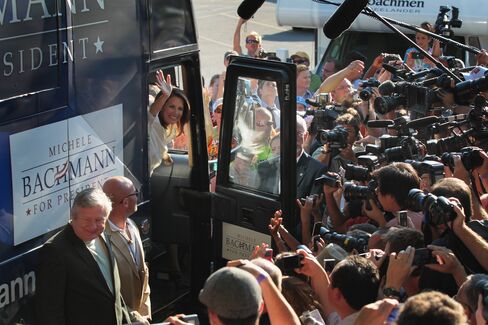 For Michele Bachmann, the amenity-filled campaign planes, custom-lighting crews and other trappings of her short-lived presidential bid are gone. When she arrived last week for a series of campaign stops in her congressional district, she rode in a tan Chevrolet Impala.
If the downgrade in surroundings troubles her, the heroine of the anti-tax Tea Party movement and three-term U.S. House member from Minnesota isn't letting on.
"Humbling is good," she said in an interview. "I was proud to run for president and happy to do this again, so I don't see it as a come down at all."
Bachmann, 56, who dropped out of the Republican presidential nomination race after a sixth-place finish in January's Iowa caucuses, is playing a more temperate tone as she faces one of the stronger tests of her political career.
Her Democratic opponent, Jim Graves, is better financed than previous challengers and the state's Independence Party, an official third party in Minnesota, hasn't fielded a candidate. In 2010, the Independent candidate received about 6 percent of the vote and in 2008 the party's candidate got 10 percent, which is now up for grabs.
Graves is seeking to remind voters of the often controversial statements and positions Bachmann took during her presidential campaign as he tries to rally Democrats and independent voters in Minnesota's 6th Congressional District.
'Extremist' Record
"She's an extremist," he said in an interview in his campaign office in St. Cloud, the district's largest city. "After six years, she really hasn't gotten anything done."
After a career in the hotel and real estate industries, Graves has a net worth of between $22 million and $111 million, according to a U.S. House disclosure report. He plans to spend no more than $500,000 of his own money on the race, he said.
Graves, 59, is getting some help from groups outside the district who want Bachmann knocked out of Congress.
American Bridge 21st Century, a Democratic-aligned political action committee, has put out an online video that highlights some of the gaffes by Bachmann throughout her career. The video includes her incorrect statement during her presidential bid that a vaccine to prevent cervical cancer can lead to mental retardation.
Bachmann also got into trouble with her party's leadership earlier this year, after she raised questions about Muslims in the U.S. government, including a top aide to Secretary of State Hillary Clinton.
Leadership Criticism
Both House Speaker John Boehner of Ohio and Senator John McCain of Arizona, the 2008 Republican presidential nominee, criticized her after she wrote letters to national security agencies questioning whether the Muslim Brotherhood had infiltrated the government.
The Democratic Congressional Campaign Committee has listed Bachmann's re-election bid as competitive, meaning the race merits national funds and attention. The Washington-based nonpartisan Rothenberg Political Report has shifted its characterization of the race from "Safe Republican" to "Republican Favored."
A late-August poll commissioned by Graves showed the challenger within two percentage points of Bachmann. The survey was done by Greenberg Quinlan Rosner, a Democratic polling firm based in Washington.
Even as Graves shows signs of gaining traction, Bachmann can take comfort in the makeup of her district. In redistricting after the 2010 census, the district lost some areas more heavily concentrated with Democrats while communities where Republicans are more dominant were added to it.
New District
The reconfigured district includes exurban areas to the east, north and west along the fringes of the Minneapolis-St. Paul metropolitan area, as well as another leg that includes exurban and rural areas between the Twin Cities and St. Cloud.
"Redistricting has made the district even stronger for Bachmann," said Blois Olson, a communications strategist who publishes a note on Minnesota politics five days a week and managed a Democratic congressional race in the state earlier in his career. "Unless Bachmann severely stumbles or Graves surprises everyone by dumping millions in during the last month, she's going to be tough to beat."
Bachmann, who polls show has nearly 100 percent name recognition in the district, has toned down her rhetoric and focused her campaign on "things she has done in the district, from a veteran's service center to a new bridge," Olson said.
McCain Performance
In a state where Democrats dominate, McCain had his best showing in the 2008 presidential election against then-Senator Barack Obama in Bachmann's district, winning 53 percent of the vote. The main area added to the district since then is the majority of Carver County, to the south and west of Minneapolis. McCain won 57 percent of the vote in that county.
While the new district no longer includes Bachmann's stone-exterior home on the 18th hole of a golf course, she's letting it be known that she is looking for a new home inside it. There's no legal requirement that Bachmann live in the district she represents, although members of Congress typically do because it can become a political liability otherwise.
The race between Bachmann and Graves has had plenty of attacks. Bachmann's campaign put out an Internet video ahead of a Graves fundraiser that was headlined by Representative Barney Frank, a Massachusetts Democrat and former chairman of the House Financial Services Committee.
"Barney Frank sure knows how to recklessly spend and tax and Jim Graves will learn from the master," the video's narrator says.
Attack Ads
Another of Bachmann's ads says Graves would be a "rubberstamp" for former House Speaker Nancy Pelosi of California who remains the leader of the chamber's Democrats.
A Graves campaign ad criticized Bachmann's response to a fire at a paper mill in the district. That ad was given a "D" grade in a truth test by one Twin Cities television station.
Through Oct. 1, Graves had spent slightly more on television advertising than Bachmann, $257,000 to $212,000, according to data from New York-based Kantar Media's CMAG, which tracks advertising.
Bachmann had about $2 million in her congressional campaign account as of July 25 -- the most recent data available -- according to the Federal Election Commission. That compares to $351,622 for Graves.
Uphill Fight
In between making fundraising calls last week, Graves said he knows he has an uphill fight.
"Are we a long shot? Of course," he said. "But the way we've looked at it, we think it's not only doable, we're confident that we're going to win this thing."
Graves, who founded the AmericInn hotel chain, is trying to build support in and around his hometown of St. Cloud, where he's coordinating with Obama's re-election campaign to try to boost turnout at area colleges.
Bachmann's campaign schedule suggests she isn't too concerned. One afternoon last week, she toured local businesses in Waconia, Minnesota. Her stops included a fruit and vegetable market, a golf course and a winery, where she took time for a tasting session and tour of grape crushing equipment and storage containers.
The point Graves makes about Bachmann failing to shepherd any major legislation through the House is generally true. The one project she highlights -- securing approval for construction of a $700 million bridge across the St. Croix River -- is no longer in the 6th District.
Two Ex-Governors
Although neither has overtly weighed in on the race, two former Republican governors from Minnesota have taken opposing views of Bachmann.
Tim Pawlenty, whose own presidential bid was cut short in part because of Bachmann's win in the Iowa Straw Poll in August 2011, has endorsed her in the congressional race.
In an Internet posting late last month, former Governor Arne Carlson called her an embarrassment to the state and compared her to Joseph McCarthy, the Republican senator from Wisconsin whose anti-communist campaign in the 1950s ended the careers of some Americans.
"Like McCarthy, she has found herself in decline and outside her party's power structure," Carlson wrote. "What has happened to Bachmann is common with the McCarthy types -- they rise quickly as they step loudly and carelessly on the reputations of innocent people and they fall just as rapidly in accordance with the public's insistence on truth and decency."
In an e-mail, Bachmann campaign manager Chase Kroll declined to respond to Carlson's comments.