Trade Gap Probably Widened on Oil Costs: U.S. Economy Preview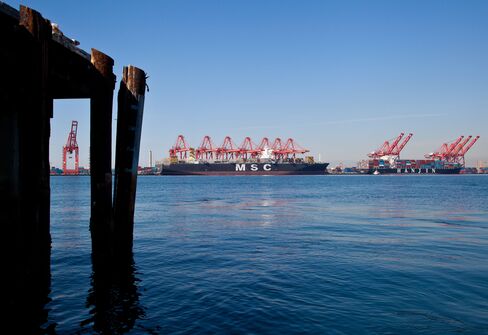 The U.S. trade deficit probably climbed in August on higher crude oil costs at the same time slower global growth reduced demand for American exports, economists said before a report this week.
The gap widened to $44 billion during the month from $42 billion in July, according to the median forecast of 62 economists in a Bloomberg survey before the Commerce Department's report on Oct 11. More expensive oil pushed up producer prices in September, figures from the Labor Department may show the next day.
A stagnant Europe and slower growth in China and other emerging markets may be starting to curtail demand for U.S. products, a source of strength for the expansion in the second quarter. At the same time, the pickup in the cost of energy may push up the nation's import bill and costs for American companies.
"The global slowdown has reduced export growth, hobbling one of the two key drivers of the recovery thus far," said Nigel Gault, chief U.S. economist at IHS Global Insight in Lexington, Massachusetts. "The other key driver, business fixed investment, is also weakening."
Six of the top 10 export markets for U.S. manufactured goods, including China, Japan and the U.K., showed shrinking business activity in September, according to purchasing managers surveyed by HSBC Holdings Plc and Markit Economics. Canada and Mexico, the two largest markets for U.S. goods, posted slower growth than in the prior month.
Europe, China
"The U.S. itself is doing OK, not great, but we're not looking at a recession," said Michael Gapen, a senior economist at Barclays Plc in New York. "Europe is in a minor recession and China is slowing. Exports are a challenge."
Price increases for fuel from overseas probably pushed up the value of imports in August. The active contract on Brent oil on the London-based ICE Futures Europe exchange climbed to $114.57 at the end of August, from $104.92 on July 31.
Higher fuel costs led to gains in the producer price index and a gauge of import prices, Labor Department reports may show. Wholesale costs climbed 0.8 percent in September after a 1.7 percent surge, according to the median forecast in a Bloomberg survey.
Import prices increased 0.8 percent after a 0.7 percent rise, the survey median showed before the agency's report on Oct. 11.
The slackening world economy is weighing on sales at companies such as Caterpillar Inc.
Caterpillar Profit
Caterpillar, the world's biggest construction and mining equipment maker, cut its forecast for 2015 earnings after commodity producers reduced capital expenditure. The company said profit will be $12 to $18 a share, compared with previous projections of $15 to $20.
Peoria, Illinois-based Caterpillar is forecasting moderate and "anemic" growth through 2015, Chairman and Chief Executive Officer Doug Oberhelman said Sept. 24 in a presentation to analysts at a conference in Las Vegas. Construction in emerging markets will probably show modest improvements, he said.
"We've seen a slowing in economic growth that was more than we expected," he said. "We think '13 could look like 2012 in terms of worldwide economic growth."
Another report on Oct. 12 may show consumer sentiment this month held close to a four-month high. The Thomson Reuters/University of Michigan preliminary sentiment index eased to 78 in October from 78.3, according to the median forecast in a Bloomberg survey of economists.
                     Bloomberg Survey

==============================================================
                        Release    Period    Prior     Median
Indicator                 Date               Value    Forecast
==============================================================
Trade Balance $ Blns     10/11      Aug.     -42.0     -44.0
Import Prices MOM%       10/11     Sept.      0.7%      0.8%
Initial Claims ,000's    10/11     6-Oct      367       368
PPI  MOM%                10/12     Sept.      1.7%      0.8%
Core PPI MOM%            10/12     Sept.      0.2%      0.2%
PPI  YOY%                10/12     Sept.      2.0%      1.8%
Core PPI YOY%            10/12     Sept.      2.5%      2.5%
U of Mich Conf. Index    10/12     Oct. P     78.3      78.0
==============================================================
Before it's here, it's on the Bloomberg Terminal.
LEARN MORE