Strauss-Kahn's New Consulting Firm Is Dilemma for Businesswomen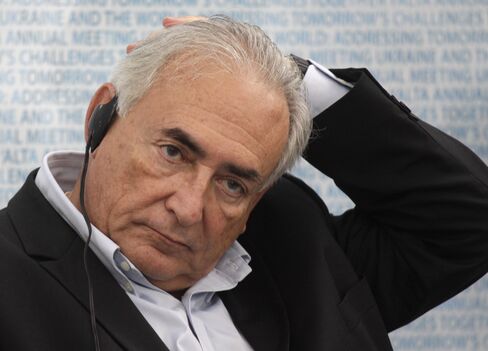 Would women executives be willing to work with Dominique Strauss-Kahn's new consulting company in Paris? The answer is a resounding maybe.
The former head of the International Monetary Fund, 63, last year quit that job to defend himself against charges of sexually assaulting a maid in a Manhattan hotel. The criminal case was later dropped and the alleged victim is pursuing a civil lawsuit against him. Separately, prosecutors in Lille, in northern France, on Oct. 2 abandoned a probe into allegations he and some other men raped a prostitute in Washington in 2010.
Seeking to rebuild his career, DSK, as he's known in France, on Sept. 4 registered a company called Parnasse to offer business advice, a filing with the Paris tribunal of commerce shows. Women executives disagree on whether Strauss-Kahn, a one-time potential contender to be the Socialist Party nominee in the French presidential election, is someone they can work with.
"As a woman, I favor giving him a second chance," Carmen Kervella, founder of aHeadland, a brand-strategy firm in Paris, said in an interview. Her company, according to its website, counts Christian Dior, Chanel and Guerlain among its clients. "His capabilities have never been in question. I see him working on large mergers-and-acquisitions advice or on relations between business and government."
For some women, his capabilities are eclipsed by the shadow of the accusations against him.
"Character, ethical standards, integrity and leadership qualities must trump what individuals may bring to the table, such as competence and a contact list of movers and shakers," Natasha Srdoc, co-founder of International Leaders' Summit, said in a phone interview from Washington D.C.
Long Career
Two messages requesting comment from Strauss-Kahn went unanswered. His lawyer Frederique Baulieu declined to comment on the business venture.
Strauss-Kahn was arrested in New York last year on charges he sexually assaulted a hotel chambermaid. Evidence collected by New York investigators established that Strauss-Kahn engaged in "a hurried sexual encounter." Local prosecutors dropped the case because of concerns about his accuser's credibility.
Before his arrest in May 2011, polls showed Strauss-Kahn as the Socialist candidate best placed to defeat then-president Nicolas Sarkozy. Socialist candidate Francois Hollande defeated Sarkozy in May this year.
Strauss-Kahn became managing director of the IMF in November 2007 after Segolene Royal beat him to become the Socialist Party's presidential candidate. He was the French finance minister between 1997 and 1999. Strauss-Kahn, who holds a doctoral degree in economics from the University of Paris, worked as a corporate lawyer between 1993 and 1997.
International Business
In spite of the fat rolodex of contacts Strauss-Kahn may have collected over his more than 30-year career, some people might have reservations, said Srdoc, whose forum brings business heads and politicians together to advocate free-market reforms.
"For companies, a close association with people of character and honesty does matter both in the short term and long-term," she said. "If we lose sight of these basic prerequisites, we all relegate ourselves to lower standards."
French executives such as Nina Mitz, a senior managing director of public relations firm FTI Strategic Communications in Paris who was a Strauss-Kahn spokeswoman when he was at the finance ministry, said for good advice, businesswomen may be willing to look beyond the accusations -- on which Strauss-Kahn hasn't been convicted.
"I think that businesswomen are capable of disregarding their personal feelings for the sake of their business endeavours," she said.
Strauss-Kahn's "intelligence, knowledge, creativity and negotiation capabilities are sufficiently rare to induce anyone, whether man or woman, to capitalize on his qualities," she said. "Managerial qualities have no gender."
Before it's here, it's on the Bloomberg Terminal.
LEARN MORE