JPMorgan Shouldn't Cut Dimon's Pay Over Loss, Harrison Says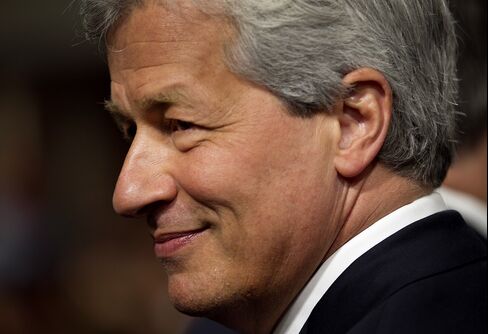 JPMorgan Chase & Co. shouldn't cut Chief Executive Officer Jamie Dimon's pay over the bank's $5.8 billion loss in its chief investment office, former CEO William Harrison said.
"I wouldn't penalize him," Harrison, 69, said today in an interview on Bloomberg Television with Stephanie Ruhle and Erik Schatzker. "That might be a controversial statement. I think Jamie is doing a great job."
Harrison, who retired as JPMorgan's chairman after turning the helm over to Dimon in 2006, said the company's share price has almost recovered after tumbling more than 30 percent following an April 5 report by Bloomberg News that the bank amassed a large and illiquid position in credit derivatives. While the loss was a "big number," Harrison said it was "very manageable" for the largest U.S. bank with $2.3 trillion in assets.
"So the model worked," he said. "Mistakes were made. I mean, maybe you penalize Jamie some, that's a choice they've got to make. But I wouldn't go after the CEO in a case like this."
Dimon, 56, received $23 million in pay and bonuses in 2011, making him the highest-paid CEO of a major U.S. bank.
JPMorgan gained 2.4 percent to $41.82 at 11:09 a.m. in New York. The shares have climbed 26 percent this year, compared with a 30 percent advance in the 24-company KBW Bank Index.
Before it's here, it's on the Bloomberg Terminal.
LEARN MORE