Vestas, Siemens Join 42 Companies to Cut Offshore Wind Costs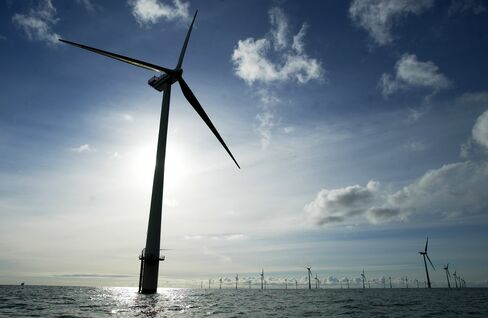 Vestas Wind Systems A/S and Siemens AG, the biggest manufacturers of offshore wind turbines, and 42 other companies are participating in an initiative to lower power-generating costs for the technology and promote investments that may reach as much as $630 billion by 2035.
The alliance, called Norstec, will meet today for the first time in London, the U.K. Department of Energy and Climate Change said in an e-mailed statement. The number of members has more than doubled since U.K. Prime Minister David Cameron announced the group's formation in April.
The group is seeking to drive development of offshore wind farms, an industry with the potential to employ as many as 185,000 people in the U.K. by 2020 and spur the laying of 8,000 kilometers (5,000 miles) of high voltage transmission cables in Europe's northern waters by 2022, Norstec said today in a statement e-mailed by DECC.
"We are on the cusp of a second, clean-energy revolution in the North Sea," Cameron said in the statement.
The technology is still costly, coming in at about $226 a megawatt-hour, according to levelized cost of energy data from Bloomberg New Energy Finance. That compares with $85 for land-based wind turbines, $82 for coal and $71 for natural gas. The U.K. government is trying to get the cost of offshore wind farms down to 100 pounds ($161) a megawatt-hour by 2020.
Reducing Costs
Norstec is pursuing "innovation throughout the sector to push forward technological development, creating competitive and well-established supply chains, which bring down costs and enable economic sustainability," according to the statement.
Turbines from Germany's Siemens turbines will account for about 57 percent of Europe's 4,537 megawatts of offshore wind capacity by year-end, said New Energy Finance analyst Fraser Johnston. That compares with 31 percent for Vestas, based in Aarhus, Denmark. The remainder is split among turbine makers including Indian manufacturer Suzlon Energy Ltd.'s RePower unit and Areva SA of France, both members of Norstec.
Other Norstec members include Alstom SA, Balfour Beatty Plc, EON AG, Dong Energy A/S, National Grid Plc, Repsol SA, SSE Plc, Statoil ASA and Vattenfall AB.
Before it's here, it's on the Bloomberg Terminal.
LEARN MORE