T-Mobile Would Still Rank No. 4 After 'Shotgun Wedding'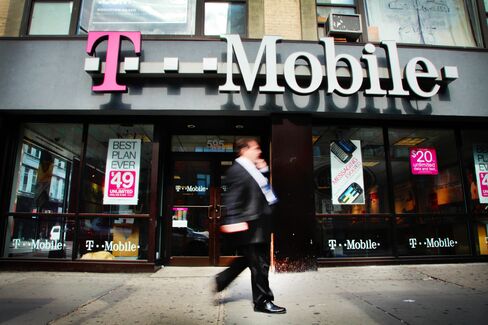 T-Mobile USA Inc., which announced plans today to merge with MetroPCS Communications Inc., will still struggle to compete against the largest U.S. carriers without network upgrades and popular devices such as the iPhone.
T-Mobile's parent, Deutsche Telekom AG, agreed to combine the two U.S. businesses in a stock and debt restructuring that pays $1.5 billion in cash to MetroPCS shareholders. Bonn-based Deutsche Telekom will hold 74 percent of the merged company, which will trade on the New York Stock Exchange.
While the deal would bring more customers, airwaves and geographic reach, T-Mobile would remain a distant fourth in the U.S. market, trailing Verizon Wireless, AT&T Inc. and Sprint Nextel Corp. It's also behind in investing in the latest wireless technology, called long-term evolution, and is the only major carrier that doesn't carry Apple Inc.'s iPhone.
"These are not two robust, growing entities that are combining," said Kevin Smithen, an analyst at Macquarie Securities USA Inc. in New York. "These are two companies that had significant operations issues. We are skeptical."
The biggest benefits of the deal may come down the road. T-Mobile gets airwaves that it can use to expand its network, even if that means being saddled with MetroPCS's older system for a few years. T-Mobile said today that the transaction will spur the company to accelerate its upgrade to LTE.
Turning Bellevue, Washington-based T-Mobile into a publicly traded business also might make it easier to raise funds or be acquired by another company.
U.S. Premium?
U.S. stocks have traded at a 25 percent premium over European shares relative to earnings during the past decade, so the merger would help Deutsche Telekom get more value from the asset, according to Bernstein Research, which called the deal a "shotgun wedding." T-Mobile also has more ammunition in its price war with Sprint, the industry's third-largest competitor.
Apple's iPhone is the best-selling smartphone for the other top carriers and brings a surge of orders whenever the latest version is released. When the iPhone first debuted in 2007, Apple offered the device to AT&T exclusively. It forged deals with Verizon and Sprint in later years.
While the iPhone helps attract customers, it comes at a cost for carriers. They subsidize the price of the product and agree to buy a certain amount from Cupertino, California-based Apple. Sprint had to sign a $15.5 billion purchase contract to get the rights to the phone.
Even combined, T-Mobile and MetroPCS won't put much of a dent in Verizon and AT&T's dominance. T-Mobile had about 33 million customers at the end of June, roughly a third of what Verizon Wireless and AT&T have apiece. MetroPCS would add 9.3 million customers. Sprint, with more than 56 million customers at the end of last quarter, would remain No. 3.
Losing Subscribers
The deal follows an exodus of users from T-Mobile. The company lost 2.76 million contract customers, or more than 10 percent of its subscriber base, in the eight quarters through June. The transaction alone won't make the company competitive with Verizon and AT&T, said Shing Yin, an analyst at Guggenheim Securities LLC in New York.
"I am not sure it makes that much of a difference," he said. The main advantage may be in providing Deutsche Telekom more flexibility in what it can do with T-Mobile, Yin said. "It does give them more options -- to hold on to it, or to sell the shares in the open market, or spin out the shares to shareholders."
MetroPCS, based in Richardson, Texas, is a pay-as-you-go carrier, which means its customers don't have long-term contracts. Prepaid users are often younger or less creditworthy consumers, making them less attractive customers.
'Not Fans'
"The prepaid business is a very difficult business," said Christopher Larsen, an analyst at Piper Jaffray & Co. in New York. "We are not fans of that. Conversion of MetroPCS subscribers to postpaid would be very difficult."
MetroPCS shares jumped 18 percent yesterday after Bloomberg first reported on the talks, though the stock pared those gains by 9.8 percent to $12.24 today. Deutsche Telekom climbed less than 1 percent to 9.75 euros in German trading. Sprint, cited as a potential acquirer for MetroPCS, saw its stock fall 5.4 percent yesterday. It rebounded by 6.1 percent to $5.20 today.
AT&T failed to take over T-Mobile last year for $39 billion amid opposition by regulators. Since then, Deutsche Telekom has been working to put the business back on track.
John Legere, the former chief executive officer of Global Crossing Ltd., was hired last month to run T-Mobile. Deutsche Telekom also agreed to sell the rights to operate some of T-Mobile's cellular towers for $2.4 billion, generating cash that could be used to upgrade its network.
Comeback Plan
The MetroPCS deal is the latest attempt by Deutsche Telekom CEO Rene Obermann to revive T-Mobile's fortunes more than a decade after the German company entered the U.S. market. T-Mobile accounts for about 25 percent of Deutsche Telekom's revenue.
T-Mobile has already positioned itself as a more affordable alternative to Verizon Wireless, AT&T and Sprint Nextel. The challenge now is turning MetroPCS and its prepaid users into a lucrative asset, said Charles Golvin, an analyst at Cambridge, Massachusetts-based Forrester Research Inc.
"That helps give them scale," Golvin said. "The question one has to ask is whether these customers are ones T-Mobile wants to acquire."
Before it's here, it's on the Bloomberg Terminal.
LEARN MORE