AT&T Set to Sell First Nokia Windows 8 Phone for U.S.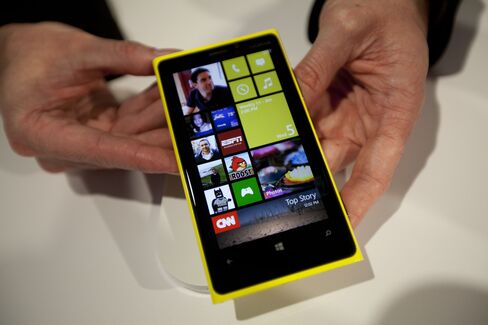 AT&T Inc. said it will start selling Nokia Oyj's Lumia 820 and 920 in November, becoming the first U.S. wireless carrier to introduce the Finnish phone manufacturer's new Windows Phone 8 devices.
The Lumia 920, a higher-end model, will come in five colors and provide advanced camera and mapping technology, Dallas-based AT&T said today in a statement. Nokia unveiled the phones last month, touting the benefits of Microsoft Corp.'s new Windows operating system. At the time, Nokia didn't give a release date or say what carriers would offer it.
The Lumia phones are the linchpin of a comeback plan for Nokia, which has struggled to compete with Apple Inc.'s iPhone and Google Inc.'s Android. Microsoft also is counting on Nokia devices to help win back market share in smartphone software.
"The Lumia 920 will be one of the hottest phones for the holidays," Jeff Bradley, an AT&T senior vice president, said today in the statement.
Nokia, based in Espoo, Finland, has identified the U.S. as a key market in its global turnaround bid. AT&T, the second-largest U.S. carrier, began selling the Lumia 900 exclusively earlier this year. That phone uses older Microsoft software.
"Our continued collaboration with AT&T is an important component for Nokia's success in the U.S. market," Olivier Puech, president of Nokia Americas, said in the statement.
AT&T climbed less than 1 percent to close at $38.34 in New York, while Microsoft rose 0.6 percent to $30.03. Nokia fell 1.3 percent to close at 2.02 euros in Helsinki.
Verizon Wireless
Verizon Wireless, the biggest U.S. carrier, plans to start selling a Nokia Windows Phone 8 model later this year, a person familiar with the situation said in August.
The Lumia 920 has a brightly colored plastic body and a spring mounted, 8.7-megapixel camera. It features software called City Lens that displays the names of restaurants and shops when users point their camera at them. Special maps software also shows customers nearby attractions.
The 820 will only come in black. Both devices run on AT&T's long-term evolution, or LTE, network.
Carriers outside the U.S. that have so far announced plans to sell the Lumia 920 include operators in Italy and Sweden. In Italy, the phone will be priced at 599 euros ($777).
New Products
Separately, AT&T announced three new devices it plans to sell during the holiday season. AT&T will offer two Windows 8 tablets -- from Samsung Electronics Co. and Asustek Computer Inc. -- which both have built-in high-speed wireless connections, according to a statement.
AT&T also announced a Samsung Galaxy camera running on
a running on Google's Android software with a fast wireless connection. The camera, which doesn't include a phone, is 16-megapixel with a zoom lens, according to a statement.
Before it's here, it's on the Bloomberg Terminal.
LEARN MORE