Oprah and Tyler Perry: Why Their TV Deal Is Smart Business for Both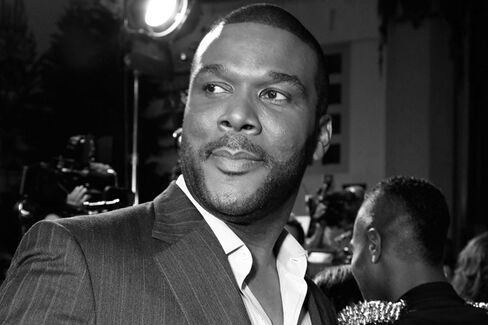 The Oprah Winfrey Network (OWN) announced that it had reached a multiyear agreement with the entertainer Tyler Perry on Monday. As part of the deal, Perry will write and direct two original, scripted TV series that will make their debuts on OWN sometime in 2013.
Loading up on Tyler Perry productions is a proven cable TV strategy. In recent years, TBS has benefited greatly by airing three popular Perry shows, House of Payne, Meet the Browns, and For Better or Worse. Moving forward, those shows will continue to air on TBS, but all new Perry series will move to OWN.
Given Perry's track record, OWN executives have reason to be hopeful. In 2010, the New Yorker described Perry (subscription required) as "the most financially successful black person the American film industry has ever known." Perry and Winfrey have teamed up before. In 2009 they served as executive producers on the movie Precious.
For OWN, the deal also makes a collaborator out of a potential competitor. Not long ago, Perry was mulling the possibility of creating his own cable network to be called Tyler TV, according to the New York Times—possibly by collaborating with Lionsgate Entertainment to overhaul the TV Guide Channel.
But rebranding a cable network is a huge challenge, even for reliable hitmakers. Just ask Winfrey. Since launching in January 2011, OWN (a joint partnership between Winfrey's Harpo Productions and Discovery Communications) has struggled to find a winning programming strategy since replacing the erstwhile Discovery Health Channel. Earlier this year, OWN pulled the plug on The Rosie Show, a much hyped and little watched talk show starring Rosie O'Donnell. Shortly thereafter, the network cut its staff.
In March, Derek Baine of SNL Kagan estimated that OWN could lose $142.9 million in 2012 (a Discovery spokesperson subsequently disputed the number).
"The problems the network faces are many," wrote Baine. "First, with all of the bad press that the channel is getting, advertisers may tire of playing the waiting game for shows to catch an audience."
In the short term, signing Perry helps OWN generate some much needed positive press (Business Insider headline: "Adding Tyler Perry To Oprah's OWN Arsenal Is A Great Move" ). Which in turn should help the network buy more time with advertisers and distributors. OWN executives can now make the case that with a couple of Perry shows in the pipeline, a bigger, younger, more passionate audience is finally just around the corner.
This morning, Brad Adgate of Horizon Media told the New York Post that Perry "should attract younger viewers" to OWN, which he noted "has had a median age above 50."
Perry, for his part, will get "a small equity stake" in OWN, according to the Post—and a future home for his TV projects that ultimately could prove less risky than trying to remodel a network fixer-upper elsewhere on the dial.
"Overhauling TV Guide Channel would have been a challenge both creatively and financially," writes Joe Flint in the Los Angeles Times. "The channel has a programming guide that eats up a big chunk of its screen that is contractually required with many distributors. If the guide is removed and the channel rebranded, pay-TV distributors would have the right to renegotiate their carriage agreements."
By comparison, moving to OWN looks downright easy.
Before it's here, it's on the Bloomberg Terminal.
LEARN MORE