Iceland Sees End of Krona Days as Joining Euro Only Option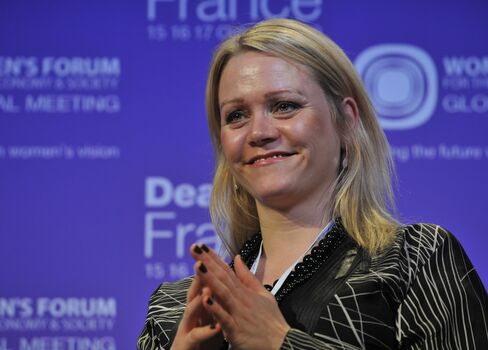 Iceland's finance minister is preparing for the krona's extinction as the government targets joining the euro area as the only option after phasing out capital controls.
"There's a risk that while Iceland continues to use the krona we'll always have capital controls," Finance Minister Katrin Juliusdottir, a 37-year-old Social Democrat, said in a Sept. 28 interview in Reykjavik. "I'm not saying that it's impossible to abolish the controls and re-float the krona by using other supportive measures. However, in my opinion, the smart thing to do is continue working toward European Union membership and euro adoption."
The island is struggling to lift capital controls put in place in 2008 to protect the currency, which plunged as much as 80 percent in offshore trading after its banking system collapsed. The country's crisis management has won praise from Nobel laureate Paul Krugman as well as the International Monetary Fund as a model for economic resurrection.
The IMF estimates that the assets frozen by the controls make up 23 percent of the $13 billion economy, a number it says "could rise significantly" as the failed banks wind up their estates after defaulting on $85 billion in debt in 2008. Controls have stopped international investors from offloading as much as $8 billion in krona holdings, according to estimates from Arion Banki hf.
The krona gained less than 0.1 percent to 159.6 per euro.
Krona Volatility
"For a country that wants to have strong commercial links to the international community, it's hard to utilize the krona as the country's currency," said Juliusdottir, who took over as minister today. "That's a fact. Our currency is extremely volatile and sensitive toward external factors."
The minister is returning after maternity leave into a government coalition of the Social Democratic Alliance and the Left Green Movement, which took over after the ouster of the Independence Party-led government in 2009.
She takes over stewardship of an economy that will expand 2.8 percent this year and 2.7 percent next year, according to July estimates from the country's statistics agency. Gross domestic product grew 2.6 percent in 2011, after contracting 4 percent and 6.6 percent in the two previous years.
Juliusdottir said her primary focus will be on stimulating investments in the north Atlantic island and to simplify Iceland's taxes to attract foreign investors.
Luring Investments
The country has been relying again on more traditional industries such as tourism and fishing and even luring an increasing number of Hollywood studios to shoot movies on the volcanic island. The government in September predicted its budget deficit will almost disappear next year, narrowing to 0.1 percent of gross domestic, as the island raises taxes on tourism and as economic growth replenishes state coffers.
Still, some investments have been halted. The government in November rejected a bid from Chinese billionaire Huang Nubo's Zhongkun Investment Group Co. to buy 300 square kilometers (116 square miles) of land, saying it would be "incompatible" with the law. In August, the country appointed a group to review a bid by Huang to lease the land.
"We need to better explain the environment for investments to better facilitate growth," said Juliusdottir. "On the one hand, that demands an overhaul of the legal framework and on the other that we clarify what type of investments we prioritize and seek actively."
Euro Concern
Iceland will hold elections in May and skepticism over adopting the euro has grown as the economy expands and unemployment has eased to below 5 percent from a post-crisis of more than 9 percent. Of the 63 lawmakers in the Reykjavik-based Althingi, 39 were opposed continuing talks on joining the EU and may push the body to address dropping membership preparations before elections next year, newspaper Morgunbladid reported in August, citing a tally of lawmakers.
The krona's vulnerability is "one of the reasons I want to go down this route of joining the European Union and becoming a member of the euro-zone," Juliusdottir said. "I realize that only the Social Democratic Alliance has that on its agenda. That may require some compromises until we decide that EU membership and euro adoption is the best way."
Iceland started EU-entry talks in July 2010 and may vote on accession late next year.
At Stake
Still, the economy is out of step with the rest of the European Union. The central bank last month kept its benchmark rate unchanged at 5.75 percent, after raising it five times in the past 13 months. The bank, which targets 2.5 percent inflation, sees price growth of 5.4 percent this year, 3.4 percent next year and 3 percent in 2014. The currency has lost 8.6 percent against the euro from an Aug. 10 high.
Juliusdottir said that while there are differences in opinion on what would happen to the krona if controls are removed, there's much at stake for Icelandic households. The central bank said in a report issued on Sept. 18 that the path into the euro depends on how the current debt crisis is resolved and in what form the euro takes once turmoil has eased.
The country's commitment to bailout terms, a decision to have bank creditors share losses and to safeguard welfare benefits to protect its citizens proved key in Iceland's successful rebound, Daria V. Zakharova, IMF mission chief to the island, said in an August interview.
Now the currency conundrum remains.
"Iceland didn't only suffer an economic crisis, but also a currency crisis," Juliusdottir said. "We have yet to resolve some of the difficulties that arose as a result of that."
Before it's here, it's on the Bloomberg Terminal.
LEARN MORE