AMR Expands Probe of Loose Seats With Inspections of Eight Jets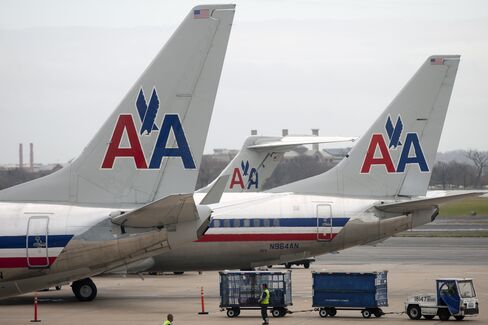 AMR Corp.'s American Airlines expanded inspections for loose seats to eight of its Boeing Co. 757 jetliners after finding improperly secured units on a second plane in flight.
Checks were being conducted overnight, and any aircraft in need of repairs will be held out of service, Andrea Huguely, an airline spokeswoman, said yesterday in an e-mail. The U.S. Federal Aviation Administration said the two jets that spurred the probe recently had seats removed and reinstalled.
"Something slipped between the cracks here," said John Nance, a Seattle-based aviation-safety consultant and former commercial pilot. "There was a major breakdown at some point in the process to allow this to happen. They cannot be flying around with wobbly seats."
American's inspections and an FAA review add to the strains on the third-largest U.S. airline amid flight delays that began in mid-September and preparations for more than 4,000 layoffs to restructure in bankruptcy. Fort Worth, Texas-based AMR is also trying to fend off a possible takeover bid from US Airways Group Inc. in favor of remaining independent.
The second loose-seat incident occurred yesterday on Flight 443 to Miami from New York's Kennedy airport. That plane took off and returned to New York once the loose seats were found, the FAA said.
First Flight
The first case happened on Sept. 29, when Flight 685 to Miami from Boston made an emergency landing at Kennedy airport after the discovery of three seats that weren't properly secured to the tracking on the cabin floor, Huguely said. The seats recently were moved as part of a project to boost legroom in part of the coach cabin, she said.
"They were loose on the tracks, and if you sat in them they jiggled," she said. "They didn't come apart, they were not moving around the cabin. It's too early to tell why, when or how this happened."
American's additional checks on the two 757s "found other rows of seats that were not properly secured," the FAA said in an e-mailed statement. "Preliminary information indicates that both aircraft had recently undergone maintenance during which the seats had been removed and reinstalled."
Routine checks after any such work should have caught any defects in how the seats were fastened, according to Nance, the consultant.
Injury Risk
"This is very serious because it wasn't line maintenance, something you're doing under pressure," Nance said in an interview. "The potential for massive injury in turbulence or an emergency was there."
American already was under stepped-up FAA scrutiny because of agency procedures for increased oversight of carriers flying while in bankruptcy. Huguely said work on the seats was conducted by a combination of American and contract employees.
Timco Aviation Services, a contract maintenance provider, was asked by American to refer "all inquiries regarding this matter" to the airline's media relations department, Leonard Kazmerski, the company's marketing vice president, said in an e-mail. He declined to comment further.
American has 106 of the twin-engine Boeing 757s, according to the carrier's website. The plane is the largest single-aisle model in the airline's fleet, bigger than American's Boeing 737s and MD-80s, and is typically flown on longer routes.
Flight delays began rising last month, when American began imposing cost-cutting contract terms on pilots and announced plans to furlough thousands of mechanics and other airport ground workers. AMR filed for bankruptcy Nov. 29.
American's on-time arrival rate for 1,585 flights tracked yesterday was 59 percent at 10:20 p.m. New York time, according to industry researcher FlightStats.com. That compared with 85 percent for United Continental Holdings Inc. and 76 percent for Delta Air Lines Inc.
While American has threatened to seek a court injunction against the Allied Pilots Association over the slowdowns, union leaders have denied supporting or organizing the effort.
Before it's here, it's on the Bloomberg Terminal.
LEARN MORE