South African Strikes Mushroom as Moody's Cuts Country's Rating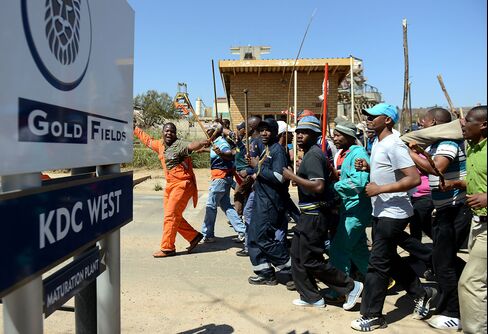 South Africa, the continent's biggest economy, has about 140,000 workers on strike as protests that have halted platinum and gold output and triggered violence extended across the mining and transport industries.
The walkout includes most of AngloGold Ashanti Ltd.'s 35,000 workers in the country, more than 20,000 at Gold Fields Ltd. and 60,000 road-freight workers. The government has a "reduced capacity" to handle the political and economic turmoil, Moody's Investors Service said as it cut South African debt for the first time since the end of apartheid yesterday.
Labor action, which has spread since workers at platinum producer Lonmin Plc downed tools on Aug. 10, has closed mines in the country that has the world's largest reserves of the metal. Gold workers, encouraged by a 22 percent pay increase that ended the unofficial strike at Lonmin, have followed suit, while coal miners walked out of Petmin Ltd.'s Somkhele operation.
"These strikes are really damaging the mining sector," Colen Garrow, chief economist at Johannesburg-based Meganomics, said after the Moody's downgrade. "This subtracts from GDP growth and that hurts every ratio that the agencies monitor."
The majority of AngloGold's workers in South Africa remain on a wildcat strike, said Alan Fine, a company spokesman. Gold Fields miners also stayed away, according to spokesman Willie Jacobsz, who said mine vehicles have been damaged and there's an "overall increase in intimidation, violence and threats at the striking mine sites over the past 48 hours."
Wildcat Strikes
Miners have bypassed conventional wage-talk routes through unions, starting unofficial strikes in pursuit of higher pay as employers face the twin headwinds of rising costs and weakening commodity demand. The six-week walkout at Lonmin's Marikana mine erupted into violence that killed 46. The subsequent wage increases were more than four times the August inflation rate.
Gold Fields has no plans at this stage to negotiate with striking workers, Chief Executive Officer Nick Holland said on Johannesburg-based SAFM radio yesterday. "At some point we may decide to exercise our rights that we have and proceed to dismissals," he said, according to a transcript of the interview.
Anglo American Platinum Ltd., the world's biggest producer of the metal, said it's started disciplinary action against strikers at its Rustenburg operations, which could lead to dismissal. The stay-away continued today, spokeswoman Mpumi Sithole said by phone.
Strike Impact
Mining and quarrying products make up 45 percent of South Africa's exports, Ilke van Zyl, an economist at Absa Group Ltd. in Johannesburg, said in a note. "The mining unrest in the country is exacerbating the headwinds already faced by export growth from weak global growth and demand," she said.
Coal producer Petmin said its contractor may fire workers after about 345 started an unprotected strike at the Somkhele mine in KwaZulu-Natal. At chrome producer Samancor Ltd., about 400 workers ended an underground sit-in that began yesterday, the company said in an e-mailed statement. Samancor signed a wage agreement with unions today, and the group responsible for the unofficial stoppage have tabled their own demands, it said.
About 1,700 underground workers at Village Main Reef Ltd.'s Blyvooruitzicht mine in the North West province started an unprotected strike last night, the Johannesburg-based company said today. Village Main Reef hasn't received demands from workers, Charmane Russel, a spokeswoman, said by phone.
Road Freight
The unrest has now spread to the freight industry, where about 60,000 workers are holding an official strike, Gavin Kelly, a spokesman for the Road Freight Association, said in an e-mail yesterday.
Fuel retailers have contingency plans to mitigate any supply disruptions caused by the transport strike, the South African Petroleum Industry Association said in an e-mailed statement.
"The confluence of events makes the crisis larger than the sum of its parts, but it does not have an unlimited potential to become a more generalized and sustained revolt," said Nic Borain, a political analyst based in Cape Town who advises BNP Paribas and Cadiz Securities. "However, as a backdrop to increased political risk it will have significant financial market impacts."
Before it's here, it's on the Bloomberg Terminal.
LEARN MORE