Netanyahu's Iran 'Red Line' Deadline May Buy U.S. Time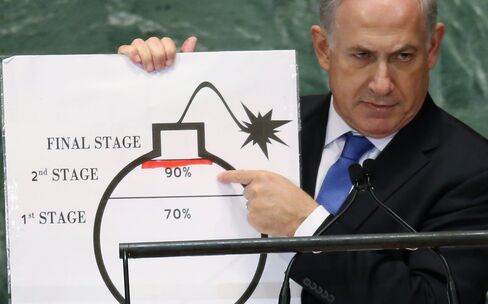 Israeli Prime Minister Benjamin Netanyahu used a drawing of a cartoonish, short-fused bomb to challenge the international community at the United Nations to shut down what he says is Iran's sophisticated effort to attain nuclear weapons.
Now the world, in particular the U.S., will have to decide what steps may need to be taken to defuse the potentially explosive stand-off between Israel and Iran. Netanyahu, who spoke today by phone with U.S. President Barack Obama, focused on Iran's production of enriched uranium, potential atomic bomb fuel if removed from international safeguards and further processed.
"By next spring, at most next summer, at current enrichment rates, they will have finished the medium enrichment and moved on to the final stage," Netanyahu told the UN General Assembly yesterday, displaying a rudimentary bomb diagram to illustrate the Iran's progress. "From there it's only a few months, possibly a few weeks, before they get enough enriched uranium for the first bomb."
This was the most specific deadline on the Iranian crisis given by the Israeli leader, who has repeatedly warned that "all options are on the table" to stop the Islamic Republic from achieving nuclear weapons capability -- including a military strike. While Netanyahu's remarks may have more sharply defined the Iranian nuclear issue, they also provided a more exact time period for the U.S. and its allies to pursue their mix of diplomacy and economic sanctions.
'Second Chance'
"The prime minister has given the world a second chance to deal with the Iran nuclear threat, but one with a clear time limit," Dan Gillerman, a former Israeli ambassador to the UN who is advising Netanyahu, said in an interview in New York today.
"What was new was Netanyahu's focus on the threshold of when we might lose our ability to prevent Iran from becoming a nuclear weapons state," said Dennis Ross, a former Iran adviser to Obama who is now at the Washington Institute for Near East Policy. "While creating a sense of urgency, it reduces the sense of imminent strike."
Iran, which says its nuclear facilities are for peaceful civilian purposes, has vowed to retaliate if attacked. Iranian President Mahmoud Ahmadinejad condemned what he termed the "continued threat by the uncivilized Zionists to resort to a military action against our great nation" in his speech to the UN this week.
'Prevent War'
Netanyahu's speech yesterday in New York followed weeks of open disagreement with the Obama administration over Iran. The Israeli leader has insisted the best way to stop Iran's nuclear program is to set explicit "red lines" limiting its enrichment of uranium that would justify military action if crossed.
"Red lines don't lead to war, they prevent war," he said at the UN.
The U.S. and Europe have rejected that approach, preferring a combination of economic sanctions directed against Iran and diplomatic engagement with its government. The sanctions, which include a European Union embargo on oil imports from Iran and a range of U.S. measures, have damaged the country's economy while failing to halt the advancement of its nuclear program. Nor have direct negotiations between Iran and the so-called P5+1 nations -- the U.S., China, Russia, France, Germany and the U.K. -- produced tangible results.
Ministers from the P5+1 group met yesterday at the UN and reaffirmed their "dual track approach" of sanctions and negotiations to rein in Iran's nuclear ambitions.
Additional Sanctions
A senior U.S. State Department official, who spoke on condition of anonymity because of the sensitivity of the issue, said that Europe is discussing plans to levy additional sanctions, while the Obama administration has begun implementing tougher measures directed against the National Iranian Oil Company. The U.S. Treasury Department announced action Sept. 24 that exposes foreign financial institutions that deal with the company to U.S. sanctions.
In one sign of the impact of sanctions, Iran's currency, the rial, fell yesterday to a record low 27,200 against the U.S. dollar on the open market, the Mehr news agency reported. The rial traded at 17,000 in mid-January in the Tehran bazaar.
Netanyahu acknowledged that the "Iran economy has been hit hard" by sanctions, while insisting that setting red lines was the only way to curb the Islamic Republic's nuclear ambitions.
Obama Call
After his UN speech, Netanyahu met for 75 minutes with U.S. Secretary of State Hillary Clinton after publicly clashing with her over Iran earlier this month. The U.S. is "not setting deadlines" for Iran and still considers negotiations as "by far the best approach," Clinton said in an interview with Bloomberg Radio on Sept. 9. Netanyahu responded two days later that "those in the international community who refuse to put a red line before Iran don't have the moral right to place a red light before Israel" to forestall military action.
In their phone conversation today, Obama told Netanyahu that the U.S. is committed to Israel's security and the two leaders are in "full agreement" on the goal of preventing Iran from getting a nuclear weapon, the White House said in a statement.
"The prime minister welcomed President Obama's commitment before the United Nations General Assembly to do what we must to achieve that goal," the White House said in a statement.
'Compelling Case'
The call cames in place of a face-to-face meeting the White House said didn't take place because of scheduling issues with the election so close. The White House statement didn't say how long the conversation lasted or give details about the discussion.
Netanyahu did meet yesterday with New York City Mayor Michael Bloomberg at his official Gracie Mansion residence. Bloomberg, founder and majority owner of Bloomberg News parent Bloomberg LP, said the Israeli leader "made a very compelling case today why a clear red line is needed, and why that will help preserve peace. And I am sure that the U.S. and Israel can work out a common policy in the interests of both nations and in the interests of peace."
At a meeting today with Canadian Prime Minister Stephen Harper, Netanyahu said his call for a red line on Iran has generated "a lot of debate and considerable discussion between us and the United States."
Breathing Room
Iran's uranium enrichment activities are under international monitoring to prevent diversion to weapons use. To produce a bomb, Iran would have to further process its stockpile of 20 percent enriched uranium, a level used to fuel its medical reactor, to 90 percent to make a single bomb, which would involve abandoning the current "safeguards" monitoring by the International Atomic Energy Agency.
That would give the U.S. ample notice to take action to prevent it, U.S. officials have said. It would also require Iran to have the technical capability to fabricate a bomb and detonator, as well as make it capable of being delivered by missile or other means.
After months of speculation that an Israeli strike on Iran could come as early as next month, Netanyahu's remarks yesterday may give the U.S. some breathing room to pursue efforts short of military action. If those fail, a decision may await whoever is in the Oval Office after January, and 2013 may prove to be the red line of no return in the showdown between Israel and Iran.