Shiller Data Questions Housing Revival Power: Cutting Research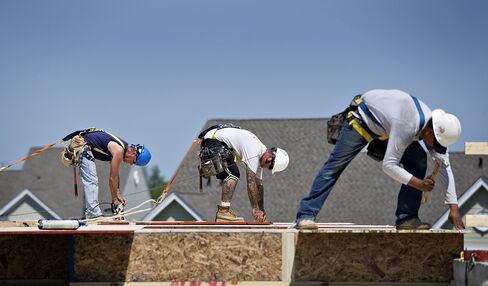 Don't bet the house on a robust revival of the U.S. property market, says the Yale University professor who predicted the bursting of the dot-com and subprime-mortgage bubbles.
There is no "unambiguous" sign of a strong recovery in the market, Robert Shiller and fellow economists Karl Case and Anne Thompson say in a paper published this week by the National Bureau of Economic Research. The study seeks to shed light on the role buyer expectations play in house prices, an angle the authors say has been ignored in analyzing the housing slump.
The results of their work, entitled "What Have They Been Thinking? Home Buyer Behavior in Hot and Cold Markets," are based on the responses of almost 5,000 recent homebuyers in four cities to regular mail surveys over the past 25 years.
The answers to the latest questionnaire indicate that while perceptions of short-term price direction have turned positive, long-term expectations continue to weaken.
The upshot for Shiller and his colleagues is that while "a recovery may be plausible, and home prices have been rising fairly strongly in recent months, we do not see any unambiguous indication in our expectations data of sharp upward turning point in demand for housing that some observers, and media accounts, have suggested."
Shiller's views carry weight: He forecast the end of the Internet bubble in his 2000 book "Irrational Exuberance." He said in a second edition in 2005 that the U.S. housing market had undergone the biggest speculative boom in U.S. history. The Arthur M. Okun professor at Yale, he's based in New Haven, Connecticut, while Case is professor emeritus at Wellesley College in Massachusetts. Thompson is an economist at McGraw-Hill Construction in Boston.
Case and Shiller are also the creators of a key U.S. real-estate benchmark, the S&P/Case-Shiller index of property values in 20 cities. This week the index showed home prices in the U.S. climbed more than forecast in July from a year earlier, adding to signs that housing will spur economic growth.
In reviewing a quarter-century of data, the study concludes home buyers were "very much aware" of trends in prices when they made their purchase and that there's a "strong correlation" between how survey participants describe the market and actual price movements.
The authors found long-term price expectations have been consistently more optimistic than those for the short term across the years and locations, although the magnitude of the differences fell to 0.8 percent this year from a high of 8.3 percent in 2008.
* * *
The U.S. and Europe are feeling the effects of what BNP Paribas SA economist Ryutaro Kono calls the shift from demographic bonus to demographic onus.
Like Japan's before them, the American and European economies experienced a credit bubble just as a growing portion of the population entered its most economically active period. Now, the fading of that phenomenon puts a limit on how fast the economies can grow and deal with debt, Kono said in a Sept. 24 report.
In the demographic bonus stage, the workforce rises as a share of the total population. Capital stock is scarcer than expanding labor supply and consumption grows, he said. Companies find it worth investing, encouraging more borrowing-financed spending.
As the workforce ages, the demographic onus kicks in. Capital stock becomes excessive compared with the now-shrinking labor supply. Given the marginal return on capital, companies become reluctant to invest. They also cut back as the increase in retirees persuades them consumption will slow.
The cycle explains why Japan's recovery from its slump of the early 1990s has been so weak, said Kono. He is a Tokyo-based former government nominee for the Bank of Japan's policy-setting board who was rejected this year after some lawmakers said he wasn't aggressive enough on using monetary stimulus to end deflation.
A solution for Japan would involve surrendering its insular ways by allowing more foreign workers to enter the labor market, and revamping the education system, he wrote.
Europe and the U.S. are "in differing degrees having the same experience as Japan," Kono said. "This, to my mind, is the real essence of Europe and America 'turning Japanese.'"
* * *
U.S. business may be the "prime candidate" to offset the economic effects of debt-cutting by governments, according to a Federal Reserve Bank of New York study.
At 6 percent of gross domestic product, net business saving is well above its long-run average of minus 0.75 percent, according to Richard W. Peach, a senior vice president in the New York Fed's research and statistics group. That means companies are sitting on cash, handing them the scope to boost growth by investing in new infrastructure or technology.
Peach's Sept. 26 blog shows government net saving was in deficit in an amount equal to almost 10 percent of GDP last year. Even if the economy were operating at full employment, the government would need to reduce that imbalance by as much as four percentage points if the fiscal consolidation of 1987-1997 is a guide, he said.
If the economy is to be supported, then corporate savings seem "to be a prime candidate to decline through a combination of increased investment and reduced gross saving," he said.
* * *
Easy monetary policy may not necessarily drive a stronger recovery if financial crises are the source of the slump, according to a working paper published this week by the Bank for International Settlements in Basel, Switzerland.
A study of downturns and rebounds in 24 developed economies dating back to the 1960s suggests interest rate cuts and other monetary stimulus spur recovery in a typical slowdown.
"However, in downturns associated with a financial crisis, this result is no longer statistically significant," said economists Morten L. Bech, Leonardo Gambacorta and Enisse Kharroubi.
By contrast, reducing debt during a downturn that's associated with financial turmoil has a positive effect on the subsequent recovery, they say. A 10 percent reduction in the private debt-to-GDP ratio during the slide leads to a 0.6 percentage point increase in the average output growth in the recovery, they estimated.
* * *
Developed economies still offer companies the most favorable conditions for future growth even as emerging markets outpace them, a gauge released today by Grant Thornton International suggests.
The business consultancy's Global Dynamism Index ranks 50 economies on 22 indicators of dynamism such as trade focus and spending on research and development. While Singapore, Finland and Sweden top the list, the Group of Seven nations together score 59.6 out of 100 compared with 55 for a collection of key developing economies including China and Brazil.
"Reason suggests that emerging markets are growing faster at the moment and therefore offer more commercial opportunities," wrote Edward Nusbaum, chief executive officer at Grant Thornton International in London. "However, instinct should tell businesses to look beyond GDP growth rates to the other attributes of mature economies that make them excellent locations for future business growth."
* * *
The world's poorest people don't live in the world's poorest countries.
Estimates for global poverty in 2008 show middle-income economies are home to 74 percent of those living on less than $1.25 a day and 79 percent of those on less than $2, according to a study by Andy Sumner for the Washington-based Center for Global Development.
That's a change from 1990, when about 90 percent of the most impoverished lived in low-income nations, he said. One explanation is that countries are getting richer. The proportion of the world's $1.25-a-day poor in China fell 14 percent in 2008. The study uses poverty categories from the World Bank, which defines middle income countries as those with gross national income of about $7,000 per capita in 2010.
What Sumner calls the "poverty paradox" means middle-income countries should be able to reduce poverty more effectively and that donors will need to rethink their aid objectives to meet the "new geography of global poverty," he said in the report this month.
* * *
Accelerating inflation may be evident in one part of the crisis-torn European economy.
It is costing visitors to Munich's Oktoberfest an average 9.32 euros for 1 liter of beer, an increase of 3.9 percent from 2011, according to Alexander Koch, an economist at UniCredit Group in Munich.
"Beer price inflation has clearly accelerated," said Koch in the Sept. 19 report, just before the festival began. It ends Oct. 7.
Still, Koch says Oktoberfest's prices aren't a meaningful indicator of broader consumer price inflation. "Now that your nerves have been calmed, that deserves a celebratory 'Prost,'" he wrote.
Before it's here, it's on the Bloomberg Terminal.
LEARN MORE