Sprint Primed for Takeovers After Stock Jumps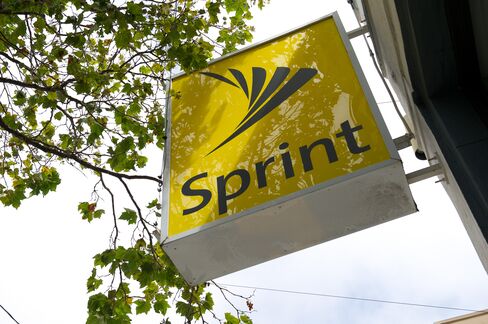 Sprint Nextel Corp.'s stock has more than doubled this year and its cash is near a six-year high, paving the way for an acquisition that could strengthen its efforts to challenge AT&T Inc. and Verizon Wireless.
Sprint's stock surged 136 percent for the second-biggest gain in the Standard & Poor's 500 Index as the wireless provider boosted sales with Apple Inc.'s iPhone and began rolling out a faster network. Cash and equivalents stand at almost $6.8 billion after reaching the highest this year since the end of 2005, the year it bought Nextel Communications Inc., according to data compiled by Bloomberg. While the carrier's debt exceeds its $16.6 billion market value, the stock gain bolsters its currency for a deal, Gabelli & Co. said.
The $36 billion Nextel takeover, intended to create a stronger No. 3 player, instead left Sprint with incompatible networks, fleeing subscribers and five years of losses. With Sprint now showing signs of improvement, Gabelli said the company could expand its customer base by acquiring a smaller rival such as MetroPCS Communications Inc. or Leap Wireless International Inc. A combination with T-Mobile USA, the fourth-biggest provider, would create a carrier with the size to challenge AT&T and Verizon Wireless, Macquarie Group Ltd. said.
"When you're doing a better job and the stock's reflecting it, there's a greater willingness to do something and willing sellers on the other side of the transaction," Zack Shafran, an Overland Park, Kansas-based money manager at Waddell & Reed Financial Inc., which oversees more than $90 billion including Sprint shares, said in a telephone interview. "You have two very large players in the form of AT&T and Verizon and now it's argued that a strong No. 3 would be a welcomed player. Sprint seems on the verge of perhaps being that strong third player."
Sprint Role
Sprint Chief Executive Officer Dan Hesse said in a Sept. 6 interview at the company's Overland Park headquarters that consolidation "would be constructive" for the industry.
"Sprint will play a role in that some way," Hesse said.
Scott Sloat, a Sprint spokesman, declined to comment yesterday on whether the company is currently considering a deal.
Sprint is in the second phase of a three-part turnaround under Hesse, who was hired in December 2007 to fix the damage caused by the failed Nextel deal.
The past four years were a recovery period during which the company cut staff by a third, moved to wind down the Nextel network and turned its focus to developing a faster network using long-term evolution, or LTE, technology.
Spending Stage
This year is the first of a two-year spending stage, with the company projecting a return to profitability in 2014. Sprint has a commitment to buy $15.5 billion worth of iPhones and is investing $7 billion to dismantle the Nextel network while building a new one using LTE under a program called Network Vision.
Sprint shares had their biggest gain in almost three years on July 26, surging 20 percent after the company reported revenue that exceeded analysts' estimates on higher iPhone sales. The stock closed at $5.70 on Sept. 24, the highest since June 2011.
Today, Sprint shares fell 1.3 percent to $5.46.
The company's cash and equivalents, which dwindled to as low as $2.1 billion in the wake of the Nextel purchase, climbed to a six-year high of $7.6 billion in the first quarter and stood at $6.8 billion as of June 30, according to data compiled by Bloomberg.
While more stable now than a year ago, Sprint is still "under-scaled," said Hesse. On LTE technology, Sprint is at least a year behind Verizon Wireless, the joint venture between Verizon Communications Inc. and Vodafone Group Plc. With 32.6 million monthly subscribers as of June 30, it didn't even have half of No. 2 carrier AT&T's 69.7 million subscribers, data compiled by Bloomberg show. Verizon Wireless had 88.8 million.
Deal Currency
With Sprint's stock soaring, the company has more latitude to increase its customer base by pursuing a takeover, said Sergey Dluzhevskiy, a Rye, New York-based analyst for Gabelli, a unit of Gamco Investors Inc., which oversees about $36 billion and owns Sprint shares.
"Sprint's stock price is key as far as potentially proceeding with a deal," Dluzhevskiy said in a phone interview. The rally in Sprint shares "obviously helped in terms of currency."
Sprint abandoned plans earlier this year to buy Richardson, Texas-based MetroPCS after the board rejected the transaction, which may have cost as much as $8 billion including debt, two people familiar with the plan said in February. At the time, Sprint's stock was trading at less than half its value yesterday.
'Meaningful' Expansion
A revived deal for MetroPCS or a takeover of Leap Wireless would be "meaningful" for Sprint as it strives to expand its presence in the wireless market, according to Gabelli's Dluzhevskiy. MetroPCS, a $4.2 billion company, would add 9.3 million prepaid subscribers to Sprint's base, while Leap, a San Diego-based provider with a market value of $531 million, would add 5.9 million, according to data compiled by Bloomberg.
MetroPCS CEO Roger Linquist said during a presentation last week at a Goldman Sachs Group Inc. conference in New York that the company's position as a relatively small and growing carrier made it the "belle of the ball" in an industry heading for consolidation. Drew Crowell, a MetroPCS spokesman, declined to comment on whether the company had been approached or would consider an offer from Sprint.
Gregory Lund, a Leap spokesman, declined to comment on a potential deal with Sprint.
Adding Scale
Kevin Smithen, a New York-based analyst with Macquarie, said a deal for T-Mobile USA would go further in helping Sprint gain the critical mass needed to take on AT&T and Verizon. T-Mobile, a unit of Bonn-based Deutsche Telekom AG, had 24.1 million contract customers as of June 30, according to its most recent earnings release.
"In a perfect world, Sprint would prefer to do a merger with T-Mobile to add scale and spectrum," which are radio waves for expanded network coverage, Smithen said in a phone interview. "It would give them price leverage, and it could help change the competitive dynamics of the industry."
Jenny Gore, a spokeswoman for Bellevue, Washington-based T-Mobile, declined to comment.
While a combination with T-Mobile would make Sprint a stronger competitor, it could draw the same regulatory scrutiny that derailed AT&T's $39 billion purchase of the carrier last year, said Gabelli's Dluzhevskiy. He also said T-Mobile's use of different operating networks means any deal would probably be "a messy integration project."
Heavy Leverage
Sprint's high debt levels -- $21 billion as of June 30 -- could also be a barrier to any deal, according to Scott Schermerhorn, chief investment officer at Concord, New Hampshire-based Granite Investment Advisors Inc., which oversees about $560 million, including Sprint shares.
The carrier's ratio of debt to earnings before interest, taxes, depreciation and amortization was 4.2 as of June 30, compared with leverage of 2.1 times at AT&T, according to data compiled by Bloomberg.
"They clearly can't add debt onto their balance sheet," Schermerhorn said in a phone interview. "They're pretty levered as it is so I'm not sure how you put the whole thing together."
Sprint also may hold off on pursuing an acquisition until it completes work on its network upgrade, said Keith Trauner, a Miami-based money manager at GoodHaven Capital Management LLC, which oversees more than $300 million, including Sprint shares.
'Transition Period'
"They're still in this transition period where they're spending a lot of money to improve and consolidate their network," Trauner said in a phone interview. "Our hope is that they would finish the network upgrade, fix the balance sheet and make acquisitions, in that order."
Sprint's Hesse said that while the company is focused on its Network Vision rollout plan, that wouldn't necessarily preclude the carrier from contemplating a deal.
"The preference, from an execution point of view, would be to not undertake more complexity in the Network Vision program until the middle of next year," Hesse said. "That doesn't rule out M&A now."
Before it's here, it's on the Bloomberg Terminal.
LEARN MORE