Sales of New U.S. Homes Hover Near a Two-Year High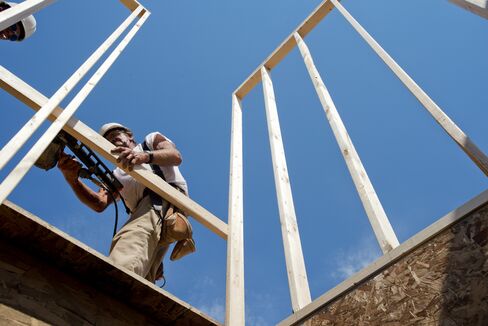 Purchases of new U.S. homes in August held close to a two-year high, further evidence of recovery in the housing market that will help sustain the economic expansion.
Sales fell 0.3 percent to a 373,000 annual pace following a revised 374,000 rate in July that was higher than previously estimated and the strongest since April 2010, figures from the Commerce Department showed today in Washington. The median estimate of 71 economists surveyed by Bloomberg forecast a rise to 380,000.
Record-low borrowing costs continue to attract buyers, lifting demand for homebuilders including Lennar Corp., while a drop in the supply of foreclosed homes is easing downward pressure on prices. Federal Reserve policy makers have targeted the housing market with further accommodation measures in order to spur growth and reduce unemployment.
"Builders are a little more optimistic about future sales and buyer traffic and the mortgage environment is favorable," said Anika Khan, an economist in Charlotte, North Carolina, at Wells Fargo Securities LLC, a unit of the largest U.S. mortgage lender. "New-home sales will continue to improve over the next few months and in the coming year."
Stocks fell for a fifth day, sending the Standard & Poor's 500 Index to its longest retreat since July, as concern grew that Europe's debt crisis is worsening. The S&P 500 declined 0.6 percent to 1,433.32 at the close in New York. Treasury securities rose, sending the yield on the benchmark 10-year note down to 1.62 percent from 1.67 percent late yesterday.
Survey Estimates
New-home sales estimates of economists surveyed ranged from 360,000 to 400,000. July's reading was previously reported as 372,000.
Improving demand is bolstering Miami-based Lennar and other homebuilders, allowing for longer-term construction strategies.
"Simply put, the housing market is recovering, not only are our sales margins and backlogs improving, but the beginnings of a sense of visibility are coming back to underwriting land acquisition and planning for the future," Stuart Miller, chief executive officer of Lennar, said on a Sept. 24 earnings call.
"The home building business is beginning to revert to normal and that's positive for the U.S. economy in general, which is in turn good for a sustained recovery in the housing market," Miller said.
In the U.K., mortgage affordability in the three months ended Sept. 4 increased by the most in at least five years as wholesale funding markets eased. A gauge showing the amount of secured credit made available to households surged to 21.9 from minus 4.1 in the previous quarter, the biggest jump since the survey began in 2007, the Bank of England said in London today.
Regional Sales
New-home purchases in the U.S. fell in one of four regions as demand in the South dropped 4.9 percent. Sales jumped 20 percent in the Northeast, rose 1.8 percent in the Midwest and 0.9 percent in the West.
The drop in sales in the South, where median prices are generally lower, combined with the surge in the Northeast, where property values tend to be higher, pushed costs up nationally. The median price of all sales last month was $256,900, an increase of 17 percent from August 2011. The 12-month advance was the biggest since December 2004. The 11 percent gain from July was the largest month-over-month gain in records going back to 1963.
Sales of new houses were up 28 percent from a year ago, today's report from the Commerce Department showed.
The supply of homes at the current sales rate held at 4.5 months. There were 141,000 new houses on the market at the end of August, matching July's record low.
Limited Supply
A lack of supply may also be playing a role in limiting sales. The number of completed houses on the market dropped to a record-low 38,000 last month, today's report showed.
Sales of new homes, tabulated when contracts are signed, are considered a timelier barometer than purchases of previously owned dwellings, which are calculated when a contract closes. Newly constructed houses accounted for 6.7 percent of the residential market in 2011, down from a high of 15 percent during the boom of the past decade.
Borrowing costs continue to boost housing demand. The average rate on a 30-year fixed mortgage dropped to 3.49 percent in the week ended Sept. 20, matching a reading two months ago as the lowest in records dating to 1972, according to McLean, Virginia-based Freddie Mac.
Among other signs of progress, builders began work in August on the most one-family homes since April 2010, figures from the Commerce Department showed last week. The National Association of Home Builders/Wells Fargo index of builder confidence climbed in September to the highest level since June 2006.
Toll Brothers
Toll Brothers Inc., the largest U.S. luxury-home builder, reported a better-than-estimated profit and an increase in revenue for its third quarter ended July 31. The average price of the homes that the Horsham, Pennsylvania-based company delivered in the quarter climbed to $576,000 from $557,000 in the previous three months.
KB Home of Los Angeles said its third-quarter revenue increased 16 percent over the same period last year.
Home prices in 20 U.S. cities climbed more than forecast in July from a year earlier, a report from S&P/Case-Shiller showed yesterday.
The Fed has committed to purchasing $40 billion of mortgage debt a month to lower borrowing costs, helping the housing market that Chairman Ben S. Bernanke called "one of the missing pistons in the engine."
"Our mortgage-backed securities purchases ought to drive down mortgage rates and put downward pressure on mortgage rates and create more demand for homes and more refinancing," Bernanke said in a Sept. 13 press conference after the central bank announced the debt-buying plans.