China Calls Japan's Refusal to Budge on Islands 'Outrageous'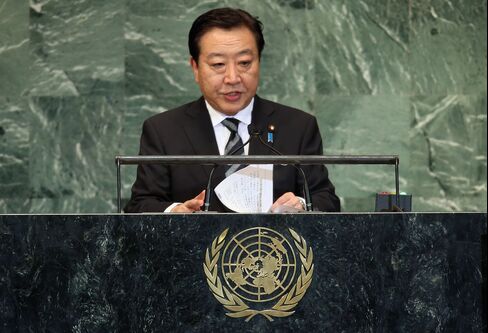 China's Foreign Ministry described as "outrageous" and "self-deceiving" Japanese Prime Minister Yoshihiko Noda's remark that his country would never budge on its ownership over East China Sea islands claimed by both sides.
While Japan isn't seeking a military confrontation with China and wants to keep talking "calmly," the disputed islands "are an inherent part of our territory in light of history and also under international law," Noda told reporters in New York yesterday. "There can't be any compromise that would be a step back from this basic position."
Tensions over the islands, known as Diaoyu in Chinese and Senkaku in Japanese, spilled over to an annual gathering of world leaders at the United Nations. The foreign ministers of China and Japan held talks on Sept. 25 in New York that failed to ease a feud damaging a $340 billion trade relationship.
The conflict has sparked the worst diplomatic crisis between the two nations since 2005, when thousands of Chinese protested Japanese textbooks that downplayed wartime atrocities.
"The Chinese people made enormous sacrifices and contributions to the victory of the world anti-fascist war and now, a defeated country is trying to grab the territory of a victor," Foreign Ministry spokesman Hong Lei said today, referring to Japan's defeat in World War II. "This is outrageous."
Peaceful Resolution
Noda said in a speech to the UN yesterday that while Japan is committed to resolving territorial issues peacefully, it is the responsibility of countries to protect their sovereignty. Chinese Foreign Ministry spokesman Qin Gang called the speech "self-deceiving," according to a statement posted on the Foreign Ministry's website today.
In the Sept. 25 talks, Chinese Foreign Minister Yang Jiechi told Japanese counterpart Koichiro Gemba that China "will not tolerate" Japan's claims, according to a Chinese Foreign Ministry statement. Gemba described the atmosphere at the meeting as "severe" and emphasized Japan's "maximum restraint" over the dispute, Kyodo News reported.
Japan has no intention to bring a territorial dispute over islands also claimed by China to the United Nations International Court of Justice, Chief Cabinet Secretary Osamu Fujimura told reporters today in Tokyo.
"There was agreement to maintain lines of communication through working-level talks," Fujimura said yesterday of the talks. "There are no magic tricks in diplomacy. It all comes down to holding talks through various channels and at various levels."
Sparked Protests
The crisis sparked protests in China that have damaged operations for Japanese companies. Reservations for more than 40,000 seats on All Nippon Airways flights were canceled from September to November, Executive Vice President Osamu Shinobe told reporters in Tokyo yesterday and Japan Airlines Co. had 15,500 cancellations as of Sept. 24. Nissan Motor Co. said it's halting production in China to reflect falling demand.
Organizations in the two countries canceled or postponed a series of events, including plans to mark the 40th anniversary of diplomatic relations. China skipped an international disaster relief conference in Tokyo, the official Xinhua News Agency reported. Chinese leaders in the Japanese city of Yokohama canceled an annual National Day parade on Oct. 1.
Chinese aviation authorities didn't approve a plane meant to carry Toyota Motor Corp. Chairman Fujio Cho on a China visit to land today, according to Kenzo Okamoto, a spokesman for the Japan-China Economic Association. Cho also heads the association, which is one of seven Japan-China groups scheduled to meet with Chinese leaders today.
Production Cuts
Nissan, the top Japanese seller of vehicles in China, yesterday said August output there fell 8.9 percent from a year earlier, while Toyota's production dropped 18 percent and Honda Motor Co.'s fell 10 percent. Japanese autos will lose their lead this year to German competitors for the first time since 2005, China's Passenger Car Association estimates.
Nissan will suspend China production from Sept. 27 -- three days earlier than planned -- and resume output on Oct. 8 in view of the "current market situation," company spokesman Chris Keeffe said. Toyota said it's suspending output until Oct. 8 in Guangzhou and Tianjin, and at its Sichuan FAW plant from Sept. 29. note. Production is typically shut down for the annual week-long holiday in China that starts Oct. 1.
Japanese carmakers, still recovering from natural disasters in Japan and Thailand last year, may face an even bigger financial toll from the protests in the world's biggest automobile market, according to projections from China's Passenger Car Association.
Thousands of people have taken part in anti-Japanese protests across cities across China over the island dispute. Protesters threw bottles and eggs at the Japanese embassy in Beijing this month, while demonstrators also caused minor damage to the official vehicle of U.S. Ambassador Gary Locke.
Japan's main opposition Liberal Democratic Party yesterday chose as its new leader former premier Shinzo Abe, who has called for building on the islands as a means of asserting the country's sovereignty. Polls indicate the LDP may defeat the ruling Democratic Party of Japan in elections Noda must call by August, putting Abe in line to become prime minister again.
— With assistance by Edmond Lococo, and Flavia Krause-Jackson
Before it's here, it's on the Bloomberg Terminal.
LEARN MORE