Temasek Decides to Sell SingTel Shares Worth $1.3 Billion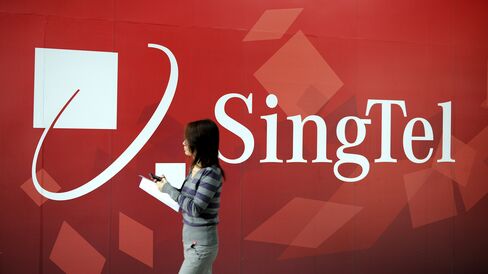 Temasek Holdings Pte, Singapore's state-owned investment company, is selling S$1.28 billion ($1 billion) of shares in Southeast Asia's biggest phone company, according to two people with knowledge of the deal. The stock slumped the most in more than a year.
Temasek is selling 400 million shares in Singapore Telecommunications Ltd., representing a 2.5 percent stake, at S$3.20 each, according to the people, who asked not to be identified because the information isn't public. The price, at the lower end of a S$3.20 to S$3.25 range in a term sheet sent to investors, is a 3.9 percent discount from yesterday's closing price of S$3.33.
Temasek, which managed S$198 billion of assets as of March, said in June it's seeking investment opportunities as the turmoil in Europe may result in a market slump rivaling the 2008 global financial crisis. Before the sale, SingTel rose 7.8 percent this year, lagging behind the 16 percent gain in the Singapore benchmark Straits Times Index.
"As an active investor for the long term, we rebalance our portfolio from time to time," Temasek said in an e-mailed statement yesterday. "We continue to be a significant shareholder in SingTel, which remains the largest company in our portfolio," it said, without providing any numbers.
Shares Slump
SingTel shares dropped 3.9 percent to S$3.20 at the close in Singapore, the biggest decline since August 2011. The stock fell as much as 5.1 percent earlier today.
"It's probably part of their rebalancing and they are probably looking at something else," said Carey Wong, an analyst at OCBC Investment Research in Singapore. "SingTel's earnings, while not fantastic, continue to remain stable," he said, adding that "the market has overreacted a bit."
The phone company last month reported first-quarter profit that missed analysts' estimates as currency moves and lower sales at its Australian unit cut earnings.
Citigroup Inc. and Morgan Stanley are managing the sale, according to the term sheet obtained by Bloomberg News. Jeffrey Fang, a spokesman at Temasek, declined to comment on the pricing today. Michele Batchelor, a spokeswoman at SingTel, declined to comment on the sale yesterday.
Temasek owned 8.67 billion shares, or 54.4 percent of the outstanding shares of SingTel, Singapore's biggest phone operator, according to data compiled by Bloomberg. Temasek's stake was worth S$29 billion, based on its market valuation of S$53 billion at the end of trading in Singapore yesterday.
SingTel remains Temasek's biggest holding in a listed company by market value, according to data compiled by Bloomberg, followed by stakes in lenders including China Construction Bank Corp. and Standard Chartered Plc.
Temasek talked to potential buyers for its stake in London-based Standard Chartered, the Financial Times reported yesterday, citing people it didn't identify. The Singapore investment company holds 18 percent of the bank, according to data compiled by Bloomberg.
Before it's here, it's on the Bloomberg Terminal.
LEARN MORE