China Bankrolling Chavez's Re-Election Bid With Oil Loans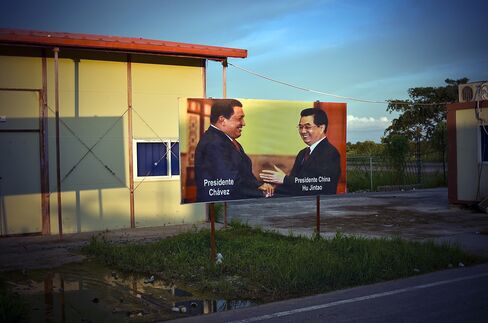 Edelmina Flores thanks God and Hugo Chavez for her apartment in a new housing complex in the Venezuelan president's home state of Barinas. She might also want to thank the Chinese government.
Since 2007, the China Development Bank has lent Venezuela $42.5 billion collateralized by revenue from the world's largest oil reserves, according to data compiled by Bloomberg from announcements of deals by the Chavez government. That's around 23 percent of all overseas loans by the state-run lender and more than the $29 billion the U.S. spent rebuilding Iraq between 2003 and 2006. At least $12 billion was promised in the past 15 months, when stagnant oil output and the highest borrowing costs among major emerging markets would've made raising capital more expensive.
The loans are fueling a surge in spending as Chavez hands out homes to the poor, stocks "socialist" supermarkets with appliances and builds a cross-country railroad -- all aimed at winning votes next month in his toughest election battle ever.
"If we didn't have a president like the one we have, lots of families would be on the street," said Flores, who used to live in a two-bedroom shack before being given a new home in December by Chavez's brother, Governor Adan Chavez.
"Now I have a decent home for my three children," Flores, 46, said in an Aug. 21 interview. "My president is the best."
Winning Twice
The loans give the Chinese influence over Chavez, who regularly speaks of recovering Venezuela's sovereignty after decades of subjugation to the U.S. "empire." In addition to securing large deliveries of oil, much of the money lent to Venezuela returns in the form of contracts to Chinese state-run companies whose global expansion is also being financed by the Beijing-based CDB, the world's biggest policy lender.
Among the beneficiaries are China Petrochemical Corp and the country's biggest oil and gas producer, China National Petroleum Corp. Both gained stakes in Venezuela's oil industry after Exxon Mobil Corp. and ConocoPhillips abandoned the country under the threat of nationalization.
"Venezuela's oil is at the service of China," Chavez, 58, said in February 2009 at a meeting in Caracas with a delegation of Chinese businessmen led by Vice President Xi Jinping.
Joint Fund
One vehicle for the lending is a joint fund to finance infrastructure projects set up in 2007 by CDB and Venezuela's Bank for Social & Economic Development. To date, China has contributed $16 billion, while Venezuela has committed half that amount, according to the Venezuelan government. Separately Chavez also secured a $20 billion loan from CDB in 2010, half of which is payable in U.S. dollars and half in renminbi.
Chavez said this month that he's seeking a third credit line. "We're thinking about 2013," he told reporters Sept. 11. "I sent Hu Jintao a letter and the teams are already working on it," he said, referring to the Chinese president.
Venezuela pays off the loans with oil, the amount of which fluctuates depending on the price of crude. Currently debt-servicing consumes about 200,000 barrels of the 640,000 a day that Venezuela sends China, Oil Minister Rafael Ramirez said Sept. 25, or about 9 percent of production. Venezuela relies on oil for 95 percent of its exports and half of public spending.
The savings for Venezuela are significant. As a result of Chavez's nationalization drive and inflation that has remained above 18 percent since 2007, the country's borrowing costs have soared to the highest among major emerging markets. The extra yield investors demand to own Venezuelan dollar debt rather than U.S. Treasuries widened 5 basis points, or 0.05 percentage point, to 987 at 10 a.m. in Caracas, according to JPMorgan Chase & Co.'s EMBI Global index.
Cheap Credit
Venezuela pays no more than 6 percent interest on its loans from China compared with 12 percent it pays for bonds issued in capital markets, Ramirez told El Nacional in an interview published Sept. 19. Ramirez's office didn't immediately respond to a request to confirm his comments as reported by El Nacional.
The lower cost has allowed Chavez to avoid tapping global investors. While the government and state oil company Petroleos de Venezuela SA sold a record $17.5 billion of dollar-denominated debt in 2011, so far this year PDVSA has issued just $3 billion.
'Lots of Capital'
"We have lots of capital and lack resources, they have lots of resources and lack capital, so it's complementary," Liu Kegu, the CDB's adviser to Venezuela, said in a March interview in Beijing. "Oil is very simple to drill. You drill a hole, put in a pipe and it comes out."
Chavez has put the windfall to work ahead of an Oct. 7 election in which he's seeking a third, six-year term amid concerns about his health after he revealed last year he was battling cancer. In the past 12 months, government spending has risen 30 percent in real terms, according to Bank of America-Merrill Lynch, helping to drive economic growth of 5.4 percent in the second quarter.
Much of the spending is going toward a plan to build 3 million homes by 2018, a pillar of Chavez's campaign to defeat opposition candidate Henrique Capriles Radonski.
Diverging Polls
Pollsters are split on who has an advantage in the race, though none shows Chavez dominating as he did in 2006, when he won with 63 percent. Capriles, the former governor of Miranda state, enjoyed a 1.9 percentage point edge over Chavez in an August poll by Caracas-based Consultores 21. A poll taken Aug. 25 to Sept. 5 by Caracas-based Datanalisis showed Chavez with 49.4 percent against 39 percent for Capriles.
In a poll of 2,000 people by Varianzas taken Sept. 7-20, Chavez had 49.7 percent against 47.7 percent for Capriles. The survey had a margin of error of 2.16 percentage points.
In a sign of how China wins twice from lending to Venezuela, much of the construction is being done by Chinese companies. Flores's apartment is one of 5,360 units being built on a plot of land two miles outside the state capital in Barinas by Citic Construction Engineering Co, a subsidiary of China's largest conglomerate.
In addition to helping Chavez fulfill his campaign pledges, Chinese companies are gaining access to some of Venezuela's most valuable assets.
Gold Mine
Citic, which is building more than 33,000 homes across the country, is in talks with PDVSA to acquire a stake in the Petropiar oil venture in the heavy crude Orinoco belt, state television reported Feb. 27. It's also a minority partner in Las Cristinas, a mine containing the country's largest gold deposits, Chavez said Feb. 24. Another subsidiary, Citic Securities Co Ltd, China's largest brokerage by market value, is advising on ways to conduct financial operations through the Hong Kong stock exchange, according to Chavez.
Chinese companies are also being invited to fill pent-up demand for everything from cars to televisions as currency and import restrictions lead to supply shortages. According to a September 2010 resolution in the Official Gazette, Venezuela must spend at least 75 percent of the $20 billion it received in 2010 on "cooperation projects" between the two countries.
Chavez's government since September 2010 has purchased 3 million air conditioners, televisions and other appliances from Qingdao Haier Co., Commerce Minister Edmee Betancourt said in April. The goods are used to supply a program called "My Well-Equipped House" that's backed by credit from state banks at a subsidized interest rate below inflation. The loans are also being used to import cars made by Wuhu-based Chery Automobile Co., Betancourt said this month.
Commodity-Linked Loans
"The Chinese have done their homework," said Kevin Gallagher, an economist at Boston University and author of "Dragon in the Room: China & the Future of Latin American Industrialization." "The Venezuelan economy can tank but part of the loans are linked to commodities that aren't going to disappear anytime soon."
The oil-for-loans program in Venezuela stands out for its size, though the same model is used by China to benefit its economy and companies throughout the world, from Russia to Ghana. In Latin America, Ecuadorean President Rafael Correa, an ally of Chavez, has secured oil-backed loans from China since 2009 worth $7.3 billion, about a third of the government's budget, according to the country's Finance Ministry.
Labor Tensions
As with Chinese projects in Africa and elsewhere, tensions have surfaced between Venezuelan workers and their foreign managers. At three construction sites in different states visited by Bloomberg News over five days in August, dozens of workers described being forced by Chinese managers to work long hours, with little concern for their safety, and being harassed by police for airing complaints.
Andres Roman Rangel said police shot him and two co-workers while breaking up a union meeting near Los Dos Caminos, in Guarico state, where China Railway Engineering Corp. is building a 468-kilometers (290 mile) railroad.
"They got me in my right arm and you can see how it entered and exited just below my armpit," Rangel, 38, said in an interview from the workers' camp, pointing to a bullet wound.
Jose Perez, a 31-year-old machinist on the same project, said he's frequently forced to work 15 hours straight without overtime. "They're trying to impose Chinese labor laws on us," he said, standing near a giant billboard of Chavez shaking hands with Chinese President Hu.
Much of the work is going to Chinese migrants. In the housing project in Barinas, about 43 percent of the 812 workers are Chinese, according to state-run newspaper Correo del Orinoco. In Los Dos Caminos 75 percent are Chinese, said Manuel Magallanes, a union leader on the $7.5 billion Tinaco-Anaco railway, the nation's largest non-oil infrastructure investment.
China Response
Marco Perozo, manager of the project for Venezuela's State Railway Institute, or IFE, declined to discuss the workers' grievances when he was asked about them outside the encampment. He said he needed permission from the National Guard commander who wasn't present. He didn't return subsequent phone calls and IFE's President, Franklin Perez Colina, didn't respond to an e-mail. Chinese managers on the project wouldn't talk to Bloomberg nor were police officials in the nearby town of Ortiz and the state capital San Juan de los Morros available to comment.
Zhang Fan, an official at the investor relations department of China Railway Group Ltd., the listed subsidiary of China Railway Engineering, did not respond to an e-mailed list of questions seeking comment on the workers' disputes. Feng Qihua, a Beijing-based spokeswoman for CDB, did not respond to two phone calls to her office and an e-mail about the bank's lending to Venezuela. Officials at China Railway's office in Caracas said they were not allowed to give interviews and did not respond to a letter seeking comment on the workers' complaints.
'Complete Nonsense'
Venezuela's Information Ministry didn't respond to an e-mail request for government comment on the alleged abuses and criticism by the opposition that the loans benefit China more than Venezuela
Hong Lei, a spokesman for China's Foreign Ministry, said that any notion that Chinese lending was meant to influence Venezuela's election is "complete nonsense."
"In recent years, China and Venezuela have started sizable financial collaborations based on the principle of mutual benefit," Hong told reporters in Beijing on Sept. 25. "Such investments are mainly used in development projects in Venezuela's agriculture, infrastructure and energy sectors which are beneficial to the country economically and socially."
Nationalization Praise
China's policy is to stay out of politics, Liu said in the March interview on the sidelines of the Chinese People's Political Consultative Conference, an advisory group to the country's legislature. Still, he praised Chavez's nationalization of oil assets as a move that brings the country's resource wealth closer to the Venezuelan people.
"What he's done is amazing," Liu said. "He's a people's president."
Chavez has responded in kind, referring to Liu as his "brother" at a Feb. 24 ceremony welcoming a delegation of Citic executives.
"China is large but it's not an empire," Chavez said on the occasion, holding a 600-page blueprint for Venezuela's development over the next two decades presented in an earlier trip to Caracas by CDB Chairman Chen Yuan. "China doesn't trample on anyone, it hasn't invaded anyone, it doesn't go around dropping bombs on anyone."
Opposition lawmaker Julio Montoya said in an interview that the loans lack transparency, benefit Chinese manufacturers at the expense of local ones and may violate a 2005 law by offering the country's natural resources as collateral. Capriles has said he'll review the terms of the loans to ensure their legality if he wins next month's vote.
'Political Loyalties'
"There's no doubt we're going to need China -- they are an economic powerhouse," Capriles said in a Feb. 7 press conference. "But many of the agreements the government has signed involve political loyalties that don't interest us."
The U.S., which buys 9.7 percent of its oil from Venezuela, has remained largely silent about China's outreach. That's because rising production levels in countries such as Brazil and Canada will be able to make up for any potential shortfall and much of the oil acquired by China is re-sold in Venezuela, said a U.S. government official.
China has avoided friction with the U.S. in Latin America by avoiding overt political engagement with Chavez, said the official, who declined to be named because he isn't authorized to discuss policy publicly.
"I don't understand how some Venezuelans dare to question this relationship with China," Chavez said Feb. 24. "They've even said such ridiculous things like that Venezuela is now a Chinese colony."
Post-Election Reckoning?
If oil prices tumble, and the cost of servicing the loans jumps, the spending boom may come to an end. Morgan Stanley said in a report this month that Venezuela may default on its debt as early as the second half of 2013 unless Chavez takes action to shore up the nation's "increasingly fragile" finances.
After PDVSA put off investments in its facilities to fund social programs, reviving output won't be easy. Production is 22 percent lower than it was when Chavez took power in 1999, according to annual statistics published by BP Plc. Venezuelan crude averaged $102.76 in the week ending Sept. 21.
Still, those scenarios, if they materialize at all, will come after Debora Gutierrez casts her vote next month. The 49-year-old retired sales clerk said she wasn't a supporter of Chavez when he first took office because at that point "no one had given me anything."
Now, sitting on her bed in a government-provided apartment in Barinas built by Citic, she said she has no doubts about whom she'll support. "Here in the housing project there's a fanaticism for Chavez."
Before it's here, it's on the Bloomberg Terminal.
LEARN MORE