Banks That Flunked Servicing Tests Face Watchdog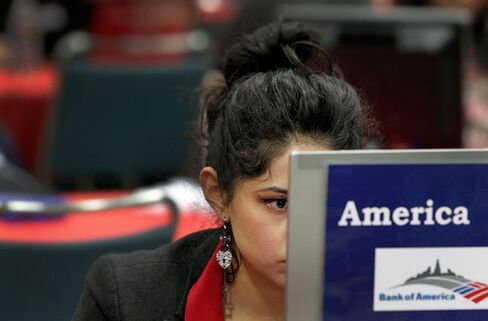 Mortgage firms including Bank of America Corp. that repeatedly ignored rules meant to improve service for struggling homeowners said they're on the verge of complying with standards ordered in a $25 billion settlement.
After failing to adhere to at least two separate sets of servicing guidelines since 2010, lenders are preparing for more than 300 rules that take effect next month on loan modifications, fees, foreclosures, and the treatment of military personnel. For the first time, banks face a watchdog dedicated to keeping them honest, Joseph A. Smith, North Carolina's ex-commissioner of banks.
The latest attempt by U.S. regulators to change the way the biggest mortgage servicers treat their customers will test how effective the $25 billion industry accord is in helping distressed homeowners. Previous guidelines, including those for the Home Affordable Modification Program, that required speedy responses for customers were ignored as banks lost paperwork or otherwise stalled applications, said Diane Thompson, an attorney at the National Consumer Law Center in Boston.
"They have had some of these rules in effect for years now, they just haven't complied," Thompson said. "Smith will be crucial in holding the servicers accountable; he has the power to take them to court if they're in noncompliance. But whether that is enough remains to be seen."
Servicers Agreed
Bank of America, JPMorgan Chase & Co, Wells Fargo & Co. and Ally Financial Inc. representatives have said they will conform to the new standards by Oct. 2. Mark Rodgers, a spokesman for Citigroup Inc., declined to comment on the deadline. The five servicers agreed to the changes as part of the February deal to end federal and state probes into allegations the firms cut corners in foreclosing on the homes of thousands of customers.
Servicing standards in the $25 billion deal "differ greatly" from previous guidelines and require changes in operational systems, said Dan Frahm, a Bank of America spokesman.
"We have met all servicing standard requirements on time and will meet remaining requirements under the settlement," Frahm said. "Bank of America has and will continue to work with urgency to help our customers avoid foreclosure."
The mortgage industry lowered underwriting standards that helped to fuel the housing boom, used so-called robo-signers to handle the flood of foreclosures that followed and dragged its feet assisting homeowners in the aftermath. Their business model assumed default rates would never rise beyond 2 percent, an idea that was "blown to bits" by the housing crisis, Smith said.
Homes Underwater
One in five U.S. residential units are underwater, or tied to loans that are bigger than the value of the home, according to CoreLogic Inc., a Santa Ana, California-based mortgage data firm. Of those 10.8 million properties, 15 percent have fallen behind on payments.
While President Barack Obama's HAMP program was voluntary and could only withhold incentives, banks now face of up $1 million per violation, and up to $5 million for some repeat violations, if Smith finds a servicer isn't keeping to the deal.
"If there is an established pattern of noncompliance, I will go after it and work to address it," said Smith. "It's my job to make sure that the servicers are taking the actions they've agreed to under the settlement."
Smith, 62, was Obama's original pick to head the Federal Housing Finance Agency, regulator of Fannie Mae and Freddie Mac, the so-called government sponsored enterprises that fund most U.S. mortgages. Smith withdrew in 2011 amid signs that Republicans would block his promotion, and the job went to Edward J. DeMarco.
Curtailing Risk
As North Carolina's top banking regulator from 2002 until this year, Smith pushed to curtail risky mortgage lending that caused elevated foreclosures. Before that, he was general counsel of Centura Banks Inc., a regional lender acquired in 2001 by Royal Bank of Canada, for almost a decade.
"They would've been hard-pressed to find someone better than Joe Smith" to police the settlement, said Ethan Handelman, vice president at the National Housing Conference in Washington. "He has the ability to speak to both sides of the issue with credibility. That's a rare person."
Smith's assignment has challenges. Banks are responsible for rating their performance under the servicing rules, according to an Aug. 29 report from the monitor. Smith will have access to the lenders' documents, employees and complaint logs to check the accuracy of their quarterly reports. Homeowners can also lodge complaints at www.mortgageoversight.com/forms.
Banks' Deadline
Banks have 30 days to review a completed loan modification application under the settlement guidelines, a requirement under HAMP since at least January 2010. Other rules governing timelines and foreclosure prevention have been issued by U.S.- owned mortgage firms Fannie Mae and Freddie Mac and were included in an April 2011 consent order from the Office of the Comptroller of the Currency.
Bank of America customers waited as long as two years to be told whether they qualified for HAMP, according to testimony from Ryan Quinn, a former employee. Quinn, a customer service representative on the bank's loan modification team from April 2010 to March 2011, testified after being subpoenaed last year by the Nevada attorney general as part of a lawsuit against Bank of America.
Employees were given minimal training, didn't have computer passwords to find documents, and were discouraged from spending more than seven minutes speaking to borrowers, he said. Eighty percent of the calls Quinn took were about delays, he said.
The bank "wanted to make it take as long as possible," Quinn told investigators.
Paperwork Obstacle
Banks, which tack on late fees and service charges to a delinquent borrower's mortgage, can still stymie applicants by claiming the borrower didn't send in all the required paperwork, even if they have. Missing documents were the biggest reason for rejected HAMP applications, cited in almost a quarter of failed attempts, according to Treasury data.
"There will always be opportunities for them to circumvent the rules," said Kevin Stein, associate director of the California Reinvestment Coalition. "In the past, nothing happened to servicers if they didn't follow the rules, and so whether they're followed now all comes down to enforcement."
All five of the biggest U.S. servicers were found to need moderate improvement in the HAMP program as of the second quarter, according to a Treasury report. Three-quarters of housing counselors surveyed by the U.S. Government Accountability Office last year had negative experiences in the program, citing delays and lost paperwork.
Dual-Tracking
Lengthy delays are one reason HAMP has helped a fraction of the 3 million to 4 million homeowners originally set as the government's goal. The program has resulted in 825,478 permanent modifications since 2009. Large servicers were to blame for the poor results because they had half the response rate of smaller firms, according to a paper released last month by researchers from the Federal Reserve Bank of Chicago and the OCC.
Under the new guidelines, banks can't foreclose on a borrower's property if a modification has started, a process dubbed dual-tracking that was previously banned in HAMP and GSE standards. Servicers must also provide borrowers with a so-called single point of contact, a bank employee who can shepherd customers through the modification process.
Borrowers are still routinely sent to different call-center employees, and because staffers lack the ability or authority to find documents, paperwork must be filed several times, said Christine Wolk, an attorney in Oshkosh, Wisconsin. One client submitted the same documents 19 times because of confusion over tax paperwork required, she said.
Rules Change
"Even though the rules require a single point of contact, they change the person they're supposed to work with on a weekly basis, so they never have the same one," Wolk said. "The goal is just to get people to give up."
Regarding the other part of the February settlement, giving distressed homeowners a total of $20 billion in relief, banks may finally have incentive to act promptly.
Loans modified within the first 12 months of the three-year program are worth 25 percent more in credits toward satisfying terms of the deal, meaning banks can reduce the debts of fewer homeowners by hitting targets early. Under pressure to trim expenses, lenders are also eager to cut thousands of employees they hired to service delinquent bubble-era loans.
The five biggest servicers have given about $10.6 billion in relief through June, mostly in the form of short sales in which a delinquent borrower's home is sold for less than the amount owed, Smith said last month in a report. That results in fewer credits because servicers get less than 50 cents on the dollar for short sales. They are expected to ramp up loan modifications in the coming months.
Bank of America, Wells Fargo and JPMorgan have said they expect to be finished with parts of their borrower assistance requirements two years ahead of deadline.
Before it's here, it's on the Bloomberg Terminal.
LEARN MORE