Thaksin Signals Sister to Avert Political Crisis: Southeast Asia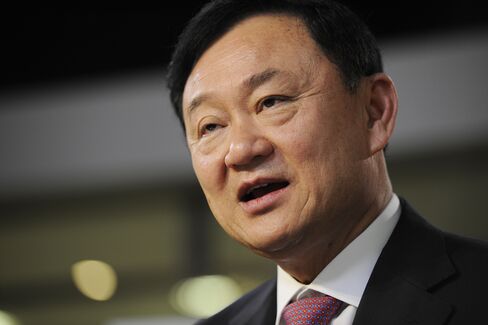 Former Thai Premier Thaksin Shinawatra said his sister's government will avoid conflicts like those that led to his ouster in a 2006 coup, even as it presses ahead with efforts to curb the power of the courts.
Prime Minister Yingluck Shinawatra's ruling Pheu Thai party will probably drop plans to completely rewrite the constitution and amend it section-by-section instead to sidestep challenges that caused previous governments to fall, Thaksin said in an interview in Singapore yesterday. It will also shelve a bill granting a broad amnesty that would include him until "the timing is right," he said.
"If we cannot amend the constitution that we have now, it's difficult," said Thaksin, who has lived overseas since fleeing a 2008 jail sentence. "It's like the government is living in a house full of land mines. So you have to be very cautious of what you are doing."
The approach may extend the tenure of Yingluck's 13-month-old government, which has already outlasted the last Thaksin-linked administration that collapsed in 2008 after protesters seized Bangkok's airports. The stability has pushed Thai stocks to a 16-year high as increased spending on rice helped the economy grow more than economists expected in the second quarter.
"Political stability makes Thailand an attractive investment destination similar to other regional countries like Malaysia when money is flowing to emerging markets," said Koji Fukaya, an independent analyst in Tokyo who was formerly chief currency strategist at Credit Suisse Group AG. "Thailand is quite good in that aspect, especially amid optimism of more fund inflows to emerging countries with monetary easing in developed nations."
Stocks Gain
Southeast Asia's second-biggest economy may grow 5.5 percent this year, boosted by increased domestic demand, Nomura Holdings Inc. said in a report today. Spending on water management and mass transit projects "will hinge on the political backdrop, which has already seen an improvement, with no major unrest since the new government took office," it said.
Thailand's benchmark SET Index has gained 24 percent since Pheu Thai's election win on July 3, 2011, the second-best performer in the world behind Venezuela, according to data compiled by Bloomberg. The index rose 0.2 percent today to 1,287.41, the highest since June 4, 1996. The baht strengthened 0.03 percent to 30.94 per dollar.
Thaksin, 63, said he visited Singapore to watch a Formula One race as a guest of Temasek Holdings Pte, which bought the telecommunications firm he founded in 2006. He said he's in no hurry to return to his native land, having grown accustomed to a life where he flies every three days on average to cities like London, Dubai and Hong Kong.
'Better Than Me'
Thaksin praised Yingluck, saying her personality has reduced animosity among his opponents. Two months before the 2011 election, Yingluck left her job as a property executive to lead a party that campaigned on the slogan "Thaksin Thinks, Pheu Thai Does."
"She handles politics much better than me," Thaksin said.
The government will push to change the charter even after the Constitutional Court ruled in July that Pheu Thai should hold a referendum before overhauling the document. Written by a military-appointed assembly, the constitution granted generals amnesty for the coup, made it easier to dissolve political parties, and gave judges a role in picking members of a half-appointed Senate.
Planned amendments would decrease the power of independent agencies such as the Constitutional Court and give more say to elected officials, Thaksin said.
Track Record
"We are working carefully and also we are in consultation with the Constitutional Court, which area is acceptable," he said, referring to plans to change the constitution. "We want to do things that are acceptable by everybody."
It remains to be seen whether Thaksin's proposed changes will strike the right balance between respecting electoral outcomes and maintaining safeguards against abuse of power, according to Michael Montesano, a visiting research fellow at the Institute of Southeast Asian Studies in Singapore.
"He's recognized a real problem, but given his track record and given how politicized this all is, his approach to solving it is not terribly reassuring," Montesano said.
Thaksin's opponents, who accused him of using government agencies to attack his political foes while he was prime minister, say his proposed changes will allow him to recoup his fortune and return to Thailand without spending time in jail. In 2008, Thaksin fled abuse of power charges that stemmed from a military-appointed panel for helping his wife buy land from the government.
Wealth Seizure
In 2010, a court seized 46.4 billion baht ($1.5 billion) held by Thaksin's family after ruling that policies during his five years as prime minister increased the value of Shin Corp., the telecommunications company now controlled by Temasek. Thaksin declined to reveal his net worth, while saying his enemies "clipped" his "deep pockets."
"The principle is about justice," Thaksin said, referring to his seized wealth. "Did I have enough justice? Did they treat me correctly? Did they observe the rule of law while treating me? If not, I have to be remedied."
Two weeks after his cash was seized, the Thaksin-backed Red Shirts began protests that shut down Bangkok's commercial center and led to a crackdown that left more than 90 people dead. Thaksin said bills granting amnesty for political offenses from all sides since the coup would remain tabled in Parliament as more discussion takes place. The measure would allow everyone to start "all over again," he said.
Protest Deaths
At the same time, he said the previous government headed by former Prime Minister Abhisit Vejjajiva should face trial for setting up "live ammunition zones" to besiege protesters in 2010. The Department of Special Investigation, an agency under the Justice Ministry, is investigating whether to bring charges over the protests, the Bangkok Post reported Sept. 21, citing director-general Tarit Pengdith. Thirty-six people were killed by government officials during the protests, it said.
"It's too much the way they crack down on the people," Thaksin said, adding that the International Criminal Court is considering whether to accept a petition on the case filed by the Red Shirts. "Definitely they have to be held accountable."
Abhisit and other Democrat party members are willing to face the courts to determine the truth, according to spokesman Chavanond Intarakomalyasut, who cited a report by the so-called Truth for Reconciliation Committee that also blamed militants hiding within the protesters for some of the deaths.
"Thaksin is always speaking outside the country," Chavanond said. "Why doesn't he come back and prove what really happened and prove to the people that he's innocent as he said."
Reconciliation
New York-based Human Rights Watch called this week for the government to prosecute people in both political camps that were responsible for the violence. The reconciliation committee, set up by Abhisit's government after the violence, also cautioned against a broad amnesty and called for constitutional changes to be explained to the public, as well as for the military to stay out of politics and for judges to remain neutral.
When releasing its report, committee chairman Kanit Na Nakorn called for Thaksin to stay out of political affairs.
"That's the view of a very few people, especially the chairman," Thaksin said, adding that Kanit was "still angry with me" about a dispute over who to include in his Thai Rak Thai political party, which brought him to power in 2001. Kanit declined to comment directly on Thaksin's remarks when reached by phone late yesterday.
"I respect all who make comments on our report," Kanit said. "It's a good opportunity for public accountability."
'Bullied'
Thaksin has called for broader talks with his opponents to find a political solution to Thailand's long-running disputes.
"Everyone in Thailand knows that I've been bullied politically," he said. "So the only way to correct it must be the same, that is through the political process. This is politics. That's it."
Thaksin became a billionaire after winning a mobile-phone concession in 1990 for what became Thailand's biggest operator. After entering politics, he appealed to voters in the poorer northeast region with cheap health care and small loans, a platform that underpinned his tenure as prime minister from 2001 until his ouster.
After the coup, courts dissolved two parties linked to him and banned about 200 political allies from holding office for five years, punishments that failed to dent Thaksin's popular appeal. In July 2011, Yingluck's Pheu Thai won 265 seats in the 500-seat parliament on pledges to raise the minimum wage, buy rice at above-market rates and give students tablet computers, the fifth straight win for Thaksin-linked parties.
While another coup can't be ruled out, Thaksin said, it wouldn't easily succeed.
"If it were to happen again it would not be a quiet coup, no blood," he said. "It's because the people are aware. The last coup made their life worse so they know they would not allow it to easily happen again."
Before it's here, it's on the Bloomberg Terminal.
LEARN MORE