Realtors Lead Election Giving as Housing Revives: BGOV Barometer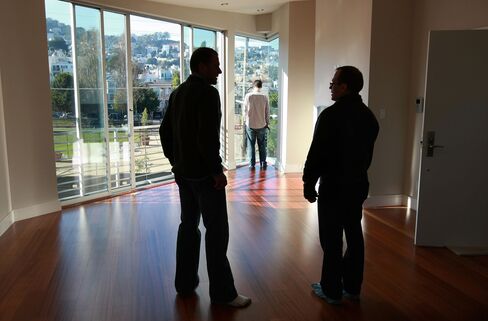 Sept. 24 (Bloomberg) -- The National Association of Realtors is poised to lead in political giving this year as the housing market rebounds from the deepest slump since the 1930s.
The BGOV Barometer shows that the Realtors' political action committee, the most generous giver to federal candidates in elections from 1998 to 2010, is headed for another year in first place. The Realtors' committee is the only PAC to rank among the top five donors in every election during that period.
"The bright national spotlight focused on home mortgages and housing by the 2008 economic crisis has led housing-industry interests to redouble their giving, less to win new legislative advantages than to protect the status quo," said Rogan Kersh, provost at Wake Forest University in Winston-Salem, North Carolina. "A good relationship with members of Congress can be essential to help stave off new regulations or weaken those in place."
Federal candidates have received $3.8 million to $4 million from the Realtors PAC during every election since 2004, according to data from the Center for Responsive Politics, a Washington-based research group. Donations didn't shrink even after U.S. home resales plunged more than 50 percent from their 2005 high as the collapse of the subprime mortgage market triggered the deepest recession since the Great Depression.
Now, sales are picking up, increasing 7.8 percent last month to a 4.82 million annual rate, the most since May 2010.
Among key issues for the Realtors is maintaining the federal income tax deduction for interest paid on home mortgages, which could be targeted for curtailment or elimination as part of a U.S. tax code overhaul.
Sending $800,000
Through Aug. 31, the Realtors PAC ranked second with $3.6 million in donations to candidates and political committees, though political director Scott Reiter said the PAC was ready to send another $800,000 in checks to candidates now that the congressional primaries are over.
Morris Township, New Jersey-based Honeywell International Inc. was the most generous PAC through Aug. 31, making $3.9 million in donations. Honeywell first became the biggest contributor among corporate PACs in 2010.
Other big PAC donors this year include the National Beer Wholesalers Association, which has given $3.3 million so far; and Dallas-based AT&T Inc., the largest U.S. phone company, which has contributed $3.2 million.
Every District
Like the National Automobile Dealers Association, another top donor to congressional campaigns, members of the Realtors group are found in every congressional district and their trade association can activate the grassroots and mobilize their members to weigh in on key issues.
"This was the way for them to not only carry weight in Washington but to throw it around" amid the housing crisis, said Sheila Krumholz, executive director of the Center for Responsive Politics. "There are so many agents so this is vehicle for them to pool their influence and to use it."
The Realtors spent $16.2 million to lobby in the first six months of 2012, second only to the U.S. Chamber of Commerce, according to the Center for Responsive Politics. Last year, the association ranked third, behind the Chamber and Fairfield, Connecticut-based General Electric Co.
Besides the mortgage interest deduction, the Realtors lobby on such issues as foreclosure legislation, financial regulation, cybersecurity, national flood insurance, energy conservation and health care, according to disclosure forms.
To contact the reporter on this story: Jonathan D. Salant in Washington at jsalant@bloomberg.net.
To contact the editor responsible for this story: Jeanne Cummings at jcummings21@bloomberg.net.