Pandora Rises on U.S. Bill That Would Cut Costs 50%: L.A. Mover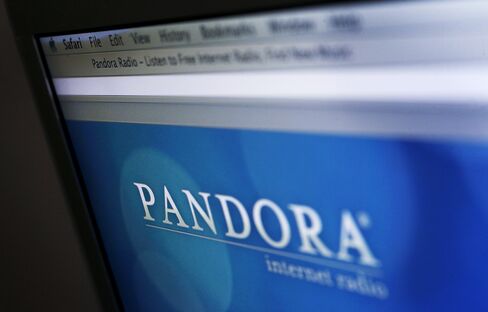 Pandora Media Inc., the biggest U.S. online radio service, rose after Albert Fried & Co. estimated a bill introduced to Congress would cut the company's content costs by as much as half.
Pandora, based in Oakland, California, gained 3.7 percent to $10.89 at the close in New York. The stock has climbed 8.8 percent this year.
The Internet Radio Fairness Act would create music royalty parity among satellite, pay-TV and online services, with rates set by a panel of judges. If approved, the law would reduce Pandora's content costs by 40 percent to as much as half because royalties would be determined as a percentage of revenue compared with the current fixed price for each track, Rich Tullo, an analyst at Albert Fried in New York, said today in a report.
"The law could be a major catalyst for Pandora's earnings growth and therefore share price," wrote Tullo, who recommends the shares. Pandora will spend 63 percent of fiscal 2013 revenue on content costs, Tullo estimated in the report.
The bill, House Resolution 6480, was introduced Sept. 21 by Representative Jason Chaffetz, a Republican of Utah's third district, and Representative Jared Polis, a Democrat of Colorado's second district.
Pandora began sending e-mails to registered users on Sept. 21, and continuing through the weekend, suggesting listeners contact their representatives in Congress and the U.S. Senate, Mollie Starr, a spokeswoman for Pandora, said in an interview. The e-mail messages, targeted by geography, provide the name and link of their elected officials, she said.
Music Royalties
"As a lifelong musician, I'm fully supportive of artist compensation, but this situation can't continue," Tim Westergren, Pandora's founder and chief strategy officer, said in the e-mail. "Internet radio is bringing millions of listeners back to music, and is playing the songs of tens of thousands of promising artists who would otherwise never be heard. It should be given a fair chance to succeed."
The company paid about 50 percent of its revenue last year in music royalties, more than six times the percentage paid by Sirius XM Radio Inc., Westergren said in a separate statement last week.
"Royalty rates for different formats of digital radio are astonishingly unequal," Westergren said. "The discrimination against Internet radio is not only fundamentally unfair, it also undermines the growth of an exciting new form of radio that listeners have embraced, and that provides unprecedented exposure and revenue for thousands of working artists."
Before it's here, it's on the Bloomberg Terminal.
LEARN MORE