China Speeds Up Approvals of Foreigners' Stock Investment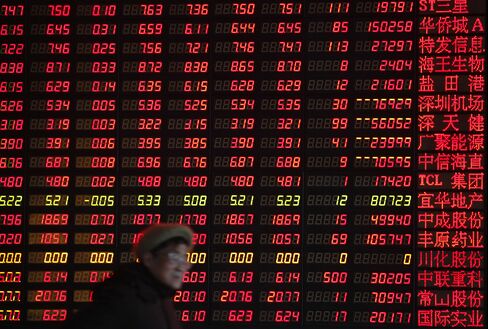 China accelerated approval of quotas allowing foreign investors to buy mainland securities as the nation's benchmark stock index traded near a three-year low.
The government granted $9.2 billion quotas to qualified foreign institutional investors from Jan. 1 to Sept. 19, according to State Administration of Foreign Exchange statement published on its website yesterday. The government had approved a combined $30.8 billion in quotas as of Sept. 19 since the start of the program, according to the statement.
The Shanghai Composite Index tumbled 36 percent from its November 2010 high through yesterday, spurring officials to look overseas for funds to boost the market. The Shanghai Stock Exchange completed a 10-day roadshow in North America to brief foreign investors on China's capital markets, according to a statement by the bourse yesterday.
The foreign exchange regulator said in May it plans to quicken QFII approvals. The China Securities Regulatory Commission in June said the government will cut the minimum requirement on assets under management to $500 million from $5 billion, lowering the entry barrier for companies seeking a license under the QFII program.
The CSRC will implement measures to boost investor returns, the Securities Daily reported , citing Zhang Yujun, assistant chairman at the regulator.
Economy Concern
The Shanghai index plunged 4.6 percent last week after a report on manufacturing signaled a contraction and escalating tensions with Japan threatened trade. For the year, it's down 7.6 percent on concern the government isn't loosening monetary policy or introducing stimulus policies fast enough to counter the slowdown in the economy.
Introducing more long-term funds from abroad will help improve market confidence, promote stable growth in China's capital markets and provide "robust" investment returns to domestic investors, the CSRC said on May 18. QFII, introduced in 2002, allows approved foreign investors to buy and sell yuan-denominated securities.
About 75 percent of total QFII assets are invested in yuan-denominated stocks, known as A shares, with the rest in bonds and deposits, according to a CSRC statement in April.
— With assistance by Feifei Shen, and Fion Li
Before it's here, it's on the Bloomberg Terminal.
LEARN MORE