Singapore Cuts Formula 1 Costs in Extension Deal: Southeast Asia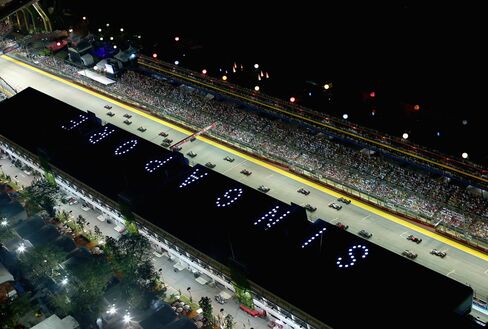 Singapore said the Formula One event will cost less to host in the coming five years and draw more visitors after concluding negotiations just as the city-state's fifth night race weekend began.
The country, the first to stage a night race for the Grand Prix, expects expenses to drop about 15 percent to 20 percent, according to the Ministry of Trade and Industry. The cost of the race is about S$150 million ($122 million), with the government co-funding 60 percent of the amount, said S. Iswaran, Singapore's second trade minister, who's responsible for developing the tourism industry.
"Singapore is careful where its spends its money," Song Seng Wun, an economist at CIMB Research Pte in Singapore, said by phone yesterday. "F1 costs the taxpayers a ton of money. It wants the race to stay but it doesn't want to be taken to the cleaners by the F1 group."
The event will help boost tourists as Singapore forecasts arrivals to rise to 17 million and tourism spending to reach S$30 billion by 2015. The opening of two casino resorts two years ago, including Las Vegas Sands Corp.'s downtown three-tower hotel joined by a boat-shaped rooftop that's part of the backdrop for the race, spurred a 13 percent increase in visitors last year after a 20 percent climb in 2010.
Formula One has attracted more than 150,000 international visitors over the past four years and generated about S$140 million to S$150 million annually from the event, Iswaran said in a statement released on Sept. 22.
Sebastian Vettel of Red Bull won yesterday's race to move up to second in the Formula One drivers' standings. Jenson Button of McLaren came second and Ferrari's Fernando Alonso was third, retaining the lead in the drivers' standings.
Extended Term
"For the extended term, we expect benefits to remain at least at this level," Iswaran said, adding that the lower costs will come from "optimization of infrastructure, operational efficiencies in race organization and revised terms with the race promoter and Formula One administration."
Formula One Chief Executive Officer Bernie Ecclestone didn't immediately respond to e-mailed requests for a comment. The Sunday Times reported that he likes having the event in Singapore and the event's cost was discussed in the negotiations, citing Ecclestone at a press conference. He declined to give details of the new five-year agreement, the newspaper reported yesterday.
"It's a Grand Prix we look forward to," Button, who won the 2009 Formula One championship, said in an interview in the city-state on Sept. 22. "Singapore has done it really well. There aren't many cities around the world who can put on a night race like Singapore."
More Tourists
The country expects the number of visitors to rise as much as 9.8 percent to 14.5 million in 2012. Tourism spending is expected to climb as much as 8 percent to S$24 billion this year, according to government estimates.
Singapore is seeking to encourage tourists to spend more by offering marquee events such as Formula One and attractions including the Universal Studios theme park as a faltering global recovery threatens to curtail growth in visitor arrivals.
Formula One "has helped strengthen Singapore's standing as a global city with vibrant lifestyle," Iswaran said, adding that "we have added a new dimension to the sport with a unique night race."
The city's Grand Prix has drawn sponsors such as Singapore Telecommunications Ltd. and UBS AG, which have flown in clients and partners for networking events around the race.
Maroon 5
Entertainment is a key component for the Singapore event, and tickets to the race this year offered access to concerts by performers including Maroon 5, Katy Perry and Jay Chou.
"As a driver, we love this race because there's a special atmosphere," said Button, 32. "People love it because it's just such a good atmosphere here. It's a really good fun, party atmostphere here."
Still, the cost of visiting the city may have increased for most travelers. The Singapore dollar strengthened 5.7 percent this year, the biggest gain among the 11 most-traded currencies in Asia. It's also the best performer after the Mexican peso and New Zealand dollar among the 16 major currencies tracked by Bloomberg.
Haze in the city-state, usually from forest fires in neighboring Indonesia, also pushed the pollution index to the "moderate" range on Sept. 22, the worst in two weeks, according to National Environment Agency data.
Longer Stays
The majority of tourists last week came from Australia, the U.K. and the U.S., according to data on flight reservations up to Sept. 1 compiled by Amadeus IT Holding SA and Forward Data SL. About 15 percent of arrivals were expected on Sept. 20, a day before the festivities, indicating that visitors were staying longer, they said in a statement on Sept. 20.
The Grand Prix has elevated Singapore's standing as a tourist destination, said Craig Baird, who won the Porsche SC Global Carrera Cup Asia over the weekend held before Formula One. He said in an interview on Sept. 20 that the Singapore race is unique because of its ability to draw families and couples with the proximity to sights in the city-state.
For Singapore, the extension of the contract would help broaden its image beyond a business center that's known as a manufacturing and financial hub in the region, CIMB's Song said.
"As an event, it contributes a little to the overall GDP," he said. "It's much more about the overall global branding and promotion. It adds more buzz and activity to the hospitality sector."