China-Japan Islands Dispute Stokes S. Korean Tourism Boom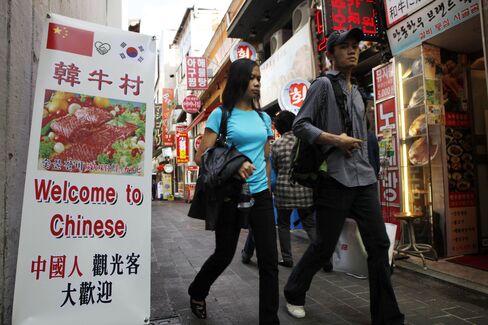 China's dispute with Japan over uninhabited islands is the reason Zhang Min vacationed in Seoul.
"I picked Korea because I'm reluctant to go to Japan," the 24-year-old from Hong Kong said in the South Korean capital last week during a trip with friends. "I don't want to visit a country that makes me uncomfortable."
South Korea expects a record 100,000 Chinese tourists during a weeklong holiday starting Oct. 1 as vacationers switch plans because of a consumer boycott of Japanese goods and travel. The protests have been sparked by Japan's move to nationalize disputed islands known as Diaoyu in Chinese and Senkaku in Japanese.
"Chinese nationals have great feelings of patriotism because of the Diaoyu incident," said Lin Jiashui, a deputy director at Xiamen C&D ITS Co., the largest travel agency in China's Fujian province. "Their first reaction is -- I don't want to step on Japanese soil."
Chinese travel agents have canceled Japan tours and China Southern Airlines Co. and Japan Airlines Co. have cut flights because of a demand slump. More than 40 percent of Chinese holidays booked in Japan during the weeklong vacation could be canceled, with many travelers instead going to South Korea or Southeast Asia, Citigroup Inc. said last week.
"We expect a significant increase in Chinese tourists if the tensions escalate," said Sisdivachr Cheewarattanporn, president of the Association of Thai Travel Agents. "When there is a tension, they will have to change their plans and look for alternative destinations."
China Travel
Mainland Chinese visits to Japan surged 72 percent through July from a year earlier to 947,600, making it the second-biggest source of visitors after South Korea, according to the Japan National Tourism Organization. Overall outbound travel numbers from China may rise to 100 million a year by 2020 as economic growth makes travel affordable to more people, according to the World Tourism Organization.
Taiwan hasn't seen any extra increase in bookings as a result of the spat, as flights are already close to full and because tourists need to apply for visas, said Alice Chen, a deputy director at Taiwan's Tourism Bureau. Mainland bookings for Golden Week are already about 20 percent up from last year, said Anthony Liao, president of travel agent Phoenix Tours International Inc.
Korea Visitors
Chinese visitor numbers to South Korea during next week's vacation may climb 36 percent from last year, according to the Korea Tourism Organization. Leisure stocks rose on the forecast. Casino operators Grand Korea Leisure Co. and Paradise Co. rose to record highs in Seoul trading, while the benchmark Kospi index was little changed.
Chinese tourists spent an average of $1,949 per person during trips to South Korea last year, based on Ministry of Finance data. That compares with $1,408 for U.S. visitors and $1,075 for Japanese holidaymakers.
Lotte Duty Free, which operates outlets in the country's main airports, said total visitor numbers could double during China's Golden Week holiday, which marks National Day.
"We expected a big influx of Chinese tourists," it said by e-mail. The retailer is adding more interpreters and information desks for Chinese travelers to help cope with the surge. The company, part of Lotte Group, is also running promotions to boost spending including offering the chance to win a Sonata sedan made by Hyundai Motor Co.'s Chinese venture and free stays at parent Hotel Lotte's properties.
Lucrative Customers
Chinese tourists are the retailer's most lucrative customers spending an average 1 million won ($893) per shopper, more than double the amount spent by Japanese tourists, it said. Their spending has helped made Seoul's Incheon airport the world's busiest for duty-free retail.
"I came here for the shopping and sights," said Wang An Quan, a 49-year-old Chinese men who visited Seoul with his wife last week. "I didn't consider Japan because of the uncomfortable relationship with China." The couple bought cosmetics and traditional Korean souvenirs, including ginseng.
Japan's tourism agency head Norifumi Idee said at a press briefing in Tokyo last week that he didn't expect the dispute to have a big impact on long-term visitor numbers.
Jeju Tourism
Hotel Lotte said its Seoul hotel is about 90 percent full for next week. Its branch on the beach resort of Jeju Island is fully booked. The island, the only place in South Korea that Chinese travelers can visit without a visa, is anticipating an increase in visitor number next week, according to the Jeju Special Self-Governing Provincial Tourism Association.
Many tourists spend two nights in Seoul and two in Jeju, said Kim Seong Ming, a spokeswoman at Modetour Network Inc., South Korea's third-biggest tour agency. The company expects 20 percent more Chinese tourists during this National Day holiday than last year, she said. It was too early to judge the impact of the island dispute on the demand, she said.
Tourism from China has also been rising because of economic growth, the popularity of Korean soap operas and a relaxation of visa requirements that came into force Aug. 1. The number of visitors rose 30 percent from a year earlier to 1.51 million in the first seven months, according to the tourism board.
"I had wanted to visit Seoul to see how Korean women live as I'm a big fan of Korean dramas," said Hong Kong traveler Zhang, as she shopped in the city. "I will visit Seoul again in the near future."
Before it's here, it's on the Bloomberg Terminal.
LEARN MORE