RIM Falls as BlackBerry Service Disrupted in Europe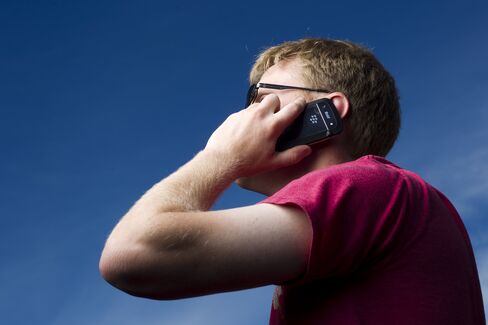 Research In Motion Ltd.'s BlackBerry customers in parts of Europe suffered a service disruption on the same day as Apple Inc. introduced a new iPhone, the second time that's happened in two years.
The malfunction, disclosed earlier today, has since been resolved and didn't affect North America, RIM's biggest market, Waterloo, Ontario-based RIM said in e-mails. Some BlackBerry users in Europe, the Middle East and Africa lost e-mail and Internet access, wireless carrier Vodafone Group Plc said.
RIM is struggling with slumping sales as users switch to devices from Samsung Electronics Co. and Apple, which began selling its iPhone 5 in stores globally today. A similar BlackBerry outage last year as Apple debuted the iPhone 4S lasted for at least three days and compelled then co-Chief Executive Officer Mike Lazaridis to make a public video apology.
RIM CEO Thorsten Heins apologized for the disruption in a message on the company's website today. As many as 6 percent of RIM's more than 78 million BlackBerry subscribers may have been affected, though the disruption didn't last more than three hours, he said. RIM will do a full technical analysis to determine the cause, Heins said.
RIM dropped 6.5 percent to $6.46 at the close in New York, the most since June 29. The stock has tumbled 96 percent from its 2008 peak and 70 percent in the past 12 months.
The company is counting on better news to emerge from its annual BlackBerry developer conference being held next week in San Jose, California, when Heins is expected to reveal more about its new BlackBerry 10 phones due to be introduced next year.
Before it's here, it's on the Bloomberg Terminal.
LEARN MORE