Office Bag Lunch: BBQ Chicken Sandwich From Dinosaur Bar-B-Que's Pit Master John Stage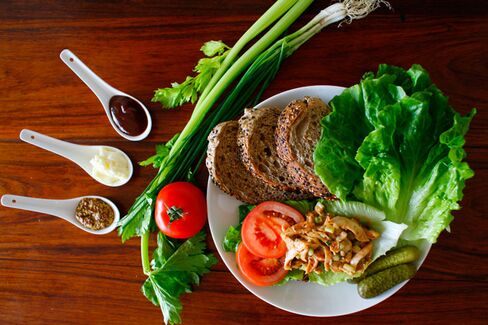 Autumn may be closing in on grilling season, but that doesn't mean you can't still enjoy barbecue. Dinosaur Bar-B-Que—which grew from a roadside biker joint founded in 1988 in Syracuse, N.Y., to five restaurants (an additional three will soon open)—offers an easy BBQ chicken sandwich recipe.
"This sandwich is like your favorite chicken salad recipe with a barbecue twist—no grill required," says pit master and Dinosaur Bar-B-Que owner John Stage. "BBQ chicken salad is the kind of option that you can't get at the local deli or sandwich shop. Plus the flavors in the salad develop and meld as it sits in the refrigerator, which makes this lunch perfect for putting together in advance and toting along with you."
Ingredients
(Makes two sandwiches)
1/2 lb. leftover roasted chicken (from a rotisserie chicken), shredded
1/4 cup BBQ sauce (Stage suggests Dinosaur Bar-B-Que sauce)
1/6 cup mayonnaise
1 tsp yellow mustard
1/4 cup finely chopped celery
1 tbsp finely chopped dill pickles
1 tbsp finely chopped chives
3/4 tsp kosher salt
1/2 tsp coarsely ground black pepper
Romaine lettuce leaves, washed and dried
Tomato slices
Sliced country bread
Instructions
In a mixing bowl, combine the mayonnaise, barbecue sauce, mustard, salt, and pepper. Add the chicken and mix well. Fold in the pickles, celery, and chives until combined. Serve the chicken salad on sliced country bread, layered with the lettuce leaves and tomato slices. (Tip: Pack the salad and sandwich components separately and assemble at lunch, or toast the bread first and pack the assembled sandwich so the bread doesn't get soggy.)
Before it's here, it's on the Bloomberg Terminal.
LEARN MORE