Clinton Initiative Gives Nominees a Place to Talk Poverty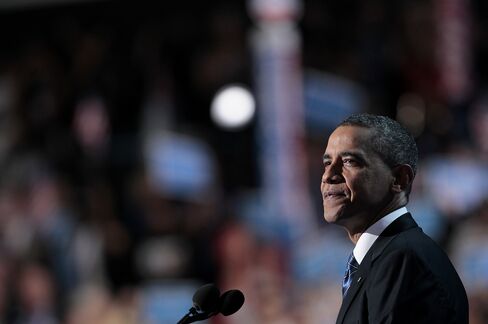 When President Barack Obama visits the United Nations next week, he'll build in enough time to speak at another New York gathering that's become a coveted invitation for business, philanthropic and political leaders -- the annual meeting of the Clinton Global Initiative.
Obama and Republican Mitt Romney on Sept. 25 will address the conference hosted by former President Bill Clinton, as Obama and then-rival Senator John McCain of Arizona did in 2008.
For the participants, the nonpartisan conference that begins Sept. 23 offers a forum for networking and building support for projects and financial commitments to alleviate poverty, disease and social obstacles and encourage development.
For the candidates, it presents an opportunity to talk about issues that rarely come up in the election campaign.
"There is a global platform that if I was running for president I'd want to take advantage of," said Robert S. Harrison, the group's chief executive officer. "It allows people who are interested in leadership of the most powerful country in the world over the next four years to assume a global platform to address some of the greatest global challenges."
Obama and other world leaders, including Israeli Prime Minister Benjamin Netanyahu and Iranian President Mahmoud Ahmadinejad, will also speak at the 67th session of the UN General Assembly.
Global Commitments
Since the Clinton Global Initiative's founding in 2005, members have made 2,150 commitments in 180 countries that will be worth $69.2 billion once fully funded, Harrison said.
Last year's gathering drew 1,200 participants and 1,300 credentialed journalists, he said. The initiative also instituted a separate annual meeting in 2011 on the U.S. economic recovery.
"They come from all sectors of society, from all around the world," Harrison said.
For Romney, the event may offer a timely, if skeptical, audience to further explain his comments in a recently disclosed video that 47 percent of Americans see themselves as "victims" dependent on government, said Paul C. Light, a professor of public service at New York University.
The CGI is "built on the concept of personal responsibility plus strong interventions by business and government and philanthropy to create the infrastructure of self-advancement," Light said. "The Clinton initiative does not accept the notion that people want to be dependents."
"Romney's taking a big risk going into this audience," Light said. "You hope his speechwriter is thinking carefully about this as an opportunity to clarify his position."
Egypt, Libya
Other attendees from government and politics include Secretary of State Hillary Clinton, who is scheduled to speak on Sept. 24, Egyptian President Mohamed Mursi and Libya's Mohammed Yussef Magariaf, whose new governments are being tested after attacks on U.S. diplomatic posts in both countries this month.
Business leaders set to attend include Michael Duke, president and chief executive officer of Wal-Mart Stores Inc.; Jim Rogers, chairman, president and CEO of Duke Energy Corp.; and Goldman Sachs Group Inc. Chairman and CEO Lloyd Blankfein.
This year's gathering is built for the first time around a single theme -- "Designing for Impact" -- with panels on subjects that include energy innovation, chronic-disease prevention, female involvement in urban planning, food sustainability and product innovation for poor consumers.
Tim Brown, chief executive officer of Ideo Inc., a global design firm in Palo Alto, California, said he sees the global initiative as "a pretty great opportunity" to talk about how design principles can be applied to everything from sustainability to behavioral change.
'Come Together'
"The only way we're going to successfully tackle many of these challenges is collaboration with business and the social sector and the civic sector," said Brown, who will speak at the opening plenary session on Sept. 23. "CGI is one of those few places where these people come together."
Elizabeth Heider, senior vice president of Skanska USA Building Inc. in Alexandria, Virginia, said in terms of her interests, "a lot of this movement and the business argument for building 'green' and being a responsible social citizen requires political support."
"I think it's actually brilliant on Clinton's part to encourage Romney and Obama to speak because it's a platform where they're going to have to address these issues," said Heider, who's also the chairwoman of the board of directors for the U.S. Green Building Council, a Washington-based nonprofit that promotes environmentally friendly construction standards.
Before it's here, it's on the Bloomberg Terminal.
LEARN MORE