Harvard Club of Boston Settles With Waiters Over Tips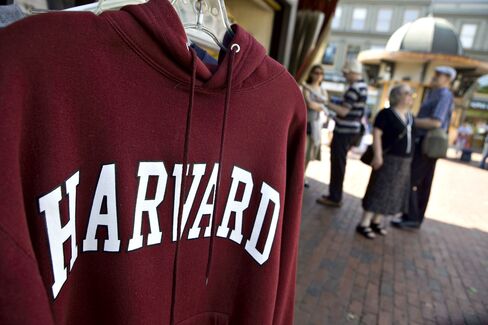 The Harvard Club of Boston reached a tentative settlement of a class-action lawsuit brought by servers who said they weren't paid tips.
"It has been amicably resolved," Shannon Liss-Riordan, a lawyer for the plaintiffs, said yesterday in a phone interview. She declined to comment further. A Sept. 10 entry in the case docket in Massachusetts state court says "case settled" without giving details.
The Harvard Club agreed to pay members of the class $4 million, subject to approval by the court, according to a copy of a letter to members that the club made available to Bloomberg News. It will be funded by cash from operations, insurance and some of the proceeds from a projected sale of its "underutilized" annex, the club said.
"While we are confident the Harvard Club did nothing wrong, we could have done a few things better to ensure strict compliance with the Massachusetts tip statute," the club said in its letter. "The Board of Governors assessed the risks and potential expenses of a prolonged legal battle and determined that a negotiated structured settlement was our best option."
The Harvard Club added surcharges of 17 percent or 20 percent to food and beverage bills and represented them as service charges in lieu of tips, the servers said in the complaint filed in November. Members and guests were told not to tip waiters, according to the filing.
Jobs Covered
"However, the Harvard Club does not remit any portion of these service charges to the wait staff employees who work in its dining rooms or at its private functions," according to the complaint. "Instead, the Harvard Club retains the proceeds of these charges for its own operating expenses."
The Harvard Club said in its letter that it pays its workers $16 to $19 an hour. The club "has always been clear to members, guests and employees alike that we are a no tipping club," the letter states.
The settlement applies to "servers, bartenders and bussers," the club said.
The case is Bertrand v. Harvard Club of Boston, 11-4100, Massachusetts Superior Court, Suffolk County (Boston).
Before it's here, it's on the Bloomberg Terminal.
LEARN MORE