Denmark's $17 Billion Rescue Gives Banks Carry Trade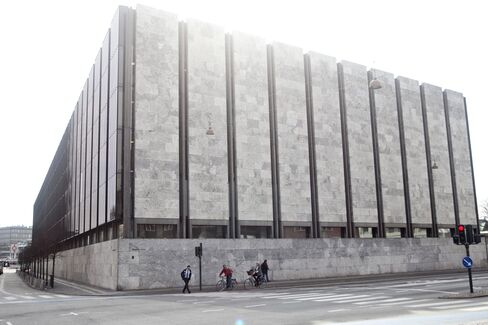 Sept. 21 (Bloomberg) -- Denmark, the world's third-biggest mortgage bond market, is about to get as much as $17 billion from banks looking for somewhere to invest cheap central bank cash, helping to end the longest losing streak since January.
Danske Bank A/S, the country's biggest lender, estimates most of the proceeds from three-year Danish central bank loans will go into similar-maturity assets in Denmark's $480 billion mortgage-bond market, where yields exceed returns on government debt. The central bank will provide the funds at 0.2 percent at its second and last offering of three-year credit on Sept. 28.
"It's very difficult to see where they could place the money" other than in mortgage bonds, Jan Oestergaard, senior analyst at Danske Bank in Copenhagen, said in an interview. "When they're investing this money, they'll want to make sure they can get it back. They want very little risk, and they want a pick-up."
Denmark's liquidity lifeline, announced in December after the European Central Bank unveiled its longer-term refinancing operations to prop up euro-zone banks, initially was intended to help banks repay state-backed debt. Three months later, central bank Governor Nils Bernstein said banks could also use the facility for commercial purposes. While the comments were intended to help banks avoid the stigma of accepting help, Bernstein opened the door to a type of carry trade, in which investors profit by borrowing at low rates and lending at a higher yield.
Matching Maturities
Banks will choose one- and three-year mortgage bonds to match the maturity on the central bank loans, according to Danske. The yield on the Nykredit A/S 2 percent note due April 2014 was 0.478 percent on Sept. 20. That compares with minus 0.032 percent on Denmark's 2 percent benchmark note due November 2014.
There could be a "very large amount" of cash flowing into mortgage securities, Oestergaard said.
Danish mortgage bonds gained in Copenhagen trading ahead of the anticipated rise in demand. Bid yields on non-callable debt maturing in one to three years fell, with Nykredit's 2 percent bond due Oct. 1, 2013, and Realkredit Danmark's 2 percent note maturing January 1, 2014, falling to their lowest in almost two weeks, data available on Bloomberg showed.
The yield on Nykredit's 2013 bond fell as low as 0.4279 percent and was 0.4316 percent at 3:24 p.m. local time, according to data available on Bloomberg. That was the lowest rate since Sept. 10, when it yielded 0.422 percent. Realkredit Danmark's bond yield slipped as low as 0.4298 percent.
Haven Bonds
The Nykredit index of the most-traded mortgage bonds sold in AAA rated Denmark has fallen all but four days since the end of August through Sept. 19, marking the longest losing streak since January. The difference in yield between the benchmark Nykredit 3.5 percent mortgage bond due 2044 and 30-year benchmark German government bonds grew to 119 basis points on Sept. 19, compared with 114 basis points at the end of last week.
Until this month, Danish bonds -- bolstered by the country's current account surplus and a government debt load that's less than half the euro-zone average -- had offered a refuge to investors fleeing Europe's crisis. That changed when ECB President Mario Draghi on Sept. 6 pledged unlimited debt purchases to support euro-zone markets. A week later, Federal Reserve Chairman Ben S. Bernanke vowed to buy bonds until the U.S. job market rebounds, catapulting markets into recovery mode.
Danish LTRO
Denmark's longer-term refinancing operation, known as LTRO, has become cheaper since its first offering in March, when the central bank's lending rate was half a point higher than today at 0.7 percent. Banks using the facility need to provide collateral to obtain the loans.
While the flight to safety that had boosted the Danish market has faded, the prospect of greater domestic purchases of Danish mortgage assets is attracting international buyers.
"The central bank loans make the case better for owning Danish covered bonds going forward," Andreas Halldahl, who helps manage about $15 billion in fixed-income assets at Storebrand Kapitalforvaltning AS in Stockholm, said in an e-mailed reply to questions. "We tend to keep those bonds in our portfolio reasonably short, preferably inside the three-year span of the LTRO. The Danish LTRO should keep the Danish covered bonds supported."
Balance Principal
Denmark's mortgage bond market is the world's third-largest after the U.S. and Germany.
The Danish mortgage-bond market differs from other countries in several key respects. When a homeowner in Denmark takes out a loan, the mortgage is immediately converted into a security of the same amount. Homeowners can then retire a mortgage by going into the market and buying the bonds at the prevailing price or purchasing them at par at preset dates.
Danes call this the balance principle. Mortgage issuers take all the credit risk, providing reserves in case a borrower defaults. Investors face a risk only on interest-rate fluctuations. Another difference with the U.S. is there are no government-sponsored companies involved in the market. Denmark's biggest mortgage bank is Nykredit, Europe's largest issuer of covered bonds backed by home loans.
Facility Usage
Estimates for how much cash will be tapped from the central bank's facility range from as low as 20 billion kroner ($3.5 billion) to as high as 100 billion kroner, according to a Bloomberg survey comprising analysts at Danske, Nordea Bank AB, Nykredit and Sydbank A/S.
The 75 members of Denmark's Association of Local Banks will probably draw about 10 billion kroner as a buffer against "uncertainties," Jan Kondrup, the association's director, said in an interview. They'll put the proceeds in safe assets, he said. Banks need to refinance about 100 billion kroner in government-guaranteed debt over the next 15 months, Danske Bank estimates.
Danske has already indicated it will use the facility, as the loans offer "a good opportunity," Steen Blaafalk, the bank's head of group treasury in charge of managing the lenders assets and liabilities, said in an interview this month. Sydbank and Jyske -- Denmark's third- and second-largest listed lenders -- have said they won't tap the program, in part to protect the seniority of existing creditors.
First Offering
At the central bank's first offering of the three-year loans in March, Danish lenders drew a total of 19 billion kroner, 15 billion kroner of which went to Danske.
Adjustable-rate mortgages, which are funded by short-term bonds, made up 55 percent of outstanding mortgage debt in the second quarter, the Association of Danish Mortgage Banks said in July. That was up from 50 percent a year earlier.
The mortgage bonds have come under scrutiny from the central bank and Moody's Investors Service for creating refinancing risks as maturities on home loans and the bonds backing them don't match.
Yet the loans have grown in popularity as Danes tap into record-low borrowing costs. The central bank, which uses interest rates and currency market interventions to defend the krone's peg to the euro, cut its benchmark lending rate to 0.2 percent in July to counter a capital influx. Banks leaving funds with the central bank have had to pay 0.2 percent after the rate on certificates of deposit was cut below zero.
While ECB and Fed rescue measures in the short term "reduce or even reverse the safe-haven flows we have seen lately, in the longer term, there will be continued demand for ultra-safe investments, bonds that will stay AAA rated," including sovereign and mortgage bonds, Halldahl said. "There isn't much of that around anymore."
To contact the reporter on this story: Frances Schwartzkopff in Copenhagen at fschwartzko1@bloomberg.net
To contact the editors responsible for this story: Tasneem Brogger at tbrogger@bloomberg.net; Christian Wienberg at cwienberg@bloomberg.net; Rob Urban at robprag@bloomberg.net