U.S. Stocks Rise Amid Japan Stimulus, American Home Data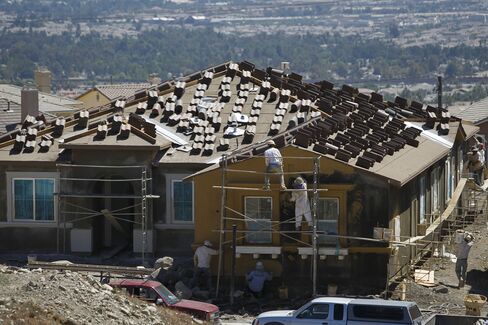 U.S. stocks rose, snapping a two-day decline in the Standard & Poor's 500 Index, as the Bank of Japan increased its asset-purchase target and sales of existing American homes rose more than forecast.
Walt Disney Co. and Kraft Foods Inc. added more than 1 percent to lead gains in the Dow Jones Industrial Average. An S&P index of homebuilders soared 3.1 percent as PulteGroup Inc. rallied 4.3 percent. Corning Inc. gained 1.2 percent after Goldman Sachs Group Inc. advised investors to buy the stock. Energy shares sank the most among 10 groups in the S&P 500 as oil prices tumbled to a six-week low.
The S&P 500 added 0.1 percent to 1,461.05 at 4 p.m. in New York. The Dow advanced 13.32 points, or 0.1 percent, to 13,577.96. About 6.2 billion shares traded hands today, 3.4 percent more than the three-month daily average.
"Markets are relying a lot on the support of central banks to stay alive here," Michael Farr, president and founder of Farr, Miller & Washington LLC, which manages $825 million, said in a phone interview. "The U.S. economy is behaving in a constructive way, not fabulous but resilient."
The S&P 500 rallied 15 percent from its most-recent low on June 1 through Sept. 14, when it reached its highest level since December 2007. The index is trading at 14.1 times the estimated earnings of its companies, close to the highest price multiple since the end of 2010, data compiled by Bloomberg show.
Home Sales
Equities climbed as sales of existing homes rose in August to a two-year high, an additional sign the U.S. housing market is gaining traction in the second half of the year. Purchases of previously owned houses increased 7.8 percent to a 4.82 million annual rate, figures from the National Association of Realtors showed. The median forecast of 78 economists surveyed by Bloomberg called for sales to increase to a 4.56 million pace.
Another report showed construction began on more single-family homes last month than at any time in the past two years.
"The housing data looked decent," Tom Mangan, who helps oversee $3.6 billion as a money manager at James Investment Research Inc. in Xenia, Ohio, said in a phone interview. "There's still a lot of uncertainty about the economy, Europe and the Middle East, yet the stock market remains relatively firm."
Global stocks gained earlier after Japan's central bank unexpectedly expanded its asset-purchase target by 10 trillion yen ($126 billion) to 55 trillion yen, seeking to avoid a further slowdown in the world's third-largest economy.
Liquidity Boost
Central banks in Asia, Europe and the U.S. are continuing to loosen policy as the euro-area debt crisis continues, threatening global growth and financial stability. The Bank of Japan's decision followed last week's vote by the U.S. Federal Reserve to extend its quantitative-easing program. The European Central Bank has agreed to buy the bonds of governments that accept austerity conditions to tame the euro turmoil.
Disney gained 1.5 percent to $52.70 for the biggest advance in the Dow. Kraft added 1 percent to $40.84. Home Depot, the largest U.S. home-improvement retailer, rose 1 percent to $59.47.
Consumer discretionary and phone stocks increased at least 0.7 percent, the most out of 10 industry groups in the S&P 500. All 11 members of the S&P Supercomposite Homebuilding Index advanced. PulteGroup soared 4.3 percent to $16.43 and D.R. Horton Inc. climbed 4.1 percent to $22.22.
Corning Climbs
Corning, the world's largest maker of glass for flat-panel televisions, rose 1.2 percent to $12.88 after Goldman Sachs raised its recommendation for the stock to buy from neutral.
Cracker Barrel Old Country Store Inc., which runs country store-themed restaurants with attached gift shops, added 5.8 percent to $67.31 after forecasting fiscal year 2013 profit of as much as $4.70 a share.
Groupon Inc., the operator of the biggest-daily deals website, rose 14 percent to $5.34 after announcing the start of a payments service to provide merchants with low fees for credit-card transactions.
An index of energy stocks in the S&P 500 lost 0.9 percent, with Occidental Petroleum Corp. and Schlumberger Ltd. losing 2 percent each to pace declines in 38 of 45 companies in the group. Crude tumbled 3.5 percent to $91.98 a barrel after the U.S. Energy Department said stockpiles rose 8.53 million barrels last week to 367.6 million. Analysts surveyed by Bloomberg expected a gain of 1 million barrels.
CVS Caremark Corp., the largest provider of prescription drugs in the U.S., jumped 0.7 percent to $47.71 after saying it plans to buy back as much as $6 billion in shares.
Before it's here, it's on the Bloomberg Terminal.
LEARN MORE