U.S. Fiscal Cliff Will Halt Stocks Rally, BankInvest Says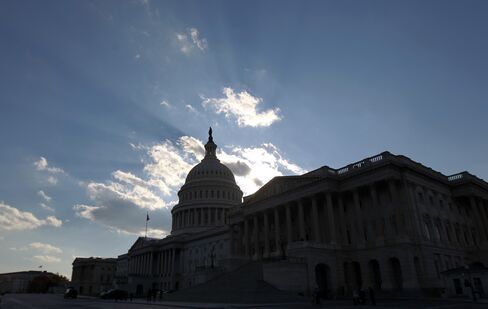 The global rally in stocks will fade as a U.S. budget dispute in Congress and November's presidential election will stifle growth in the world's biggest economy, according to Copenhagen-based BankInvest.
BankInvest, which manages $17 billion, advised clients to reduce holdings of equities and sold shares from its own portfolios amid concern the political uncertainty will keep U.S. companies from hiring and making investments until the start of 2013, Frank Velling, the company's chief strategist, wrote in e-mailed comments.
"The main obstacle for economic growth is the unusually high wall of uncertainty related to the presidential election and the fiscal cliff," Velling said. "It increases the value of waiting."
Americans decide on whether President Barack Obama will stay another four years or step aside for Republican contender Mitt Romney on Nov. 6. Members of Congress cannot agree how to reduce the federal budget deficit, with Democrats proposing letting tax cuts expire for top earners and Republicans arguing for an extension to tax reductions for all income levels. If a deal isn't reached, $600 billion in automatic tax increases and spending cuts will take effect starting in January.
Federal Reserve Chairman Ben S. Bernanke meets with the Senate Finance Committee privately today to discuss the economy and the so-called fiscal cliff. In testimony to Congress in July, he identified the lack of a budget deal as one of "two main sources of risk," along with the euro-area debt crisis.
Bank Stimulus
The MSCI World Index of stocks in 24 developed markets advanced to the highest level in almost 14 months on Sept. 14 after European Central Bank policy makers agreed to implement an unlimited bond-buying program and the Fed unveiled a third round of asset purchases. The gauge has rallied 16 percent from this year's low on June 4.
"Global stocks can't go much higher on monetary stimulus," Velling said. "Any further advance in stock markets will rely heavily on a pick-up in U.S. economic growth."
The U.S. economy will expand 2.2 percent this year and 2.05 percent in 2013, according to projections from 78 economists compiled by Bloomberg.
Velling said he moved to a so-called overweight position on stocks in March 2009 as equity markets bottomed, meaning he owned more of the asset class than is represented in global benchmarks. While the level of his holdings has fluctuated since then, he said he has always remained overweight shares.
On Nov. 1, Velling said BankInvest was cutting holdings of stocks and buying longer-dated bonds amid concern a planned Greek referendum would damage the euro area's efforts to contain the debt crisis. The MSCI World fell 2.7 percent in November, before rebounding 13 percent through yesterday.
Before it's here, it's on the Bloomberg Terminal.
LEARN MORE