Finmeccanica Bonds Gain as EADS-BAE Merger Fallout Concern Eases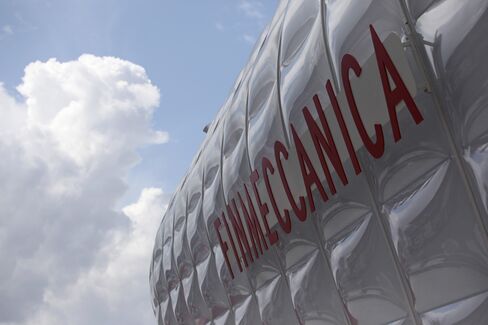 Sept. 19 (Bloomberg) -- Finmeccanica SpA's bonds soared to the highest in 14 months amid speculation the defense company will be able to withstand the fallout from the merger of two of its biggest rivals.
Finmeccanica's 5.25 percent notes due 2022 rose 0.88 cent to 95.95 cents on the euro, pushing the yield down 13 basis points to 5.87 percent, according to data compiled by Bloomberg at 12:15 p.m. in London. Finmeccanica's notes rose as companies including miner BHP Billiton Plc sold at least 5.8 billion euros of bonds today, double the year's daily issuance average.
Investors are betting Finmeccanica may avoid being marginalized as European Aeronautic, Defence & Space Co. and BAE Systems Plc plan a $45 billion combination, the biggest in aerospace history. Finmeccanica's 2022 bonds have risen 40 percent this year, the best-performing non-financial notes in Bank of America Merrill Lynch's EMU Corporates Index.
"The business overlap isn't that big, there are a number of co-operations that are likely to continue, and European governments may actually favor a second supplier wherever possible," said Georg Grodzki, head of European credit research at Legal & General Plc in London.
The cost of insuring Finmeccanica's debt from default using credit-default swaps fell seven basis points to 378, the lowest since Oct. 31, and down from 517 at the start of the month.
'Consolidation Fever'
Combining BAE and EADS, the parent of civil plane maker Airbus, would leapfrog Boeing Co. as the world's largest aerospace company with sales nudging $100 billion and assets spanning civil jets, warplanes and nuclear submarines.
"Now that consolidation fever has broken out, the market may be hoping there's a white knight for Finmeccanica," Grodzki said. "The likelihood of a strategic buyer for defense assets has increased."
Measures of European corporate and financial credit quality fell before a new series of credit-default swap benchmarks start tomorrow. New indexes are created every six months when constituents are added or dropped depending on their ratings, cost of protection and ease of trading, and a decline signals improvement in perceptions of credit quality.
Contracts on the Markit iTraxx Crossover Index of 50 companies with mostly high-yield credit ratings dropped five basis points to 469. The Markit iTraxx Europe Index of 125 companies with investment-grade ratings was little changed at 123 basis points.
The Markit iTraxx Financial Index linked to senior debt of 25 banks and insurers fell three basis points to 193 and the subordinated index declined five to 316. The Markit iTraxx SovX Western Europe Index of credit-default swaps on 15 governments fell three basis points to 172.
A basis point on a credit-default swap protecting 10 million euros ($13 million) of debt from default for five years is equivalent to 1,000 euros a year. Swaps pay the buyer face value in exchange for the underlying securities or the cash equivalent should a borrower fail to adhere to its debt agreements.
To contact the reporter on this story: Abigail Moses in London at Amoses5@bloomberg.net
To contact the editor responsible for this story: Paul Armstrong at Parmstrong10@bloomberg.net